The perfect picnic pasta! This 5 Ingredient Summer Pesto Pasta is packed with chicken, cucumbers, tomatoes and covered in tasty pesto sauce.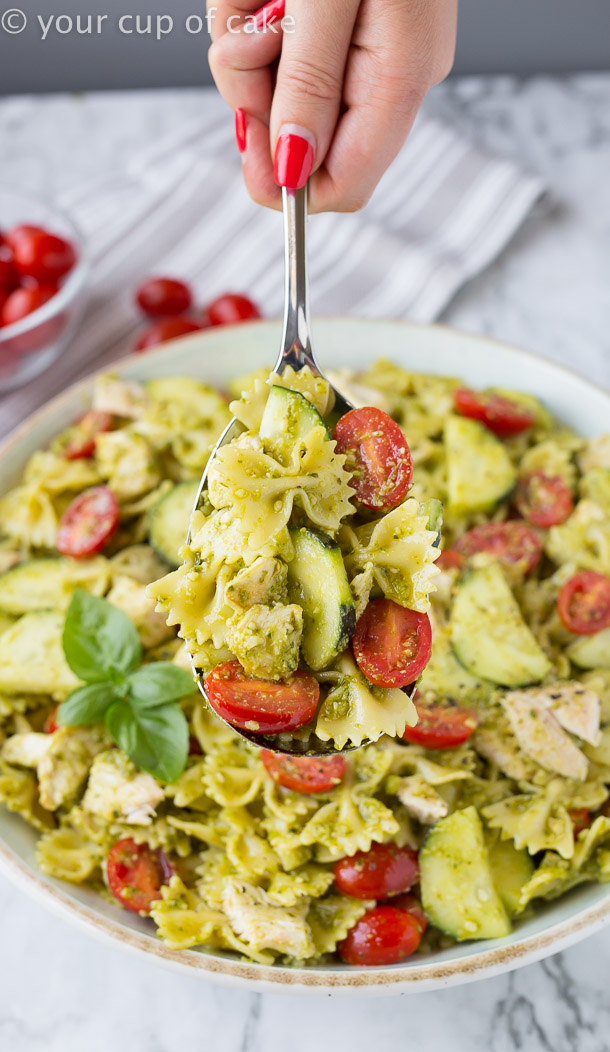 5 Ingredient Summer Pesto Pasta
I grew up on this pesto pasta and my Mama's Enchiladas. These recipes were my mother's go-to recipes and I still make them all the time for my husband. I used to bring this 5 Ingredient Summer Pesto Pasta as my lunch in grade school and the cool girls would beg me to give them bites! That's right, this pasta is so delicious it got the cool kids to talk to me. That's a miracle pasta right there. And to make it even better, it's only takes 5 ingredients and about 10 minutes to whip up!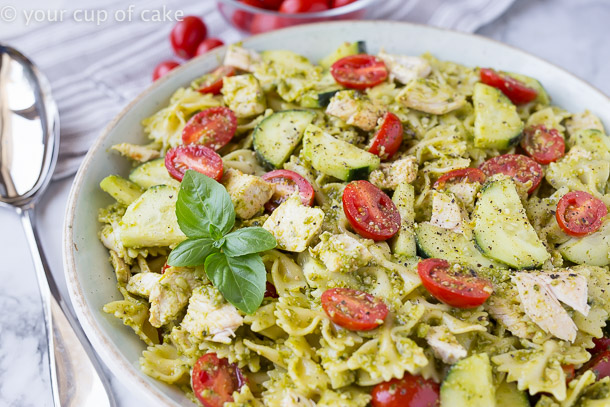 Easiest Pesto Pasta Ever.
My mother was/is the queen of simple and delicious meals that are easy on the wallet. I have nicknamed this pasta my Costco Pasta because I pick up 3 of the 5 ingredients at Costco. I grab a rotisserie chicken, a container of cherry tomatoes and a jar of pesto when I'm there! If you haven't tried the pesto from Costco you are missing out! It's a big bottle for the price you'll pay for a tiny one at the grocery store and it's really good! I'll have a little left over after I make this 5 Ingredient Summer Pesto Pasta but I'll use it on a panini to make my grilled cheese suuuuper fancy. Or I'll use it when I roast veggies later in the week. Either way, Costco comes to the rescue with this easy dinner recipe!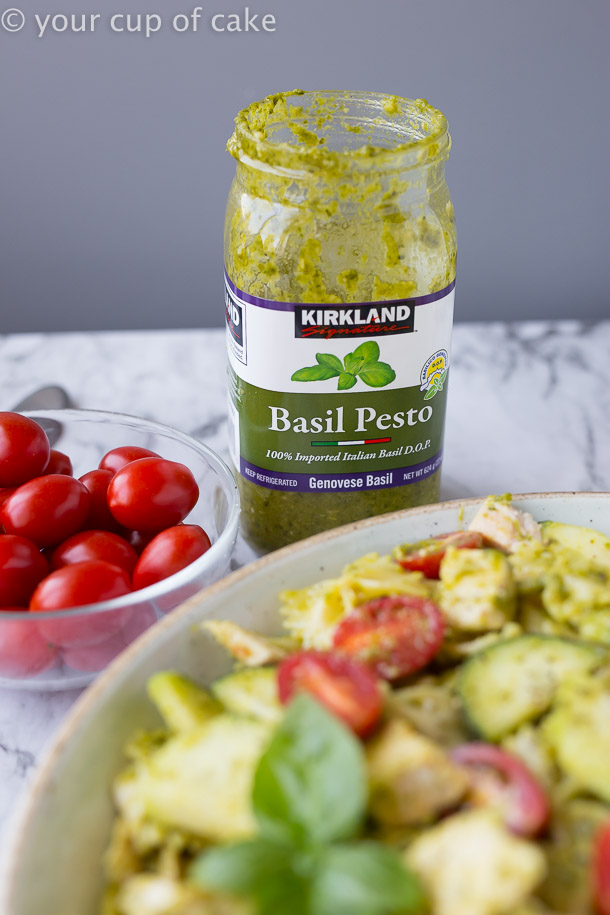 I call this a summer pasta, but I make it all year round. So don't shy away from making this in the winter months! It's too easy and tasty to only eat during the summer months!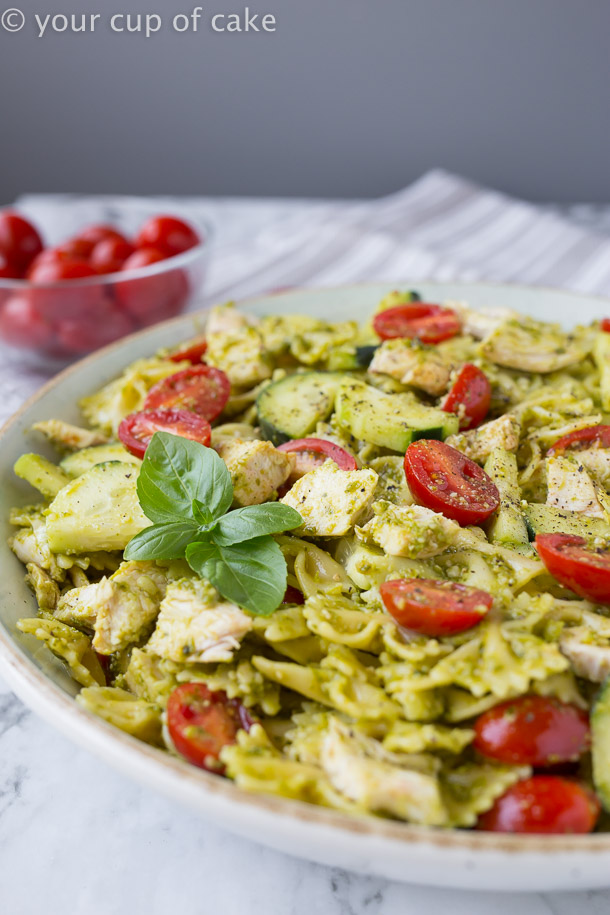 Summer Pesto Pasta Recipe
I mention in the recipe that we usually eat this pasta cold. Yes, sometimes as a kid we would eat it right after my mother would make it but more often she made it in the middle of the day when she had time or even the day before. It's such a great cold pasta and it makes a perfect Summer Pasta recipe! It's mayo-free so it won't spoil in the sun and if you bring it chilled, it helps to keep your guests cool on these hot days.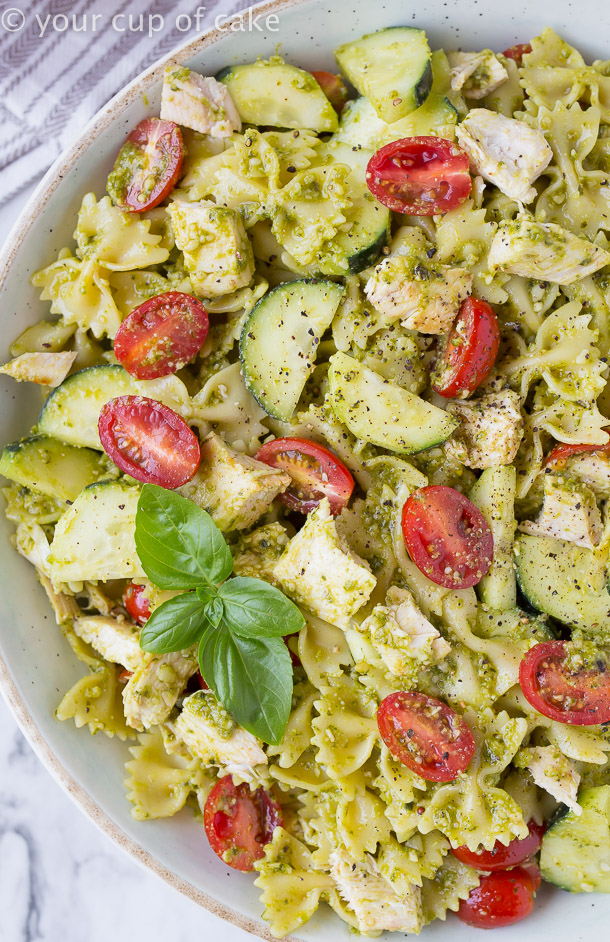 Enjoy my Mom's 5 Ingredient Summer Pesto Pasta!
5 Ingredient Summer Pesto Pasta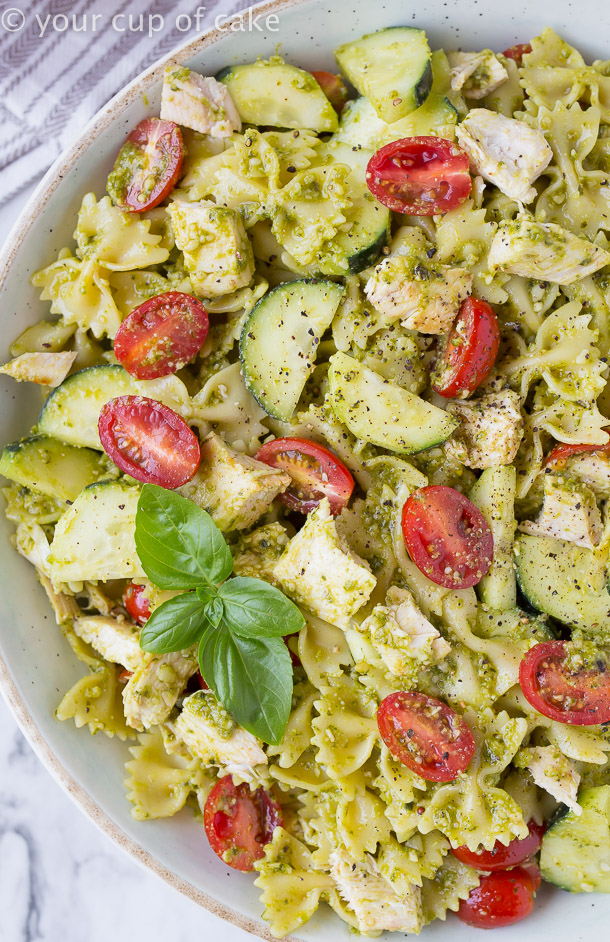 Ingredients
1 Box of Farfalla Pasta (Bowties)
2 C. Pesto Sauce (I buy mine at Costco)
2 Chicken Breasts, Cooked and Cut in 1/2 Inch Cubes (I use Costco Rotisserie Chicken)
1 1/2 - 2 C Halved Cherry Tomatoes
1 Cucumber, Sliced
Directions
1) Cook the pasta according to the directions on the box. Drain water, add pesto sauce, stir to combine.
2) Add chicken, tomatoes and cucumber and stir well. Serve and enjoy!
NOTE: We usually eat this salad cooled or chilled because my Mom would make it the night before or the morning of. But it does taste great served warm as well!
Copyright © YourCupofCake