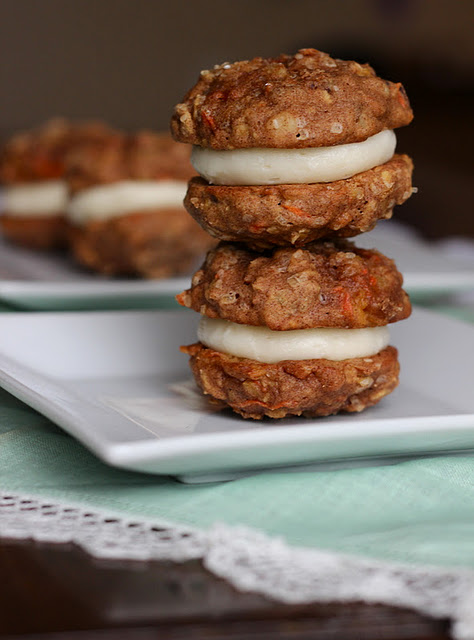 The Story:
Sometimes I bake things and I am very happy I made them, but I don't expect to be baking them again unless I fill an order. And other times, I bake things and I say to myself, "Wow, I will be making these again soon." These cookies are ridiculous. They are seriously carrot CAKE cookies. They are so fluffy it's out of control! And with the sweet cream cheese filling, these babies are just perfect—a fun twist on traditional carrot cake.
The hint of oatmeal is nice and you can taste it in the oatmeal coconut cookies I like to make as well.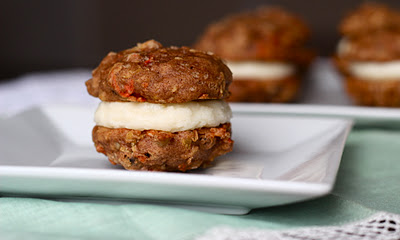 2 eggs
½ tablespoon pumpkin spice
¾ cup oatmeal, old fashioned
8 oz cream cheese, softened
2 teaspoons cheesecake instant pudding powder (optional)
Yields 36 cookies (18 sandwiches)
1.
Preheat oven to 350 degrees and line pans with parchment paper.
2.
Beat butter, brown sugar and sugar until light and fluffy. Scrape the bowl down as needed.
3.
On slow, add eggs one at a time until fully incorporated.
4.
In a separate bowl, whisk together the flour, baking powder, baking soda, salt, cinnamon and pumpkin pie spice.
5.
Slowly add flour mixture and oatmeal to sugar mixture until combined. Do no over mix.
6.
Stir in drained pineapple, carrots, walnut and raisins.
7.
Scoop out dough balls the size of a tablespoon and bake for 8-12 minutes, or until the tops are firm like a cake/muffin. Let cool on cooling racks. (I topped my dough balls with some Turbinado sugar to give them an extra crunch.)
8.
Cream Cheese Filling: Beat cream cheese and butter until light and fluffy. Add vanilla and instant pudding powder. Add powdered sugar slowly until you reach your desired consistency.
9.
Pipe filling onto the bottom of half the cooled cookies, then sandwich them!