The best Brussels Sprouts recipe! These Bacon Garlic Brussels Sprouts are bursting with flavor and tosses with bacon bits and red onion! An easy side dish for any meal!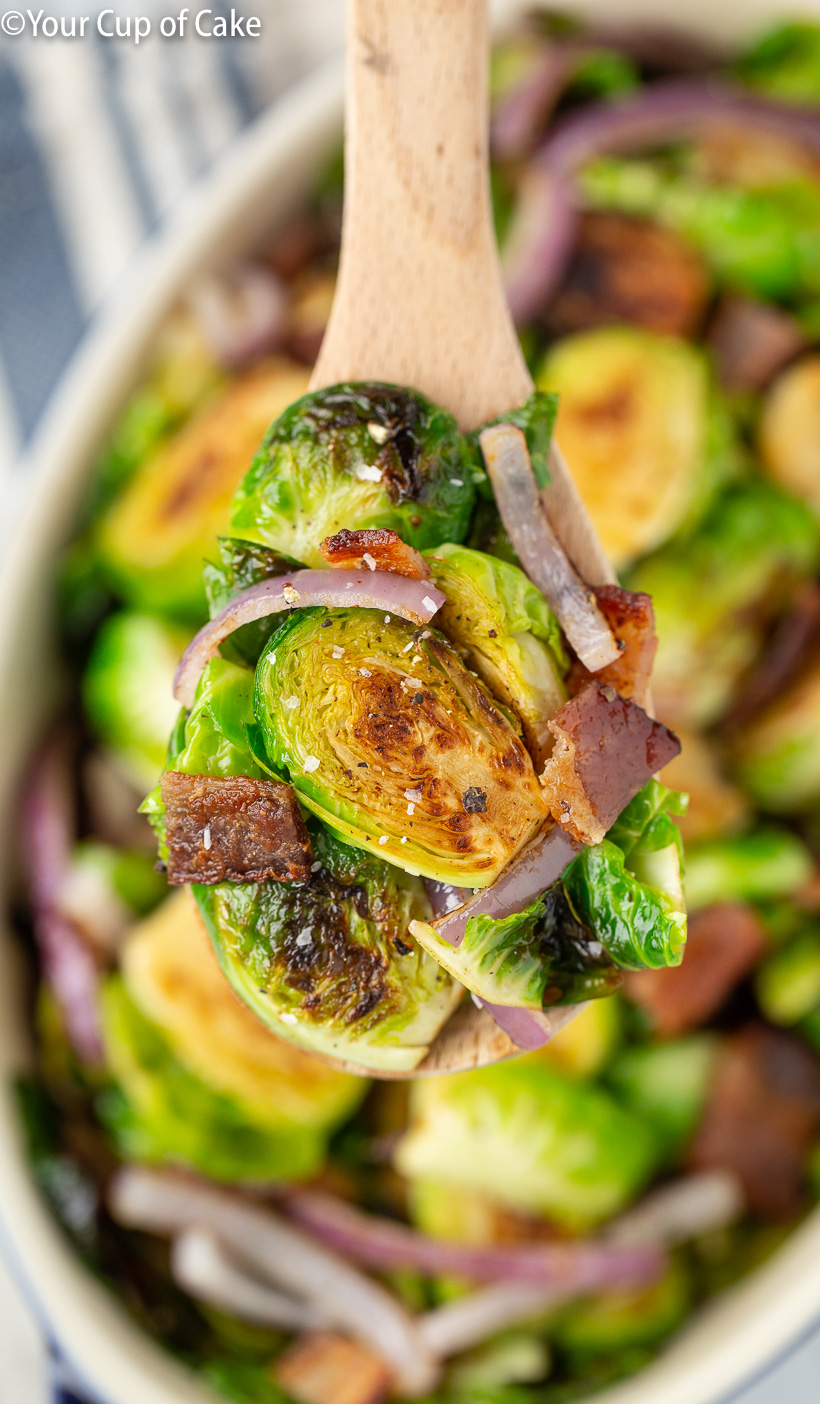 Easy to Make Bacon Garlic Brussels Sprouts
When I was growing up we never has Brussels Sprouts. My father hates them so my mother never made them. The first time I ever tried them was when I was 24 and after I had graduated from college! I didn't like them. But turns out I just made them wrong! I'm sharing with you a few tricks on how to make the best Brussels Sprouts with this Bacon Garlic Brussels Sprouts recipe! If you need another dinner recipe, we just made my One Pot Lemon Cheesy Pasta again last night and wow I love it more every time I make it!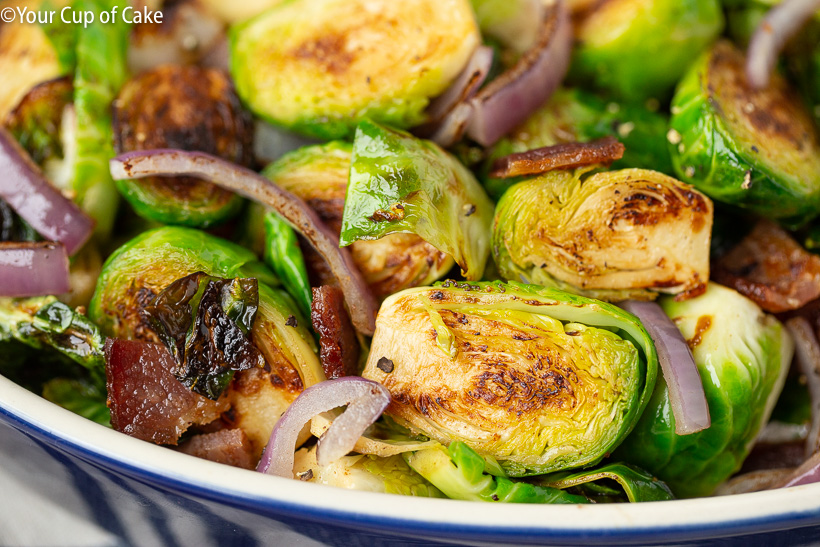 Do Brussels Sprouts Taste Bad?
Not these ones! Brussels sprouts are not as bad as made out to be. One of the tricks is adding in bacon! I know, everything is better when you add bacon but Brussels Sprouts really do benefit from the bacon because the grease helps to break them down and soften them and the flavor they infuse compliments them as well! So if you've ever had these little green veggies and not been a fan, try making them with bacon pieces next time!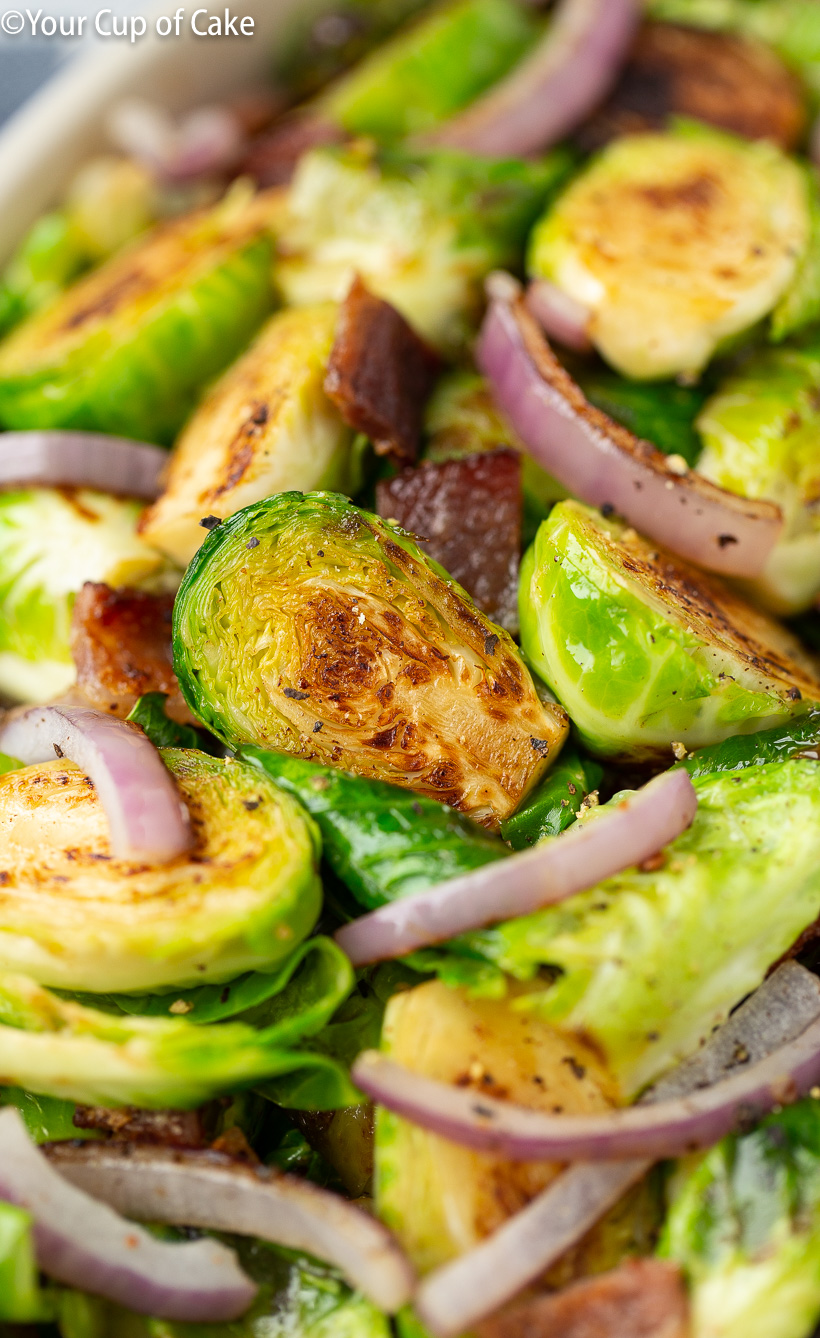 How To Make Brussels Sprouts Taste Good?
Some people say Brussels Sprouts have a mustardy, earthy flavor. I find them quite bitter when they aren't cooked well. However you decide to cook them (in the oven or on the stove) you need to make sure they're cooked enough! Some veggies benefit from being a little undercooked but Brussels Sprouts are not one of those veggies! Use plenty of fat, either from butter and/or bacon grease to help cook the sprouts down. If you're making these Bacon Garlic Brussels Sprouts make the perfect side dish!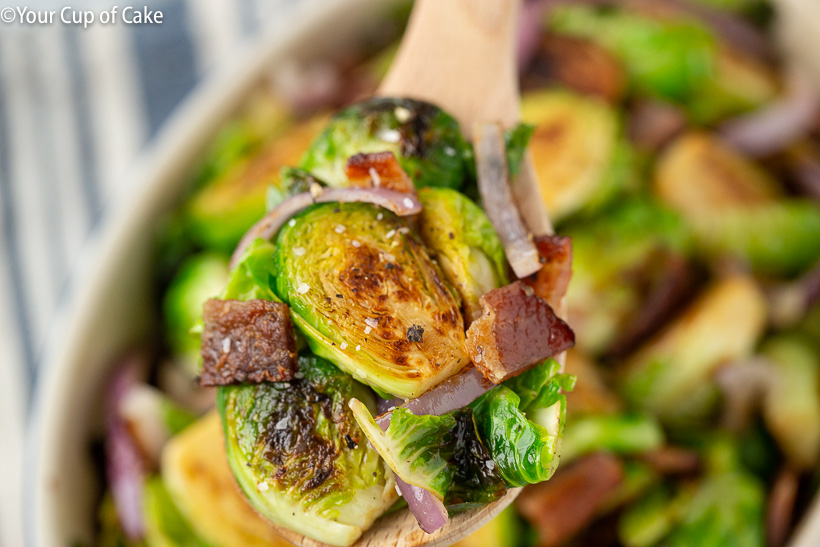 How to Trim Brussels Sprouts?
Another trick to making the best Brussels Sprouts is preparing them properly. Cut 1/2 inch off the bottom of each sprout then cut in half. Rinse or soak them in water. Brussels Sprouts aren't usually dirty but they can sometimes have dirt or dust trapped in tightly packed leaves, rinsing or soaking will break this up and help to clean them. Be sure to pat dry to ensure crispness when cooking!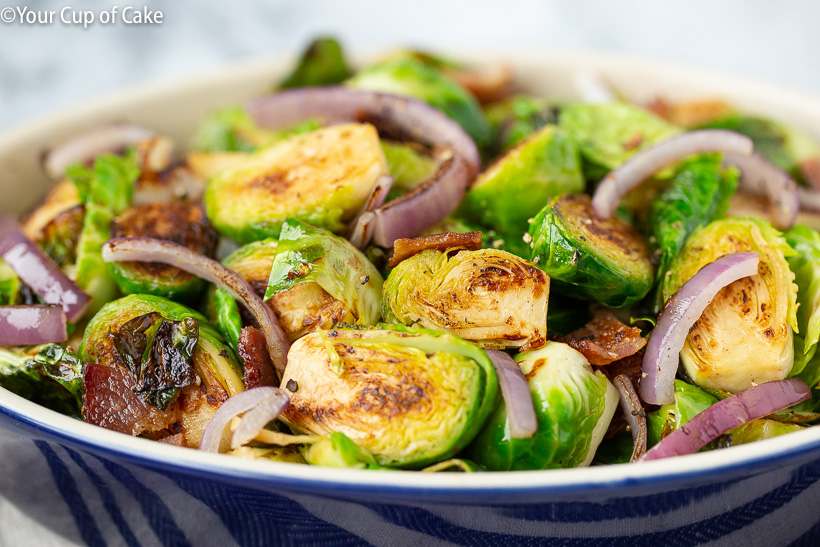 What's the Best Way to Cook Brussels Sprouts?
Brussels Sprouts are best sautéed. They need lots of fat (butter or bacon grease) to make crisp flavorful outsides and be tender on the inside! You can turn the sprouts so that they evenly brown while cooking which helps to make them gorgeous as well as delicious!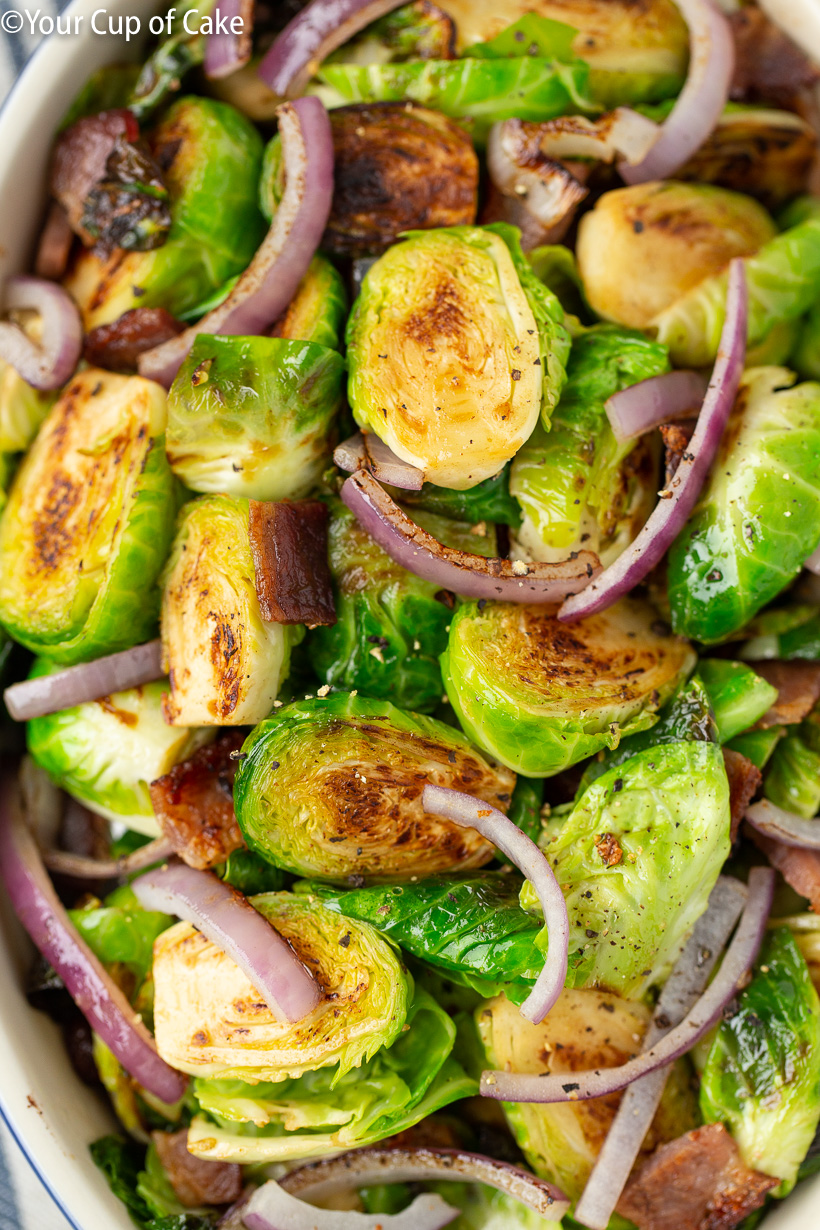 Are Brussels Sprouts Paleo?
Yes, Brussels Sprouts are paleo friendly! This entire dish is paleo friendly and gluten-free actually! And with Thanksgiving around the corner it's always nice to have some delicious side dishes that all your friends can eat, no matter their dietary needs. Sorry vegetarians, this one isn't for you though! Enjoy my Bacon Garlic Brussels Sprouts with your family this season!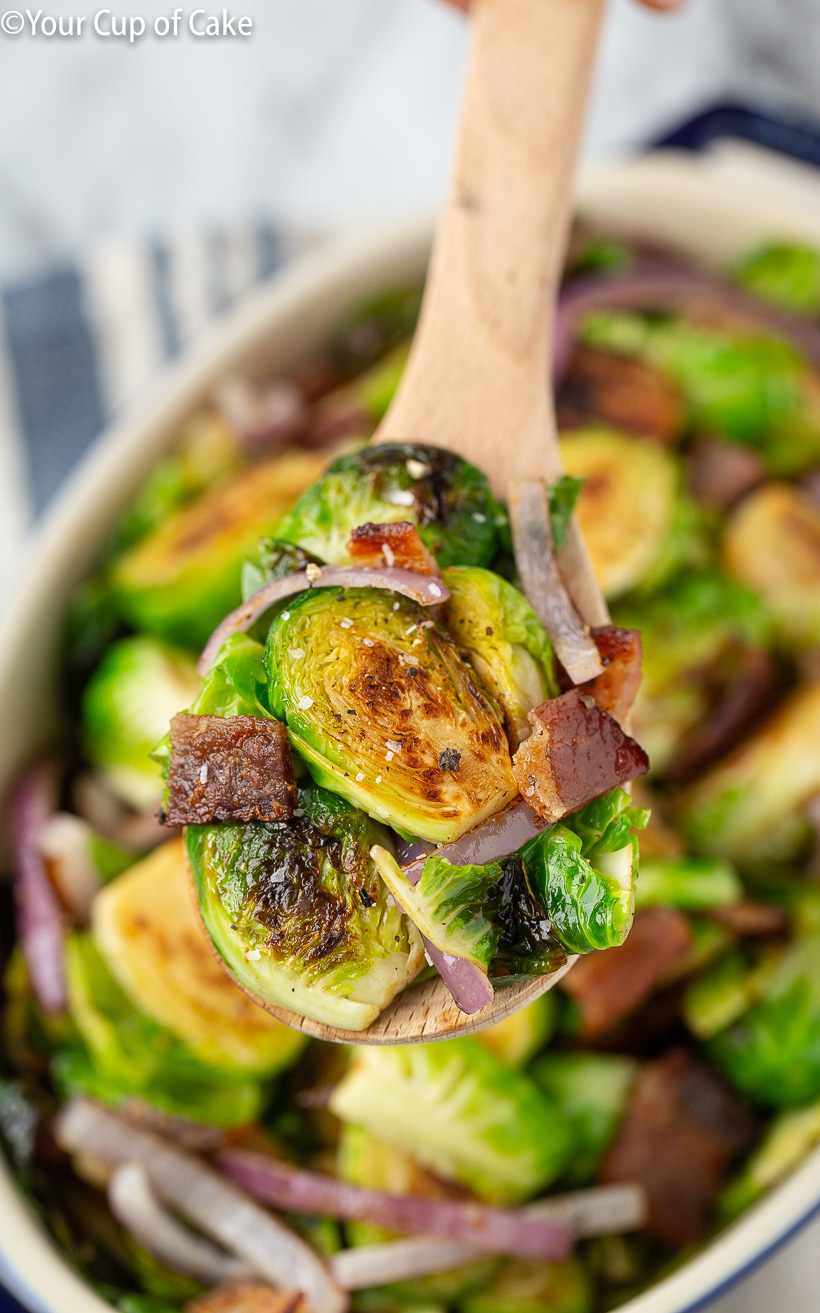 The Best Bacon Garlic Brussels Sprouts
Bacon Garlic Brussels Sprouts
Ingredients
1

lb

brussels sprouts

trimmed, halved, and rinsed

4

tbsp

butter

3

strips

cooked bacon

chopped

2

tbsp

bacon grease

1/3

cup

chopped red onion

salt and pepper

to taste

3

cloves

garlic, minced
Instructions
In a large skillet, over medium-high heat, melt the butter and bacon grease. Add the brussels sprouts to the skillet and give the pan a quick toss. Try to have as many brussels sprouts cut side down as possible.

Leave the brussels sprouts for 4-5 minutes, allowing the bottoms to caramelize and then toss to allow them to rotate. Add the bacon, red onions, salt, and pepper and cook for an additional 4-5 minutes or until the brussels sprouts are tender with golden surfaces. Add garlic and sauté until fragrant, about 1-2 minutes.

Transfer the brussels sprouts to a dish and serve while hot.
Recipe Notes
When you cook your bacon, reserve the bacon grease in a mug for this recipe! Just cook your bacon as usual and then carefully pour the liquid grease into a mug until ready to measure and use.  
Do not add the garlic too early, most people accidentally burn their garlic because they add it in too soon to their recipes!