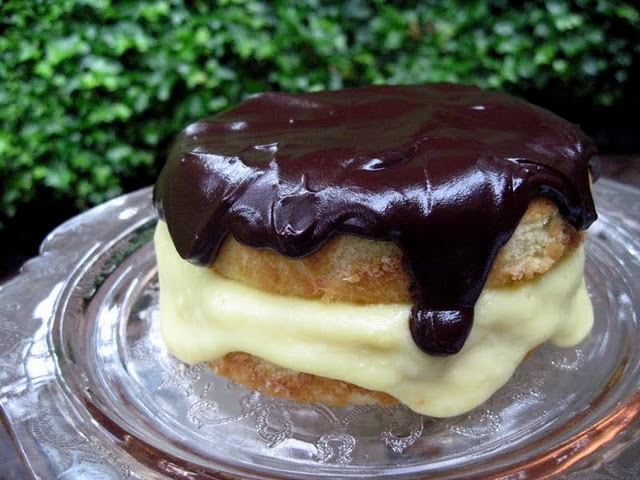 The Story:
Ever since I have made cupcakes, my father has been scraping the frosting off the top and putting it down the kitchen sink. Frosting— "Too much," he says. Fillings in cupcakes— "Too much." Sauces and sprinkles—"Too much."
So for father's day, he chose Boston Cream Pie. The photos look pretty out of control, but I didn't find him feeding any pastry cream to the dog or putting the ganache in the trash. Success.
2 teaspoons baking powder
4 tablespoons butter, cubed
Simple Chocolate Ganache:
2 ½ tablespoons heavy whipping cream
1.
Preheat oven to 350 degrees and grease cake pans.
2.
Beat soft butter and sugar until light and fluffy.
3.
On low speed, mix egg yolks in one at a time, then add vanilla.
4.
In a separate bowl, mix flour, cornstarch, baking powder and salt together.
5.
Add about 1/3 of the dry ingredients, then the sour cream, then another 1/3 of the dry, then the buttermilk, and then the final dry ingredients. Each time, make sure the batter if fully mixed before adding anything new. Careful not to over mix.
6.
Pour the batter into pans and bake for about 25-30 minutes, or until a toothpick or knife comes out clean when inserted. Let cool in pans for a few minutes, then put the cakes into cooling racks.
7.
Cream: In a saucepan, heat half and half, 6 tablespoons of sugar and salt over medium heat until simmering. Stir occasionally.
8.
In a separate bowl, lightly whisk egg yolks, 2 tablespoons sugar, and cornstarch.
9.
When half and half is at a full simmer, slowly whisk it into the yolk mixture. Return the mixture to the saucepan and continue to stir until bubble burst. Remove from heat and stir in vanilla and butter and sift to remove lumps if needed. Let cool before assembling cake.
10.
Ganache: On the stovetop or in the microwave, heat chocolate chips, whipping cream, and butter until melted. Stir in vanilla.
11.
Assemble cake! (cake, pastry cream, cake, warm ganache)