The Story:
Just in case you don't have a fire pit in your backyard, and you are bored of using the microwave, here is a new approach to the classic summer treat.
Chocolate Cakes:
1 ¾ cup sugar
¼ cup brown sugar
1/2 cup vegetable oil
1 cup sour cream
2 teaspoons vanilla extract
2 eggs
2 cups flour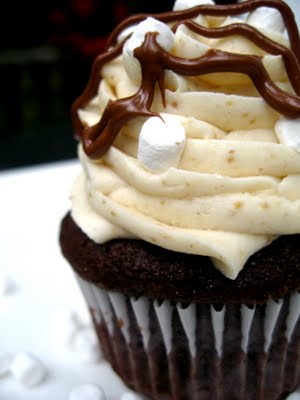 1 cup cocoa
1 1/2 teaspoons baking powder
1 1/2 teaspoons baking soda
1 teaspoon salt
¾ cup boiling water
Graham cracker crumbs (fine crumbs)
Marshmallow Cream Centers:
4 oz cream cheese
½ cup marshmallow cream
1 ½-2 cups powdered sugar
Graham Cracker Buttercream:
8 oz cream cheese
½ cup butter, softened
4 cups powdered sugar
¾ cup graham cracker crumbs (fine crumbs)
1 teaspoon vanilla
2-3 tablespoons whipping cream or milk
mini marshmallows and chocolate for decoration
Directions:
1. Preheat oven to 360 degrees and line cupcake pans with liners (24).
2. Mix sugar, brown sugar and oil for 3 minutes until smooth.
3. Add sour cream and vanilla extract stir well.
4. Add eggs one at a time and mix only until incorporated.
5. In a separate bowl, sift together flour, cocoa, baking powder, baking soda and salt.
6. Add dry ingredients and boiling water to sugar mixture alternating between the two.
7. Spoon ¾ teaspoon of graham cracker crumbs into the bottom of each cupcake liner. Shake pan to spread evenly.
8. Fill liners ¾ full and bake for 18-22 minutes or until a toothpick comes out clean.
9. Mashmallow Cream Centers: Beat cream cheese, marshmallow cream and powdered sugar. Add more powdered sugar to taste. (This mixture should not be thick like a buttercream, because it will be in the center of your cupcake.)
10.When cupcakes are cooled, cut out a small area from the top of the cake and pipe marshmallow cream into each cupcake.
11. Graham Cracker Buttercream: Beat cream cheese and butter until light and creamy. Add powdered sugar, vanilla and graham cracker crumbs. At this point, the buttercream will look like cookie dough. Add heavy cream a little bit at a time until buttercream consistency is reached.
12. Pipe onto cooled, marshmallow filled cupcakes and top with mini marshmallows and melted chocolate.