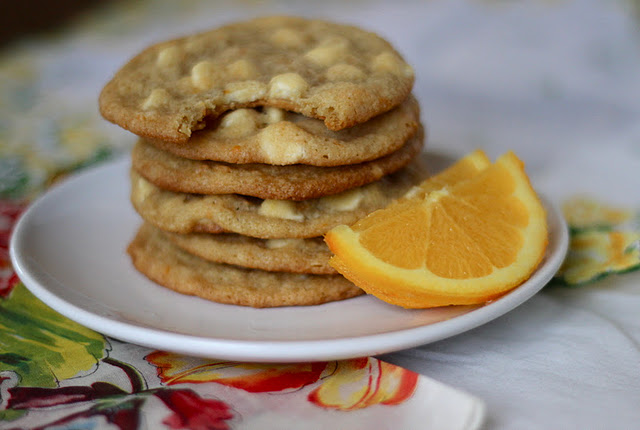 The Story:
Sometimes I just can't let something go to waste—like oranges sitting on top of my fridge. I just hear them calling in the middle of the night, "Lizzy! Lizzy! Use my wonderful, bright zest! Share me with the world! Don't let me mold up here next to the cereal boxes…"

Ingredients:
1 cup butter, softened
½ cup sugar
½ cup brown sugar
zest of two oranges
1 egg
2 ½ cups flour
½ teaspoon baking soda
½ teaspoon baking powder
½ teaspoon salt
2 teaspoons malted milk (optional)
2 cups white chocolate chips
Yields: 35 cookies
Directions:
1. Preheat oven to 350 degrees and line pans with parchment paper if available.
2. Beat butter and sugars for 2 minutes.
3. Add zest, scrape the sides of the bowl and let beat for 3 more minutes.
4. Add egg and mix on slow.
5. In a separate bowl, combine flour, baking soda, baking powder, salt and malted milk.
6. Add flour mixture to butter mixture and mix only until combined.
7. Stir in chocolate chips.
8. Make dough balls the size of 2 teaspoons and bake for 10-12 minutes, or until the edges start to brown.