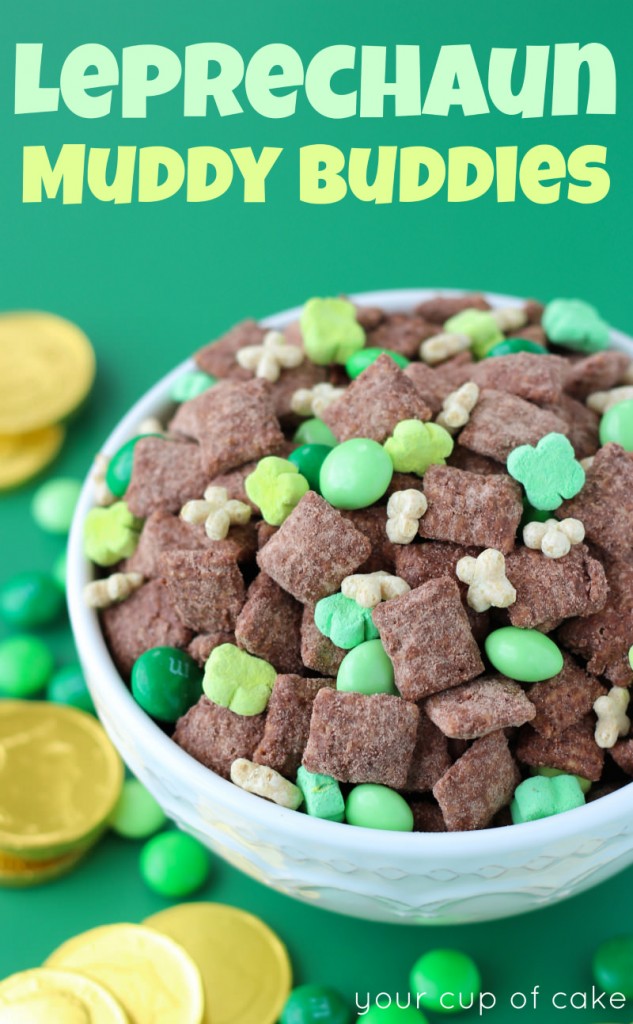 First let me tell you that "Puppy Chow" and Muddy Buddies are the same thing! I'm just labeling these different to see how it goes 🙂 There are a ton of fun ways to make an awesome St. Patrick's Day Muddy Buddy recipe, so note some of my adaptions on the recipe below. But I wanted to make this Leprechaun Muddy Buddy recipe peanut butter-free because I know that's a need for a lot of families. Be sure to check out all my other Puppy Chow Recipes! They're a great party snack that are WAY easy make!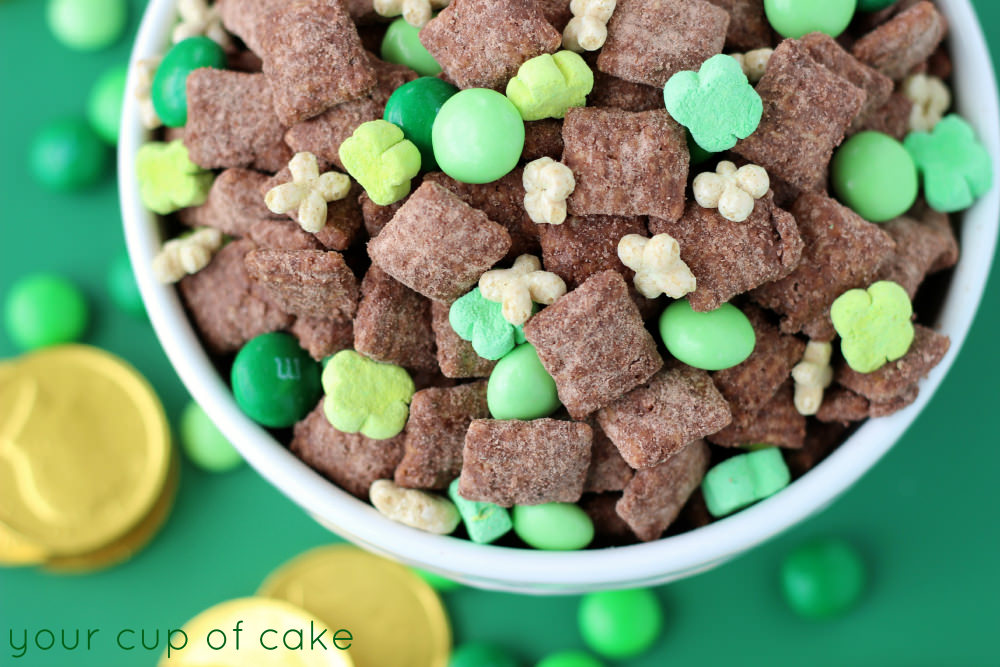 The Story:
I may have already admitted this, but I'll do it again….
I do some crazy things when I write my cookbooks. I think it's because I'm baking 4 things a day and taking all the photos and my house turns into complete chaos–So my brain has no choice but to melt, right?! Right. So when I was making a recipe for St. Patrick's Day I went outside looking for 4-leaf clovers to use as props. Kids search for hours and never find one, who did I think I was to find one in 5 minutes? Genius move Lizzy. Well surprise, surprise… I came up empty handed. So what did I do? Busted out the glue. That's right, I glued on a 4th leaf to a clover.
Sometimes we just have to make our own luck.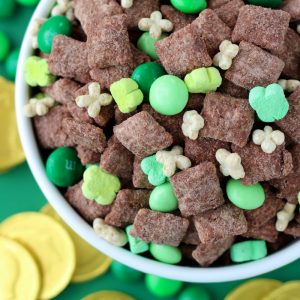 Leprechaun Muddy Buddies
Ingredients
6

C.

Rice Chex Cereal

1 1/2

C.

chocolate melts*

chocolate "disks" meant for melting

1

C.

brownie mix*

the dry powder 🙂

2

C.

Lucky Charms Cereal

I used the 50th anniversary ones

1

C.

Mint M&M's

or any minty candies

**NOTE: You can use chocolate chips instead of melts and add 1/3 C. peanut butter

but then you're going for a peanut butter and chocolate flavor combo so you might want to rethink the mint!. You can also replace the brownie mix with crushed Thin Mints!! So good! Just 'zap' them in a blender or food processor, you want them to be crushed well!)
Instructions
1. Place cereal in a large bowl.

2. Melt chocolate melts either in a microwave proof bowl in the microwave or over the stove top. Pay close attention so you don't burn it!

3. Pour chocolate over cereal and gently fold until coated.

4. Put brownie mix in a large plastic bag (or tupperware) and dump chocolate-coated cereal in. Seal bag and SHAKE, SHAKE, SHAKE!

5. Dump cereal onto foil or a cookie sheet to cool.

6. Mix with Lucky Charms and M&M's and enjoy!
As I said in the recipe, I used the special 50th Anniversary Lucky Charms (no they aren't paying me to promote it) I just thought it was cute because it came with all green marshmallows 🙂 But the regular kind looks adorable too!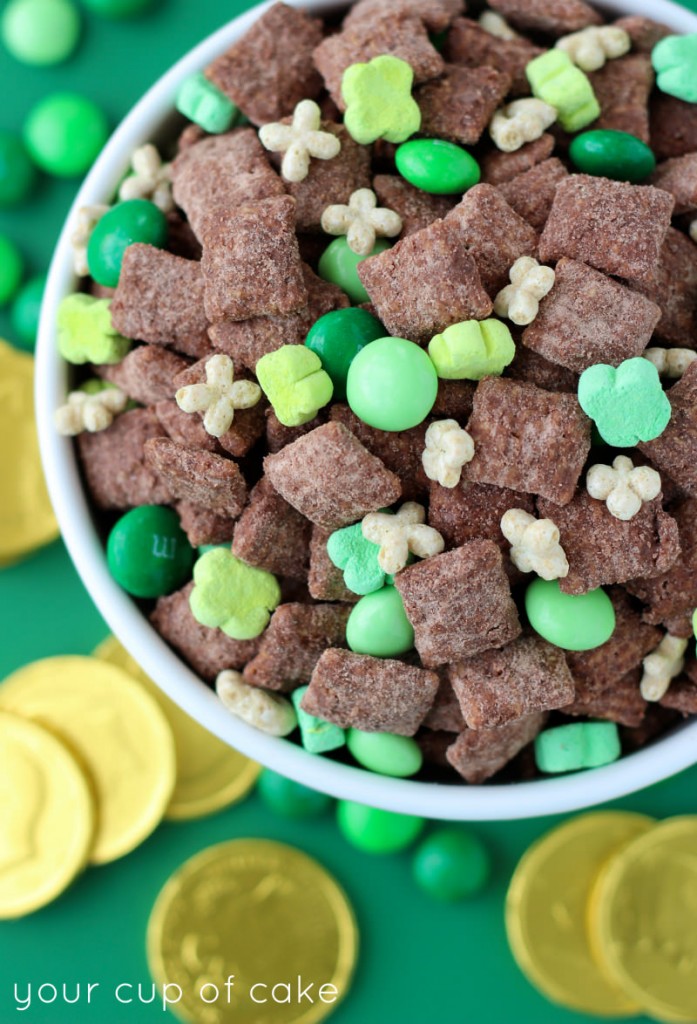 Yup, that's how I do it! Nothing fancy, just some poster board and some natural light 🙂 I didn't go hunting for 4-leaf clovers for this recipe…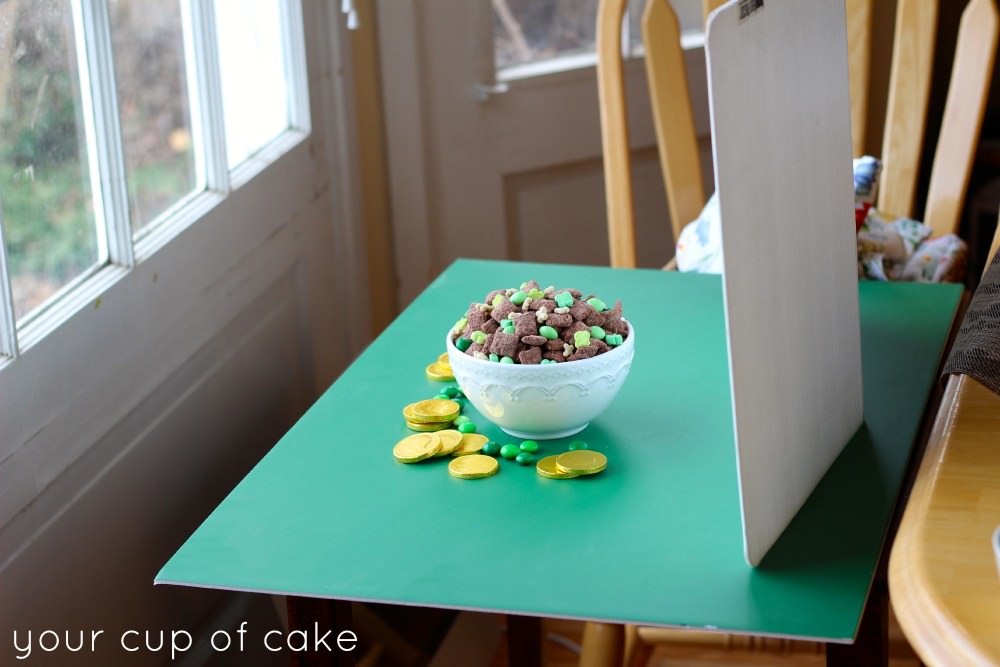 On another note, my new cookbook is getting released REALLY SOON! On Amazon it says it will be shipped in 1-2 months but that's just because they don't quite have them at their warehouse yet (it won't be that long), but if you're going to get it on Amazon, get it while it's still on sale! I'll do a post about the new book later, but it's going to be gorgeous and I can't wait to have my hands on a copy!