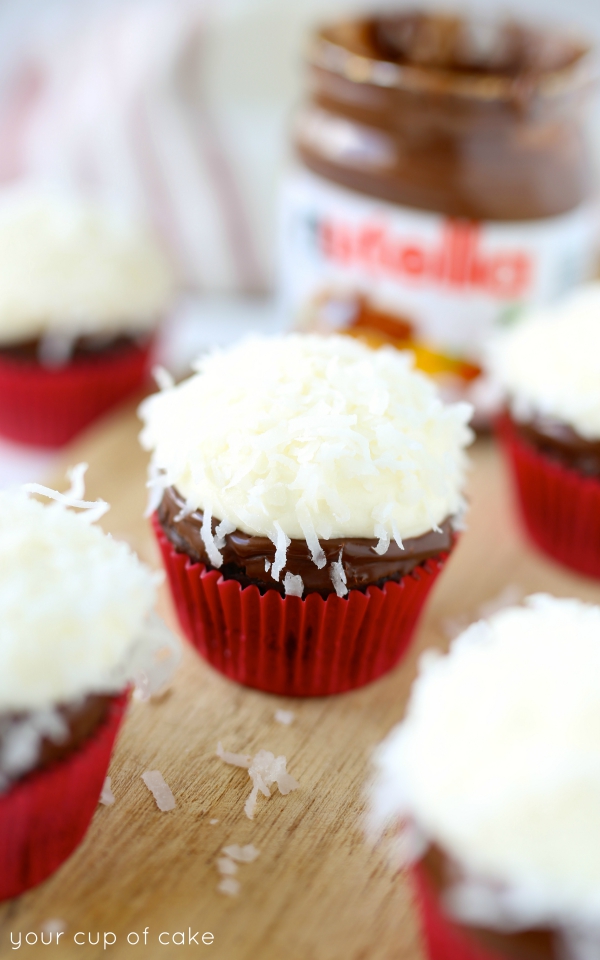 These Coconut Nutella Cupcakes are topped with rich Nutella ganache, sweet coconut cream cheese frosting and shredded coconut. Who says you can't bring a little chocolate decadence to your favorite hawaiian flavors?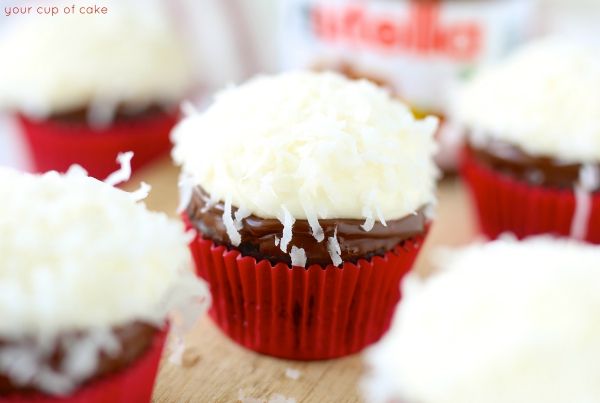 Adding a layer of ganache to your cupcakes is the easiest way to take them from homemade to bakery perfection! Whenever I'm home making cupcakes my mother always makes sure I put ganache on them, it's her favorite part! Sometimes I'll ganache cupcakes and not even top them with frosting and call they "low calorie cupcakes." 🙂 Now, technically ganache is chocolate and cream. But here I'm using Nutella as the fat instead of butter. I also make ganache using peanut butter something too, like in my Reese's Peanut butter Cupcakes.
The most important thing when making ganache is making sure your bowl really is microwave safe. That doesn't mean that it just won't explode or melt, it needs to not get scorching hot. If it does, it will burn your chocolate. (Pyrex bowls are always a safe choice.) So I usually pop my chocolate chips and ganache in my bowl and then zap it for 30-50 seconds, take out and stir and then zap for 15 more seconds and stir again. It really will depend on your microwave though.

Nutella ganche doesn't always set super firm, especially in the heat of summer, but that's alright! Just pipe over them the best you can and then roll the tops in shredded coconut. You can even toast your coconut to bring out some more flavor if you want.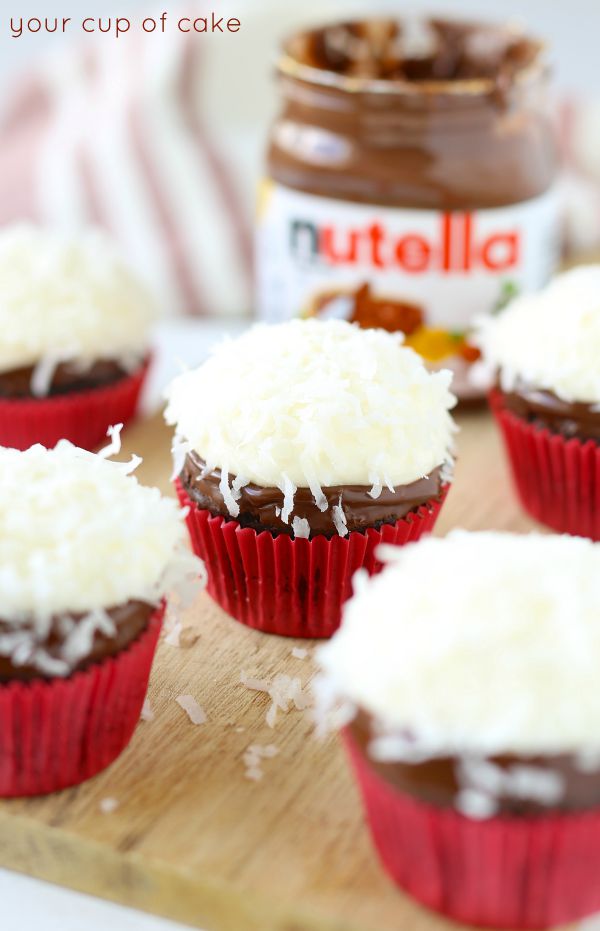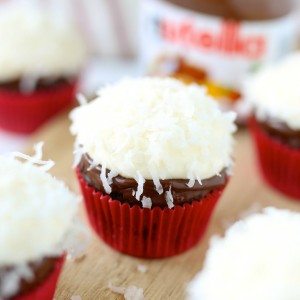 Coconut Nutella Cupcakes
Ingredients
CAKE:

1

Box devil's food cake mix

3

eggs

1/2

C.

butter

melted

1

C.

buttermilk or milk

1/2

C.

sour cream

2

tsp.

vanilla extract

NUTELLA GANACHE:

2/3

C.

Nutella

1/3

C.

Chocolate Chips

COCONUT CREAM CHEESE FROSTING:

8

oz.

cream cheese

1/2

C.

butter

softened (unsalted)

2

tsp.

coconut extract

1

tsp.

vanilla extract

3-4

C.

powdered sugar

SHREDDED COCONUT
Instructions
1. Preheat oven to 350 degrees and line pan with cupcake liners.

2. In a large bowl. sift in cake mix to remove any lumps and add remaining cake ingredients. Stir unit combined.

3. Fill cupcake liners 3/4 full and bake for 18-22 minutes or until an inserted knife comes out clean.

4. Let cool.

5. Nutella Ganache: (see photos) Melt Nutella and chocolate chips together in the microwave using a microwave proof bowl and stir every 30 seconds until smooth. Dip the tops of the cooled cupcakes in the ganache and then set upright to let set.

6. Coconut Frosting: Beat cream cheese and butter together. Add coconut and vanilla extrat and then add 3 cup powdered sugar. Continue to add until you reach your desired consistency.

7. Frost cupcakes over ganache and then top with shredded coconut!
This Andes Mint Cake is gorgeous and delicious!