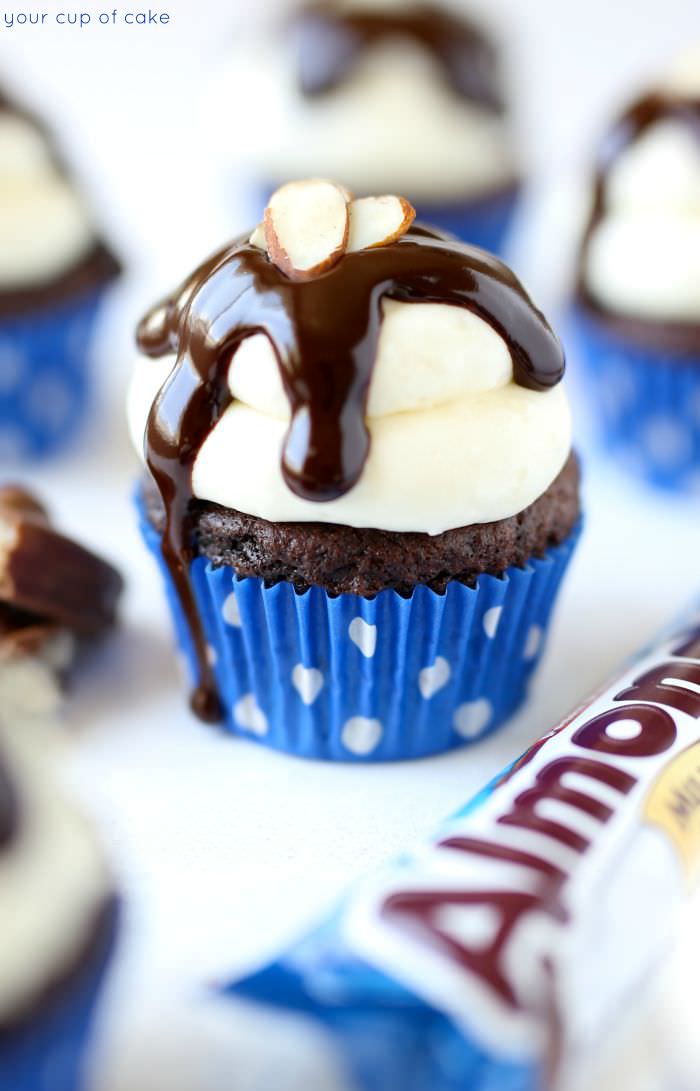 These Almond Joy Cupcakes are topped with coconut cream cheese frosting and dripping in chocolate ganache. Who needs the candy bar when you can have the cupcake?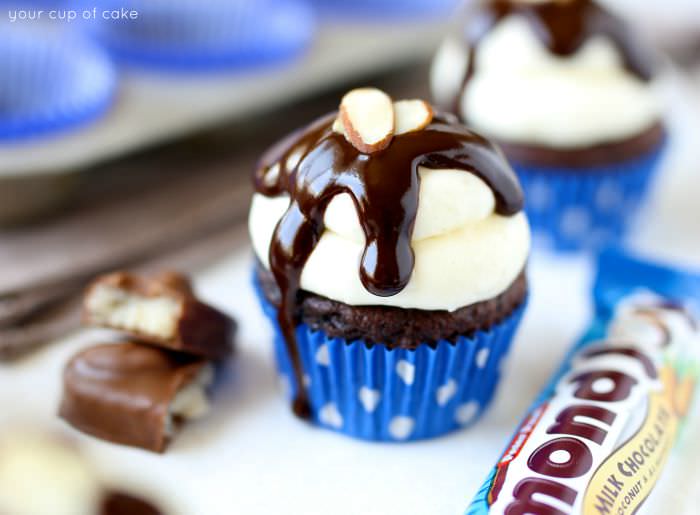 I loved Almond Joys growing up. I think mostly because my father loved them, so then I loved them. When I was away at college and missing home and trying to be independent and grown up I had this brilliant idea that I was going to make my own Almond Joys. So I looked up some recipe online, went to the grocery store and made my best attempt. And wow–I had no clue what I was doing. When I was finished they were these huge piles of mostly chocolate and there was still coconut showing on the bottom and the apartment was so hot the chocolate wouldn't set and they were just terrible. I think I tried to save them by putting them in the freezer and I attempted to eat one, but it was just no good.
I think I'll stick with cupcakes.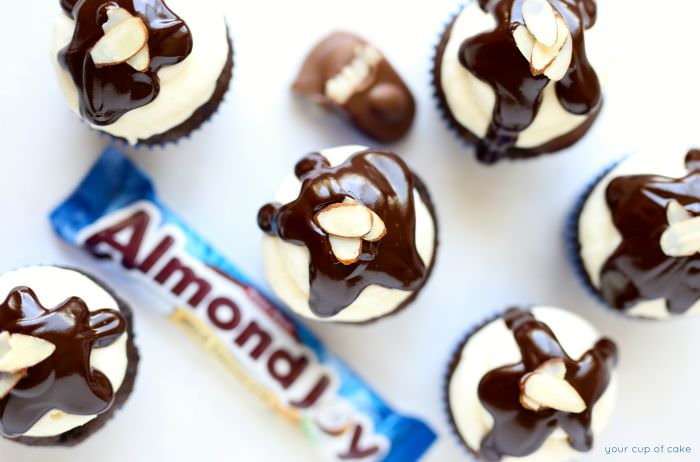 I usually make cake mix versions of my cupcakes because I love how fast and easy it is to whip out a batch and I love that all the gluten free people can just sway in a gluten free cake mix, but this time I did a scratch recipe! But if you prefer the cake mix kind, then just swap in one of my other chocolate cupcake recipes, like from my Samoa Cupcakes and just add in a little almond extract!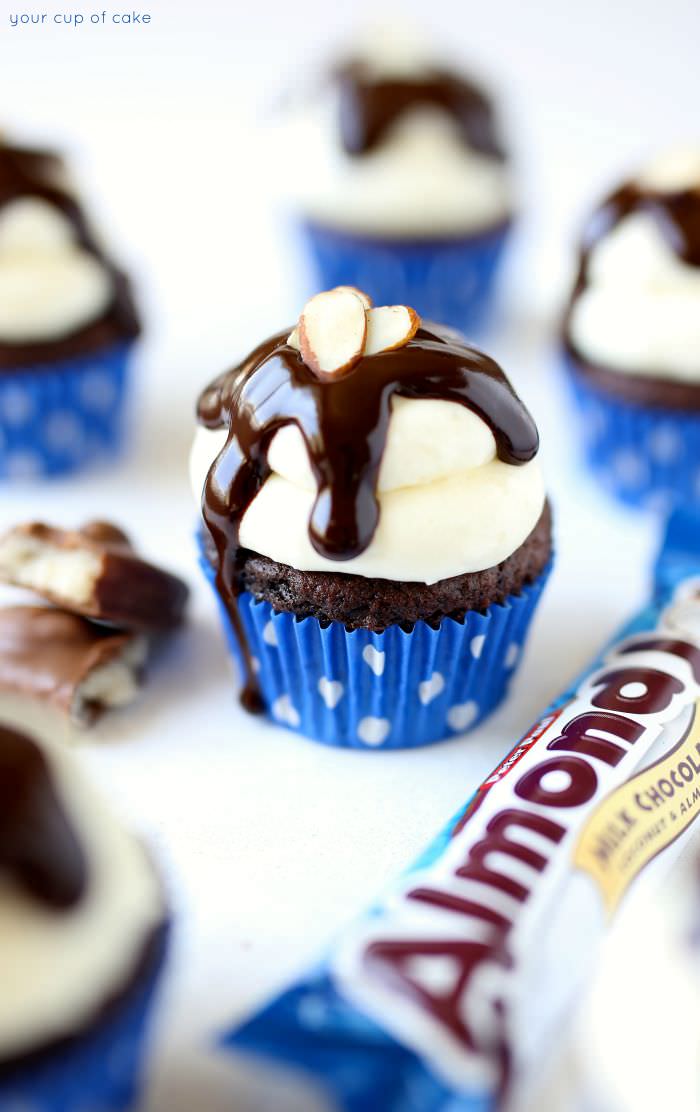 Whenever I put ganache on the top of a cupcake I like to put it in a small ziplock bag and snip off the tip so I can have a little more control on where the "drips" will go. But you can totally just spoon it over the frosting! You even could pipe on the frosting to create a sort of "well" in the middle of it and then just fill it with ganache! Like a chocolate pool party 🙂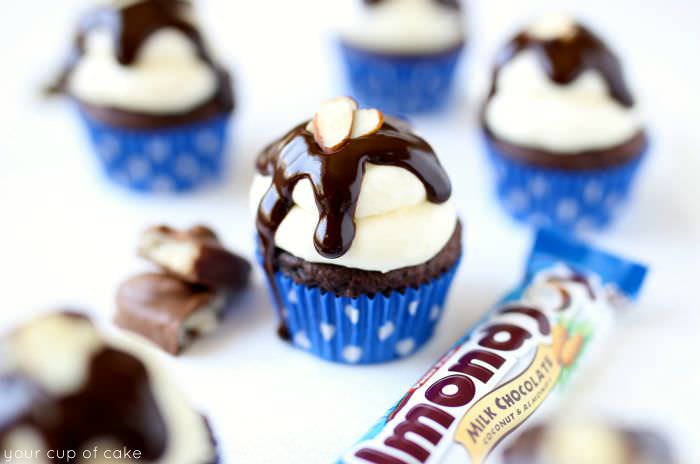 I put shredded coconut in the frosting to make it more like an Almond Joy, but you can always leave that out if you want. If you leave it out you can pipe it with any tip you want and it will still look silky smooth. But I chopped up the coconut before adding mine so that it wouldn't look too chunky. Did you know these are actually my second Almond Joy Cupcakes on the blog? My first recipe was quite a literal interpretation of the candy bar because I took the frosting and dipped it into melting chocolates which harden when they cool. So the cupcake had a massive Almond Joy on the top of it! So fun and awesome! But this time I wanted to take a more whimsical approach.
I won't lie, I'm totally getting into the fall mood! I made pumpkin pie cake and caramel corn yesterday! But I've been told it's too early to start spreading the pumpkin joy so I'm transitioning with some candy bar cupcakes! They can still sort of count as summer but candy bars are also quite popular around Halloween! Eeek! Or maybe I should say BOO!
This photo is from the start of my photo shoot, I just snapped it to help set the lighting and get my camera adjusted right. I think it's always fun to get a little sneak into what the process of my job looks like.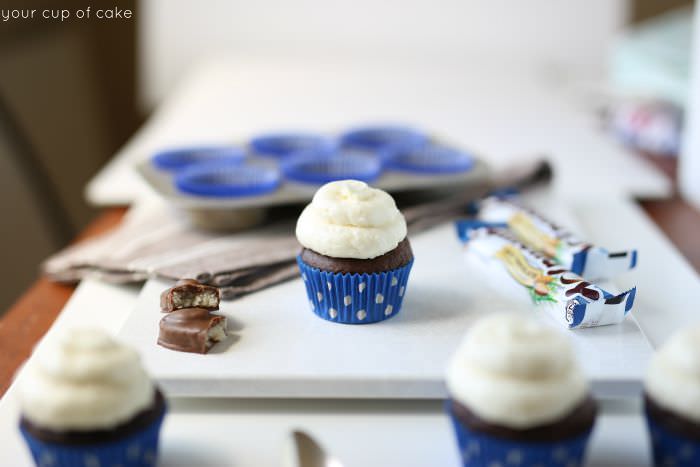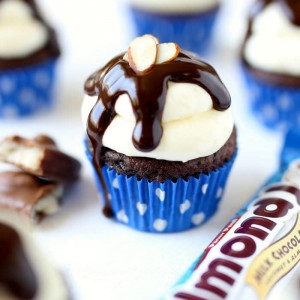 Almond Joy Cupcakes
Ingredients
CHOCOLATE CAKE:

1

C.

unsweetened cocoa powder

1 1/2

C.

all-purpose flour

1

tsp.

baking soda

1 1/2

tsp.

baking powder

1/2

tsp.

salt

4

eggs

at room temperature

1

C.

granulated sugar

1

C.

light brown sugar. packed

2/3

C.

vegetable or canola oil

1

Tbsp.

vanilla extract

2

tsp.

almond extract

optional

1

C.

buttermilk

COCONUT FLAKE CREAM CHEESE FROSTING:

8

oz.

cream cheese

1/2

C.

butter

softened

1

tsp.

vanilla extract

1

tsp.

coconut extract

3-4

C.

powdered sugar

1

C.

shredded coconut

chopped

CHOCOLATE GANACHE:

1/2

C.

chocolate chips

1/2

C.

heavy whipping cream

Almond slices for decoration
Instructions
1. Preheat oven to 350 degrees and line cupcake pans with cupcake liners.

2. Combine cocoa powder, flour, baking soda, baking powder and salt together in a large bowl then set aside.

3. In a separate bowl, whisk together eggs, sugar, brown sugar, oil and vanilla extract (and almond extract). Pour half into the dry ingredients, then half of the buttermilk, then the rest of the egg mixture and then the rest of the buttermilk. Stir gently between each addition, but be careful not to over mix!

4. Fill cupcake liners about 1/2 full and bake for 18-22 minutes or until an inserted knife comes out clean.

5. Frosting: Beat cream cheese and butter together for 2 minutes. Add vanilla extract and coconut extract. Add 2 cups powdered sugar and then slowly add in more until you reach your desired consistency. Stir in shredded coconut.

6. Chocolate Ganache: Melt chocolate chips and whipping cream together until smooth. Either in the microwave or in a double boiler, be careful not to burn the chocolate.

7. Pipe frosting onto cooled cupcakes and spoon over ganache and top with almonds!
If you like candy bar cupcakes I have a bunch of recipes! One of which are these Butterfinger Cupcakes!