Skip the long line at Chipotle and make this Copycat Chipotle Corn Salsa! This easy recipe is perfect for game day and parties, and you only need 6 ingredients!
Copycat Chipotle Corn Salsa Recipe
The Super Bowl is coming up so bring on all the game food! We first made this salsa in the summer for a potluck and it was so good! Everyone was begging for the recipe because it's so simple and fresh! The lime juice adds the perfect zing and you can adjust the spiciness level by adding more or fewer peppers. This Copycat Chipotle Corn Salsa will be your new favorite go-to and you can bet I'll be making a big batch of this for Super Bowl Sunday!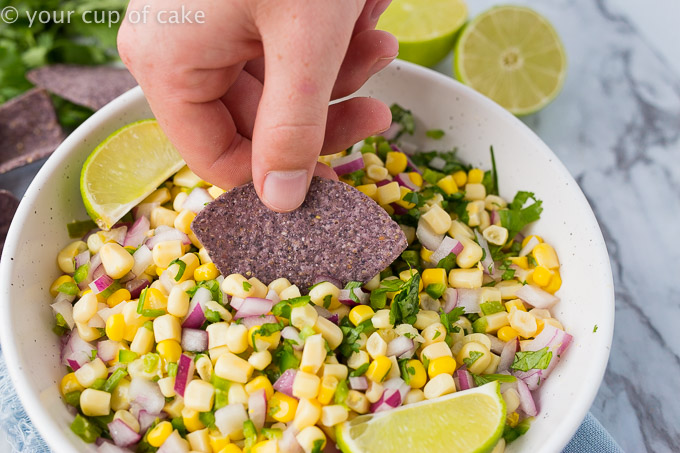 6 Ingredient Corn Salsa
What's better than a delicious salsa recipe? A delicious salsa recipe that only takes 5 minutes to prepare and only 6 ingredients! It's perfect for those days when you want to whip up something fast and don't want to spend time over the stove or preparing a long list of ingredients. It really tastes just like Chipotle Corn Salsa which is why my husband and I are obsessed!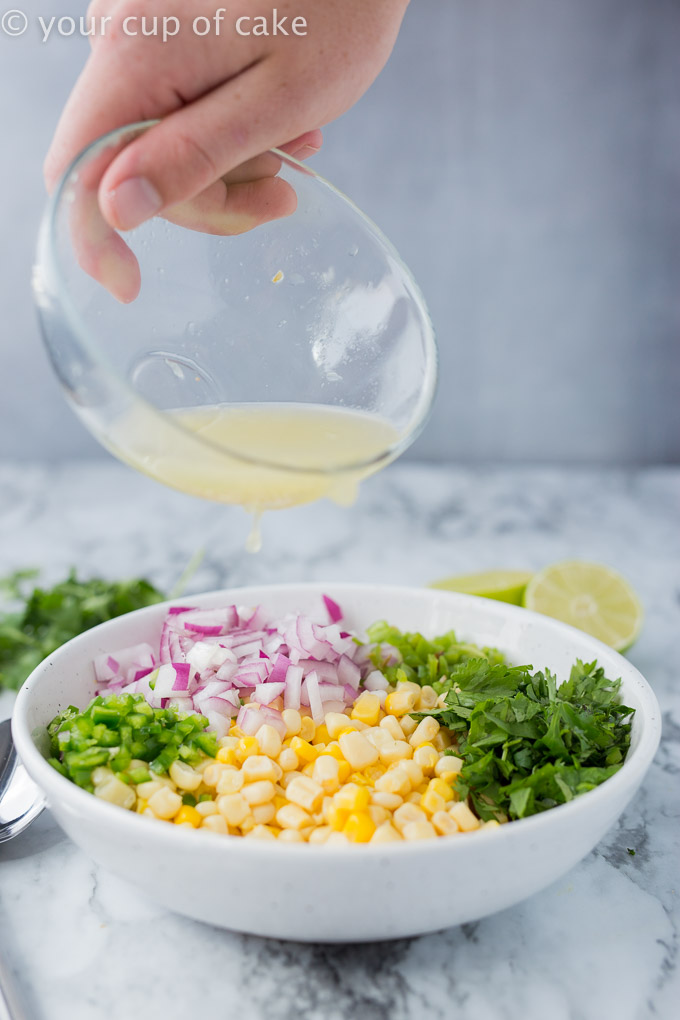 How to Make the Chipotle Corn Salsa
This recipe is suuuuper simple! As I mentioned before, there's only 6 ingredients (plus salt). You'll want to chop up some red onion, cilantro and jalapeño and toss that in a bowl. Pop open two cans of corn (we used a yellow and a while for more color) drain off the liquid, then add to the bowl. You have to option of broiling your poblano pepper in the oven for a few minutes if you want to take this to the next level before dicing it. Squeeze in your lime juice, add some salt and stir! But be careful, once you taste this Copycat Chipotle Corn Salsa you may eat it all before your guests arrive!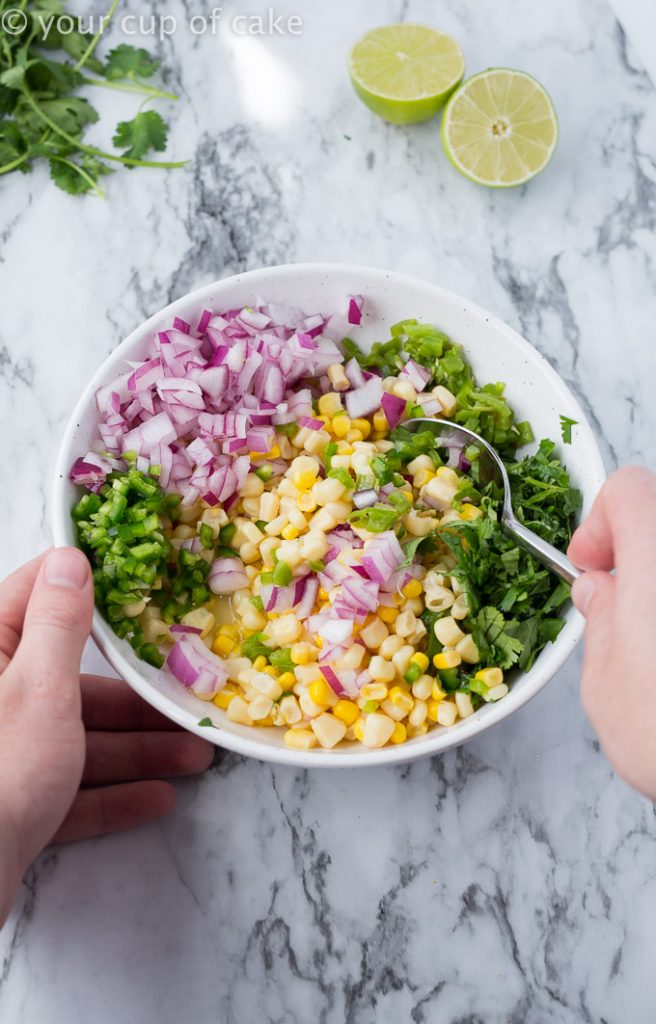 Don't my hands look manly? Ha! My husband was helping me make this salsa so they're his hands today. We made this recipe when I was in a tough part of my pregnancy so I needed a lot of help. It took all my strength just to hold up my heavy camera!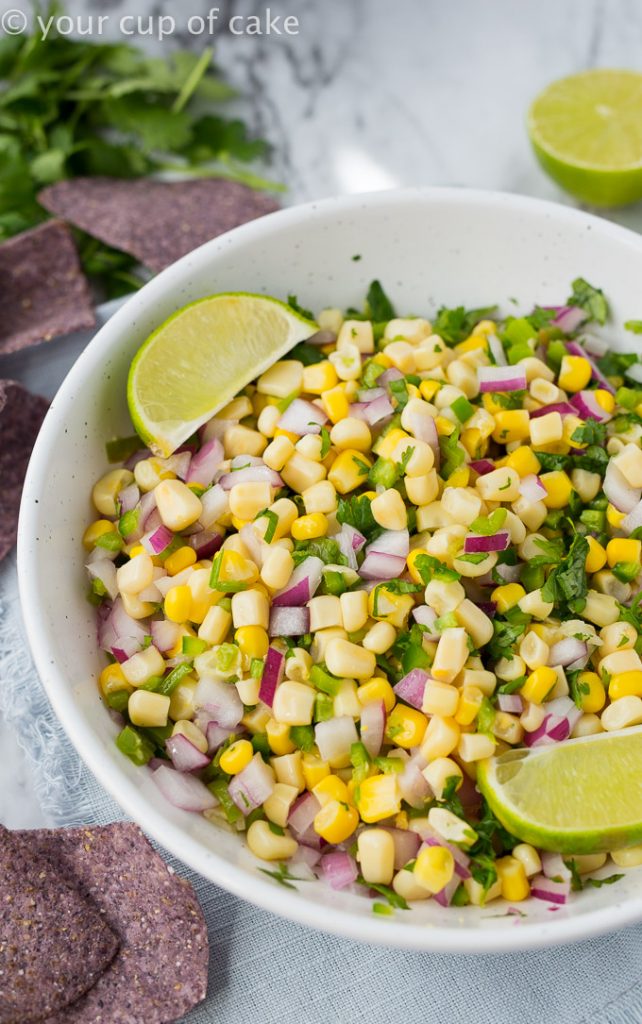 I hope you all have a wonderful Super Bowl weekend! I love watching the game, halftime and all the fun commercials but luckily I'm not a die hard fan for any team so I mostly get to enjoy the food and not stress about the score! We'll be making this salsa, jalepeño poppers, sweet pork sliders and some type of sweet!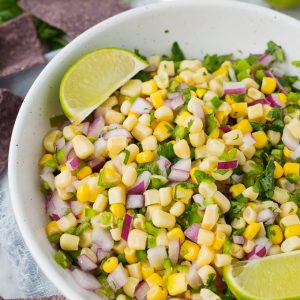 Copycat Chipotle Corn Salsa
The BEST Corn Salsa Recipe!
Ingredients
2

cans

corn

white or yellow or mixed, drained

3/4

cup

red onion

diced

1

jalapeno

diced

1

poblano + 2 tsp olive oil

(optional)

2-3

lime

1/2

cup

cilantro

chopped

2

tsp

kosher salt
Instructions
Combine all ingredients, stir, and serve in a bowl with chips on the side. Add more salt to taste if needed. If you would like to roast the poblano pepper, see below.

(Optional) Coat the poblano pepper in olive oil and roast under the broiler until the skin begins to char. Keep a close eye because it will be fast. Remove from the oven, let cool, dice.
Yum! I hope you enjoy this Copycat Chipotle Corn Salsa as much as we do! This really is one of my favorite salsa recipes that I use all year long!