It only takes 3 ingredients to make these Sweet and Salty Walnut Bites with Rolos and pretzels! And no dishes to clean when you're done! The easiest treat to make!

Sweet and Salty Walnut Bites made with Pretzels and Rolos
I'm all about easy-to-make treats. This recipe requires 3 ingredients, no bowls, no dirty dishes. Just one pan, pretzels, Rolos and walnuts! You also get to make only as many as you need! So you don't end up with a bunch of leftovers if you don't want to. But trust me, you're going to want to make as many as you can! Theses are chocolatey, caramely, pretzel walnut goodness. The snap of the pretzel, the crunch of the toasted walnut and then chewy caramel is the most perfect combination. Sweet and Salty Walnut Bites are my new favorite treat!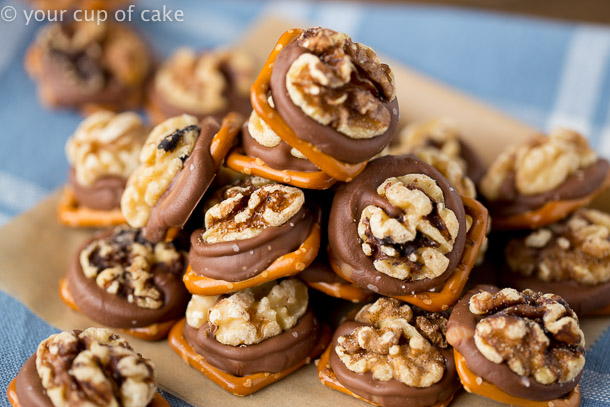 Walnut Turtle Rolo Bites
You've probably seen similar recipes floating around with pecans, and you can totally swap out the walnuts here for pecans, cashews, whatever nuts you want! But the walnuts are definitely my favorite! They don't over power anything and work perfectly with the other flavors. These are basically little turtle bites with walnuts. Yum!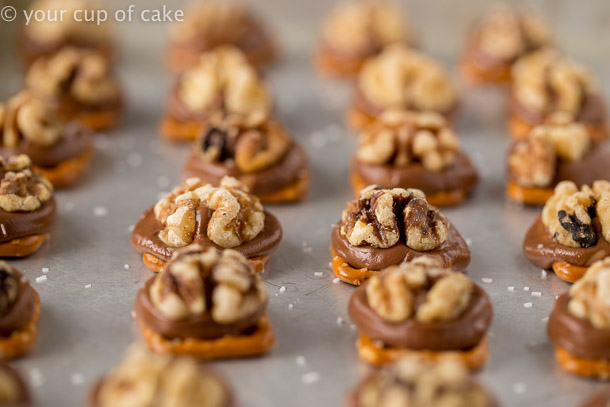 The Best 3 Ingredient Easy Treat
Okay, I lied. I said it only takes 3 ingredients for this recipe but if you want to make them amazing then add one more… coarse salt! I used Kosher but the flaked salt works great too. The reason why people love turtles (the treat not the animal, but those are great too) is because it's this balance of sweet and salty. The pretzels have salt, yes. But the Rolo is very sweet and the walnut needs some salt to bring out the flavor. So sprinkle on that salt after you bake your pretzels/Rolos and then press your walnuts on top to seal it all together.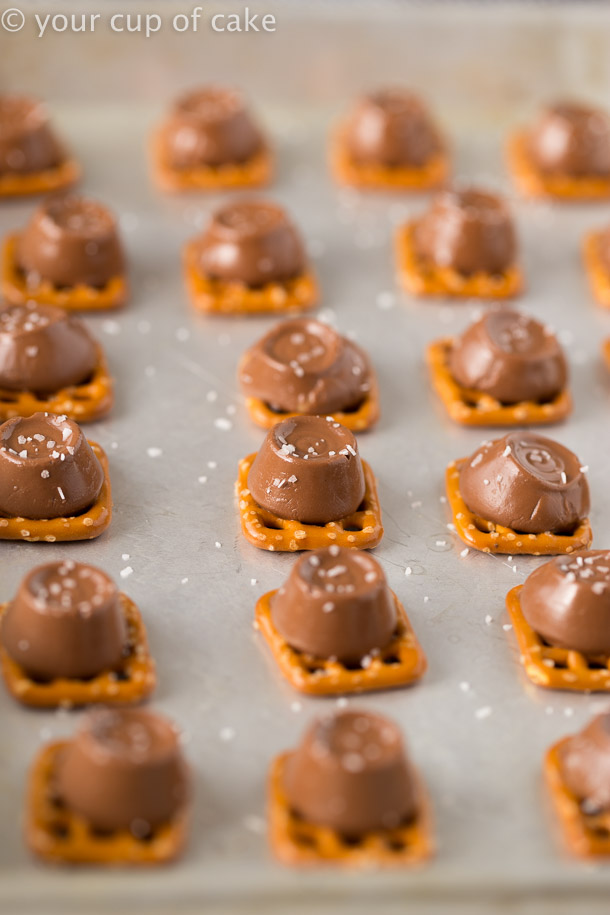 The trick with this recipe is toasting the walnuts first and not baking your Rolos/pretzels at too high of a temperature. You need the Rolo to evenly melt and not only melt the chocolate and not the caramel.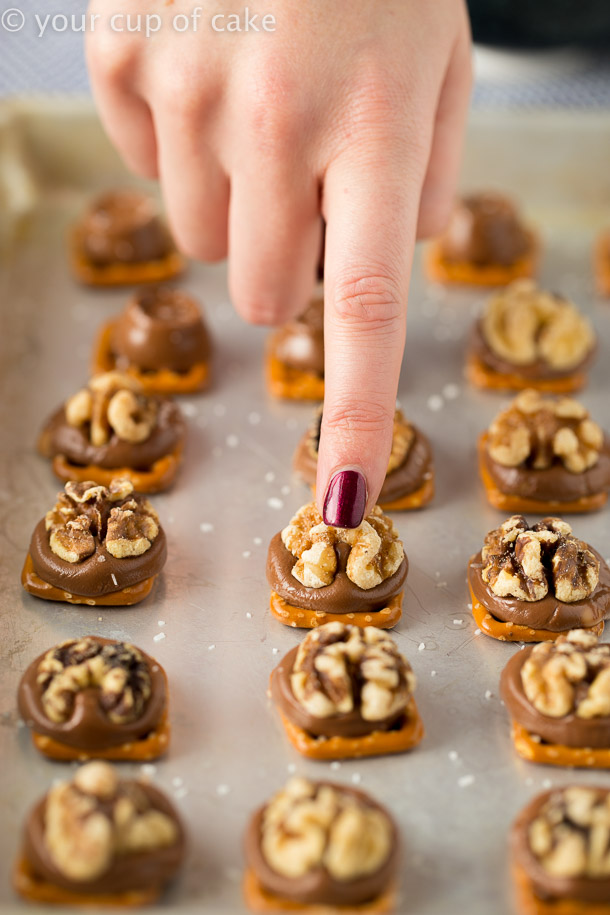 Pretzel Rolo Bites
I prefer using the square pretzels for these Sweet and Salty Walnut Bites because it has more surface area and the chocolate doesn't just get stuck to the pan underneath. I also use them for my other faaaaaavorite treat! White Chocolate Cinnamon Sugar Pretzels, oh my you need to try them. It's a flavor combo that you've never tried before! These square pretzels are also better for dipping, so you'll love them at parties.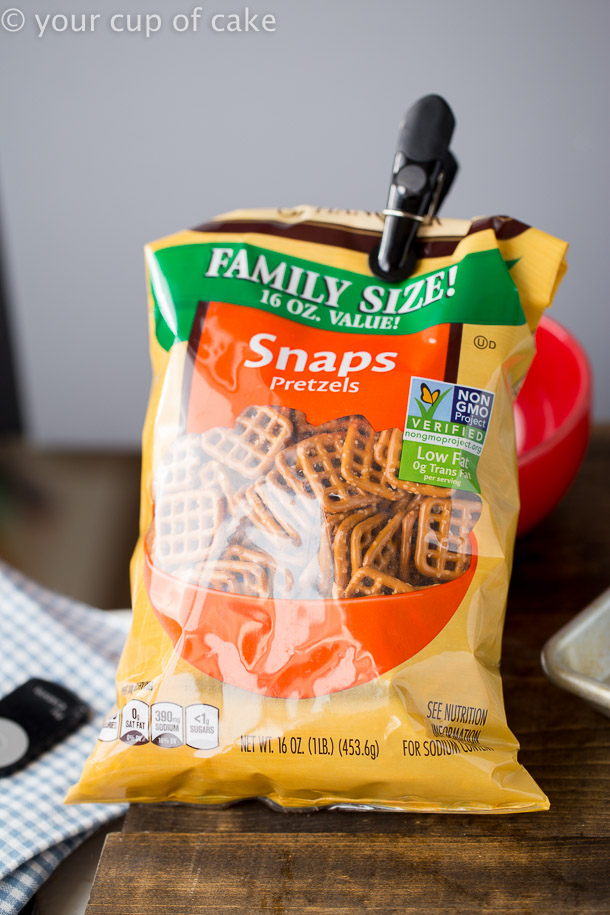 Enjoy my Sweet and Salty Walnut Bites! This is a great treat to make for neighbors this christmas! My husband is already begging for more… lucky for him I still have some Rolos leftover 🙂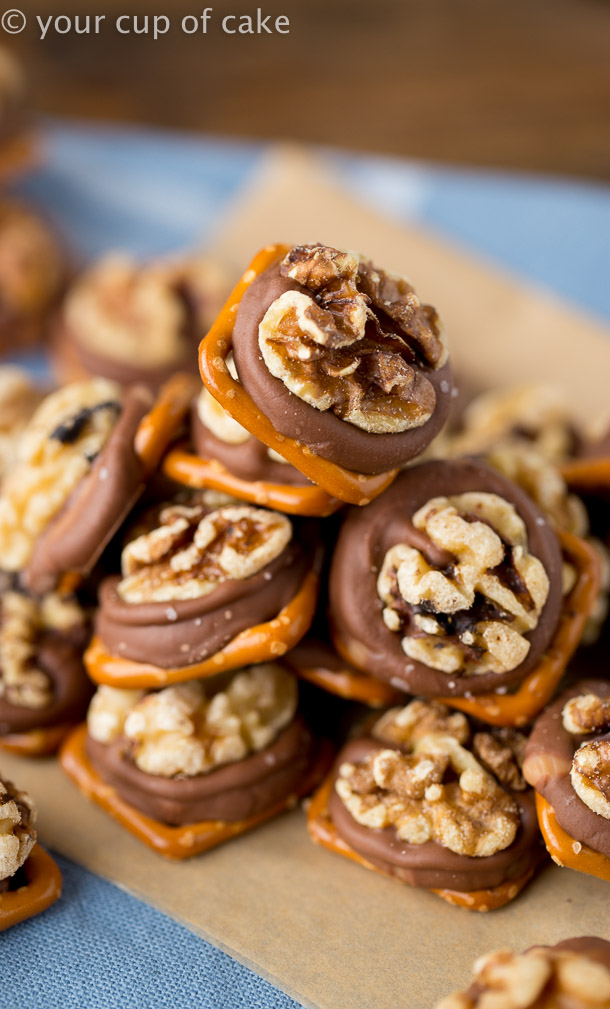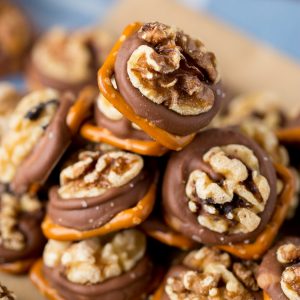 Sweet and Salty Walnut Bites [Rolo + Walnut + Pretzels]
Ingredients
EQUAL AMOUNTS OF THE FOLLOWING

Pretzles

Rolos

Walnut

halves

Coarse salt

optional
Instructions
1. Preheat oven to 300 degrees.

2. Place walnuts on pan and toast in the oven for 3-4 minutes.

3. Unwrap Rolos and spread out pretzles onto pan and top each pretzel with a rolo.

4. Bake for 4 minutes.

5. Remove from oven, sprinkle with coarse salt and then press a walnut onto each Rolo.

6. Let cool! If you need to rush this, place in fridge.