This Easy One Pot Bacon Alfredo Pasta is jam packed with flavor and so easy to make! Your family will be asking for this every week!

Easy One Pot Bacon Alfredo Pasta Recipe
You can never go wrong with bacon! And making this entire dish in the same pan really carries the bacon flavor through the whole dish! Yum! Parker made this for dinner a few weeks ago when I was in the midst of trying to eat low carb but I just could not resist this Easy One Pot Bacon Alfredo! It was crazy delicious! I love a good one pot meal because it means minimal dishes and no fuss. If you want to add chicken to this recipe to have a little protein I gave additional instructions for that at the end of the recipe!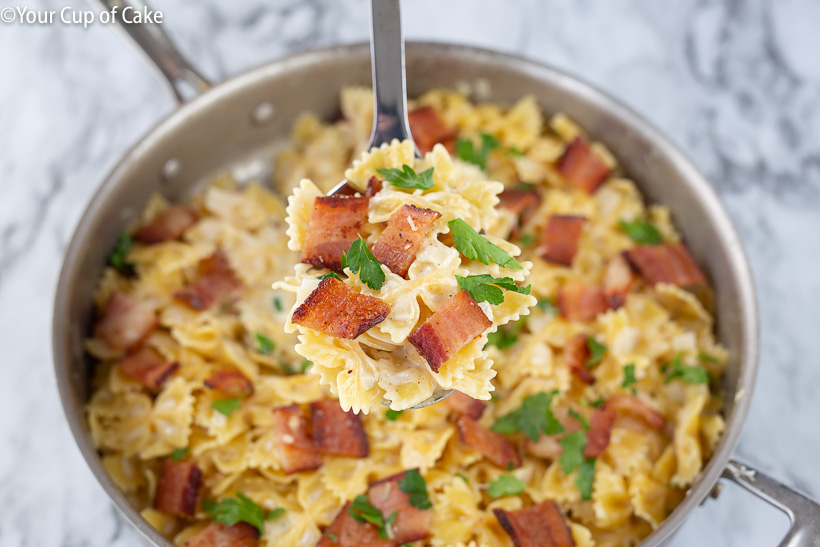 Best One Pot Pasta Recipe
I have made a lot of one pot recipes and this Easy One Pot Bacon Alfredo really does top the charts! I love it because the entire family can enjoy it. It's Alfredo pasta with a twist! It's not boring but at the same time it's not too adventurous either, it's the perfect balance. Parker (my husband) will be starting medical school in the fall and he's requested that I put this in the dinner rotation!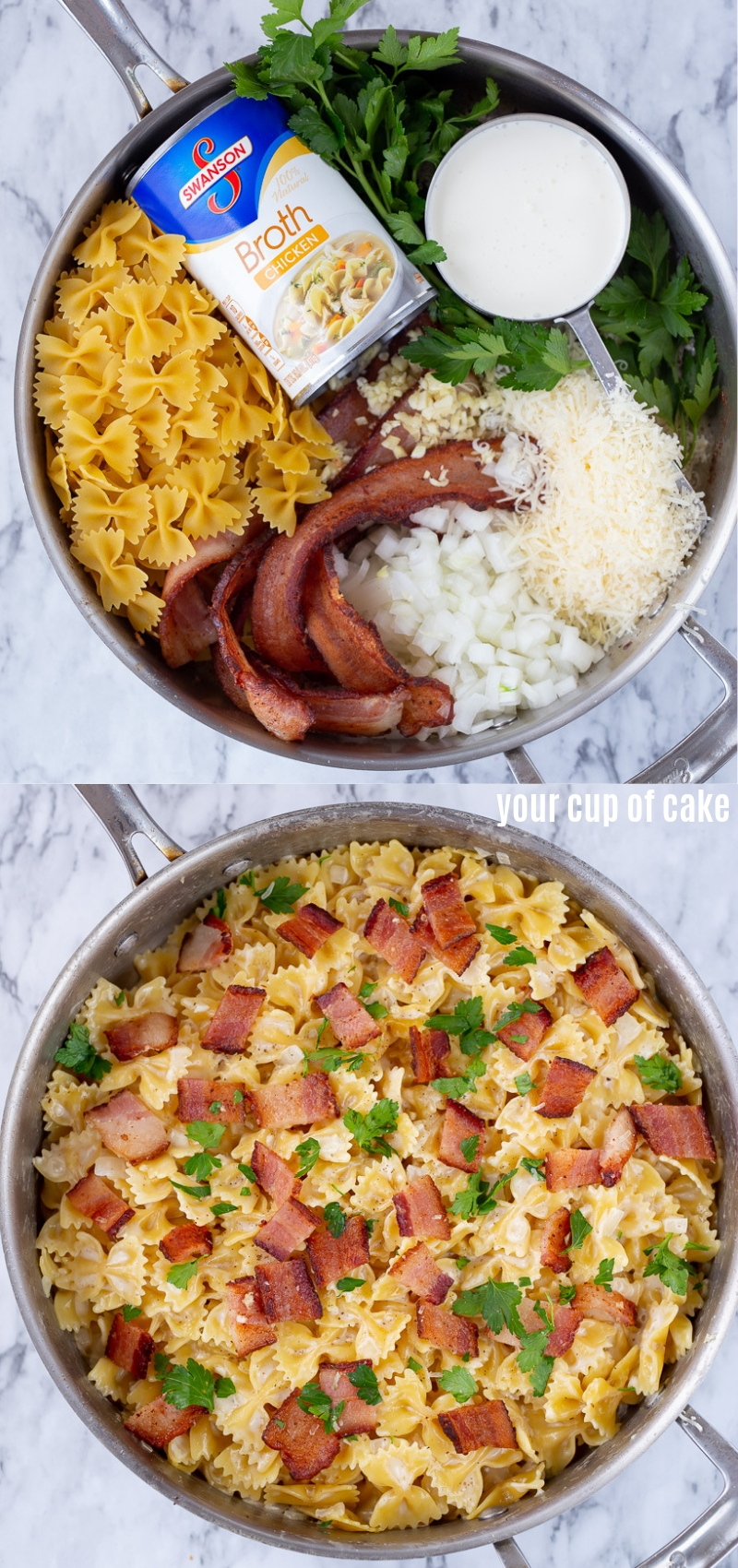 How Do One Pot Recipes Work?
What makes the magic happen with one pot recipes and what tends to make them so good is that the pasta isn't cooked in water. The pasta is cooked in flavor! So in this recipe it's cooked in chicken stock and cream (also onions and other seasonings). The pasta absorbs all that good flavor and leaves behind a thick sauce that sticks to the pasta! If you ever want more sauce, you can always add extra cream, milk, broth or even some water. I also like to add in chopped spinach sometimes for added veggies, I do this at the very end once the pasta is cooked because it doesn't take much heat to cook spinach.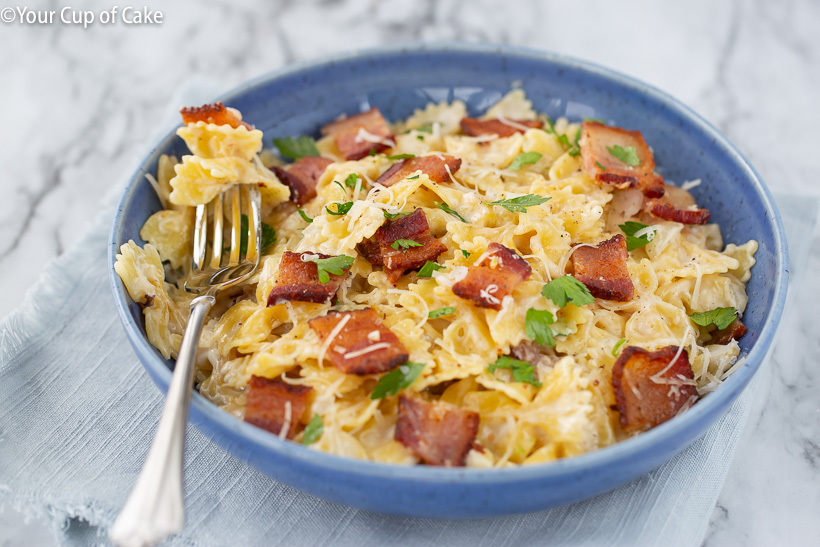 Yum! Who can resist a spoonful of this delicious pasta? Not me! I added some chopped flat leaf parsley on top for added color but you don't need to add it unless you you're really into parsley or are trying to impress someone special 🙂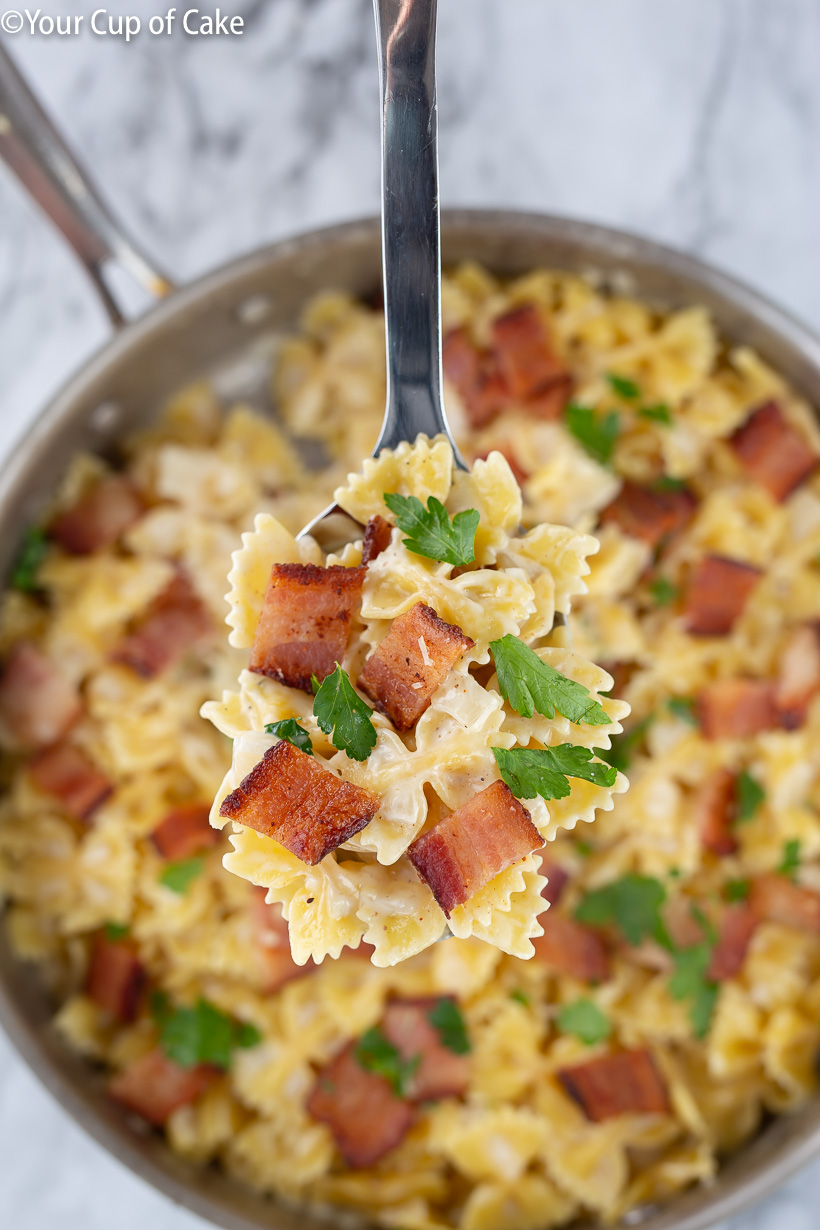 I hope you enjoy this Easy One Pot Bacon Alfredo Pasta!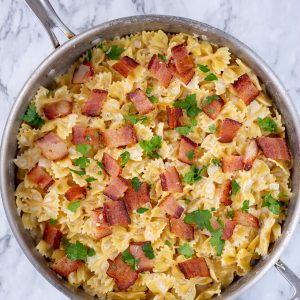 Easy One Pot Bacon Alfredo Pasta
Ingredients
6

slices

bacon

1

lb

dried bowtie pasta

4

cloves

garlic

minced

2

cups

chicken broth

1

cup

heavy cream

1/2

cup

onion

diced

1

cup

parmesan cheese

salt and pepper

to taste

1/4

cup

chopped parsley
Instructions
In a large, heavy-bottomed pan fry the bacon. Drain the grease. Chop bacon into 1/2 pieces and set aside.

In the same pan, over medium-high heat, add the pasta, garlic, chicken broth, cream, and onion. Cover and bring to a boil and cook for 7-10 minutes or until the pasta is al dente, stirring occasionally.

Add the parmesan, salt and pepper, and stir until the cheese is melted. Mix half the bacon into the pasta and garnish with the remaining.

Garnish with parsley and serve while hot.
Recipe Notes
If you would like to make this a Chicken Bacon Alfredo Pasta, cut your raw chicken breasts (2 small breasts) into bite sized pieces and cook in your pan with  little olive oil, salt and pepper.  Remove when cooked, then cook bacon and pasta!  All in the same pot!  Add your chicken at the end and stir to combine!