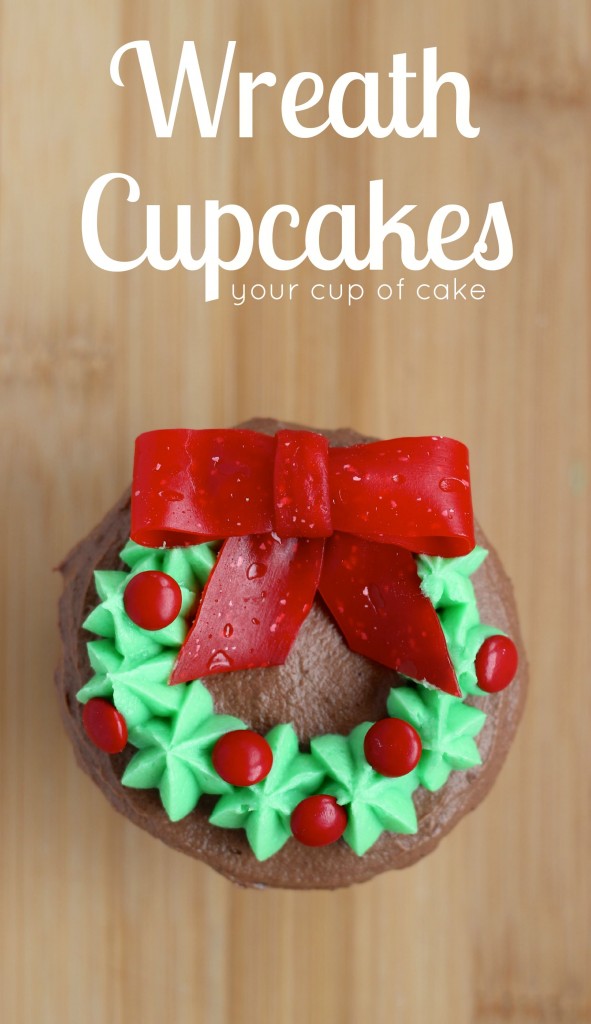 Ornament Cupcakes using mini M&M's and Rolos!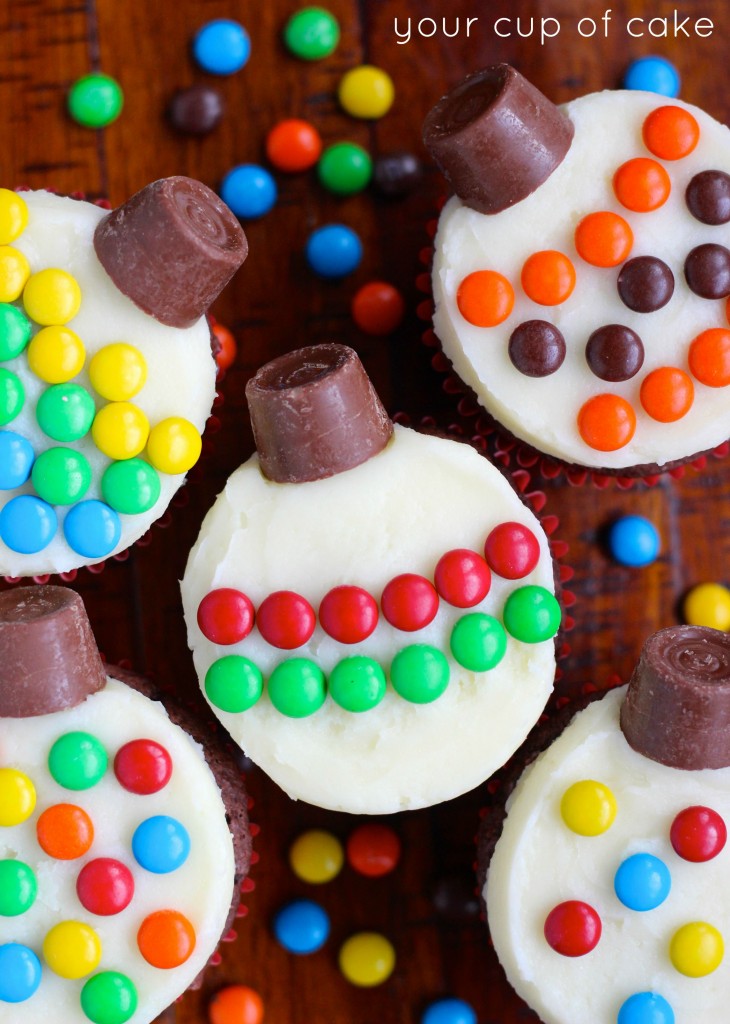 The Story:
My mother always "wins."
There we sit around the sparkly tree in the morning, eyeing the ribbons and bows and dumping out our stockings–My father, mother, brothers, me and the dog. I open a present, then my mother, my brother Paul, then my mother, my brother Andrew, then my mother again… and so the pattern goes until she is drowning in wrapping paper and gifts galore. Every year she complains about getting too many presents, telling us to save our pennies but every year nothing changes. And I hope it never does.
So who "loses?" My father. Mostly because anything he wants or needs he buys himself and anything we do get him, he returns.
———–
Decorating cupcakes doesn't have to be difficult! It doesn't have to take a million different things either 🙂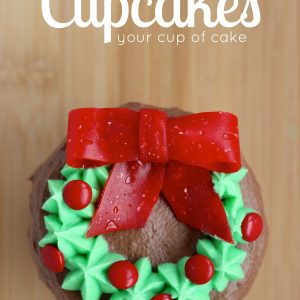 Easy Cupcake Decorating for Christmas
Ingredients
Easy Chocolate Cupcakes:
1

box Devil's Food cake mix

3

eggs

1/2

C.

oil or melted butter

3/4

C.

sour cream

3/4

C.

milk

2

tsp.

vanilla extract
Basic Buttercream:
1

C.

butter

softened (or 1/2 C. butter and 8 oz. cream cheese)

3-4

C.

powdered sugar

food coloring

if needed

peppermint extract

if needed (great for the "green" frostings)
mini M&M's, Rolos or Reese's Peanut Butter Cups, Red fruit leather strips (Fruit by the Foot), or any other candies you want!
Instructions
1. Preheat oven to 350 degrees and line pans with cupcake liners.

2. Sift cake mix into a small bowl and set aside.

3. In a large bowl, whisk eggs, oil, sour cream, milk and vanilla extract together.

4. Stir in cake mix.

5. Fill cupcake liners 3/4 full and bake for 16-20 minutes or until an inserted knife comes out clean.

6. Buttercream: Beat butter for 2 minutes. Slowly add in powdered sugar until you reach your desired consistency.

7. Depending on which decoration you want to do, follow the photo instructions below!

Merry Christmas!
Keep it simple! Just dye your frosting green, and use any "star" tip (open or closed) to make a Christmas Tree! Use mini M&M's as ornaments and regular sized yellow M&M's for the stars on top!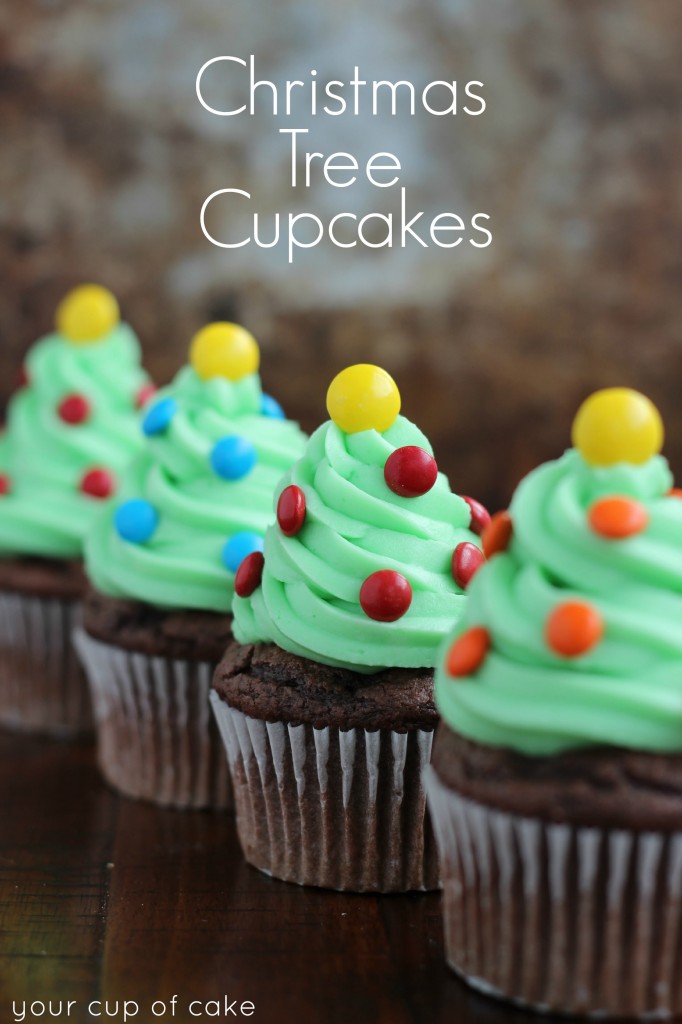 Want to get a little more fancy? Try these out. You'll need Fruit by the Foot (I used the Target generic kind because they are a little more narrow), mini M&M's and a star tip to make the "leaves." I used an "open" star tip.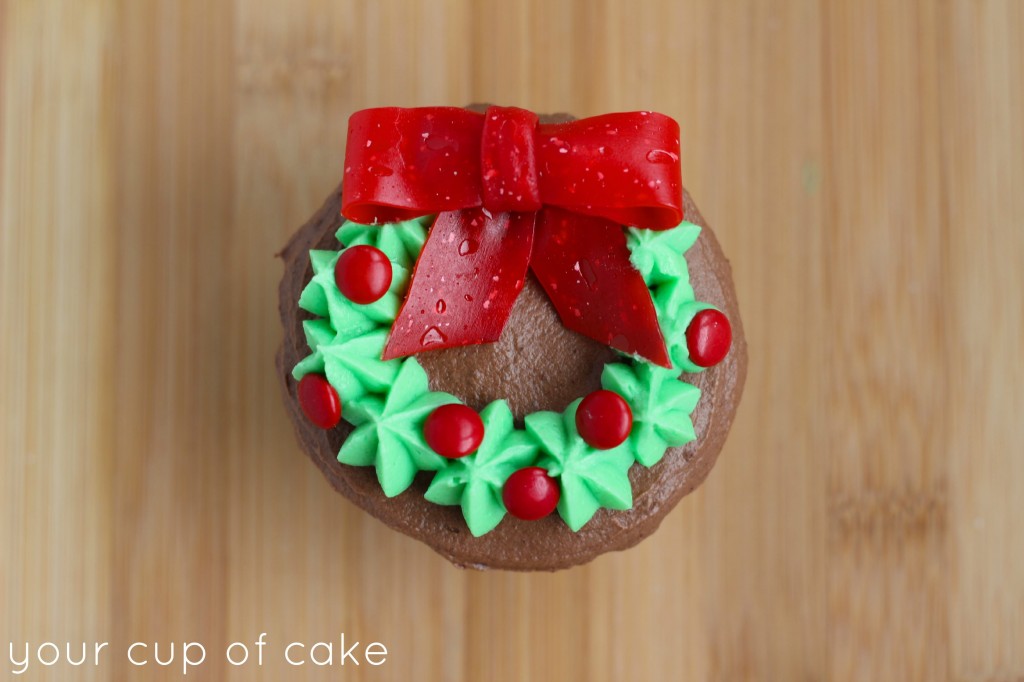 To make the cute bows, follow the photos below, the stuff is pretty sticky so the pieces easily stick together!
I used some chocolate frosting as a "base" on the wreath cupcakes but that's optional

Ornament Cupcakes! I've seen these done in different ways, some people use Reese's Peanut Butter Cups, Gum Drops, but I used Rolos! And you can use colored frosting to pipe the decorations on, but mini M&M's worked great for me (and it's less messy). You could even do this same thing on frosted cookies 🙂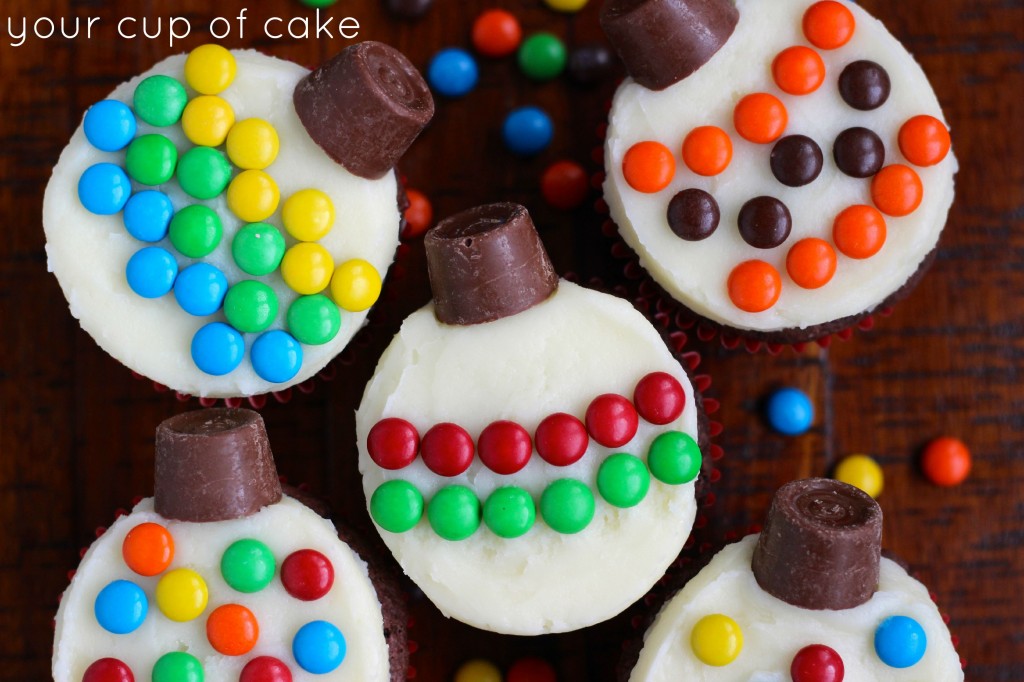 So easy and so cute
Did you miss my post on these cute Reindeer Cupcakes? Nilla wafers, M&M's and pretzels! Click the photo for the "how-to" and directions!
Merry Christmas!