5-Minute Easy Microwave Caramel Corn will be on everyone's list this Christmas! It's perfect for neighbor gifts and munching on during holiday movies!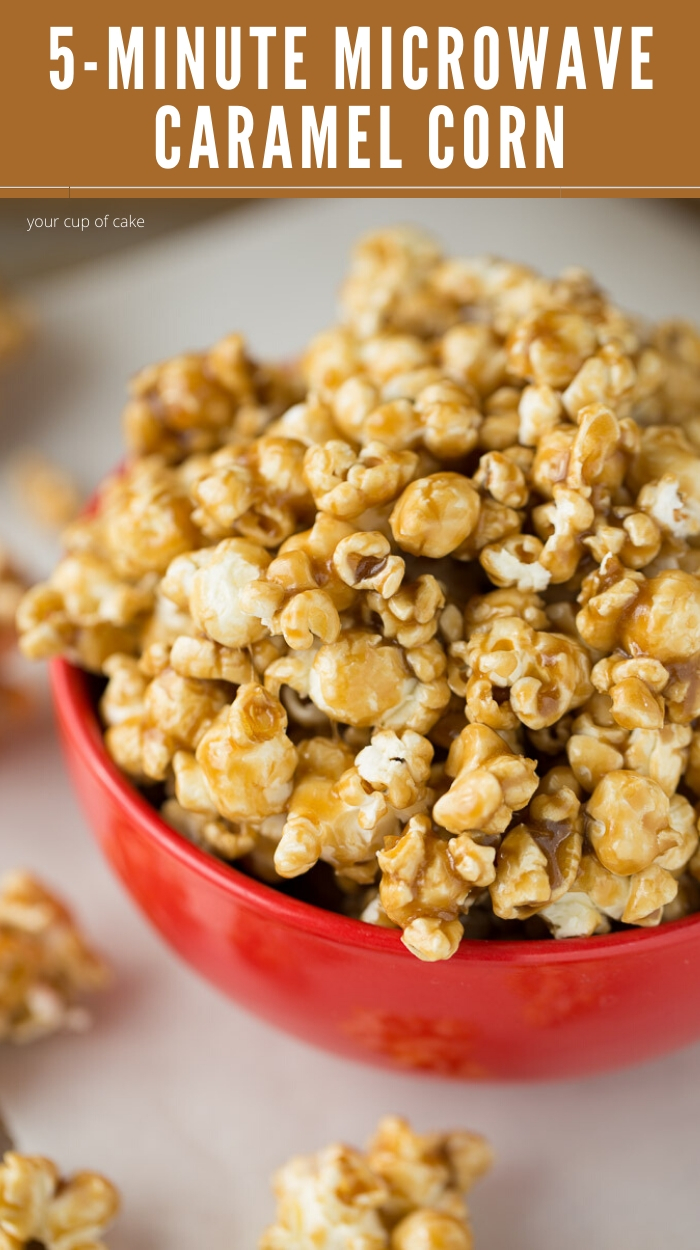 Easy Microwave Caramel Corn
Soft Caramel Corn is maybe the best part of the holiday season. And this Easy Microwave Caramel Corn recipe only takes 5 minutes and is so good you won't stop making it! Trust me, I made it 3 times in the same week! So I knew I needed to share it on the blog after making it that much.
Keeping it in the Family
I grew up eating caramel corn during the Christmas season, but my mother never had a recipe for it. She just sort of cooked it for however long she wanted and sometimes is was incredible and sometimes we just pretended it was incredible 🙂 (Sorry Mom!) So I really wanted to find a recipe for a soft version that I could make over and over again and have it be perfect every time. But I also know the hassles of candy thermometers, not everyone has one and sometimes I can't even find my own. So I found this recipe made in the microwave! Magic! The first time I made it according to the directions mine turned out rock solid, so I changed it up a bit to make it softer.
How to Make Caramel Corn:
You can make caramel corn in the oven, over the stove top, or in the microwave like this handy recipe! First you pop your corn and then you mix up caramel sauce and then cook the sauce to really turn it into caramel! Soft caramel corn is soft because the caramel sauce isn't cooked as long as as caramel for crunchy caramel corn! What do you do if half your family likes is soft and half likes it crunchy? You can do what my family does and make this recipe and then take half the batch and spread it on a cookie sheet and bake it in the oven for a little while! You just need to caramel sauce to get a little hotter!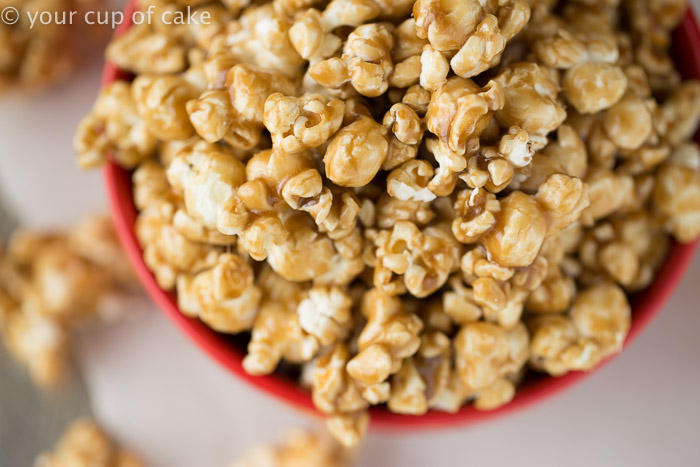 Doesn't it just look perfect? It tastes even better, I promise. It's so fun to make a big batch and give to friends or watch Christmas movies and nibble on it.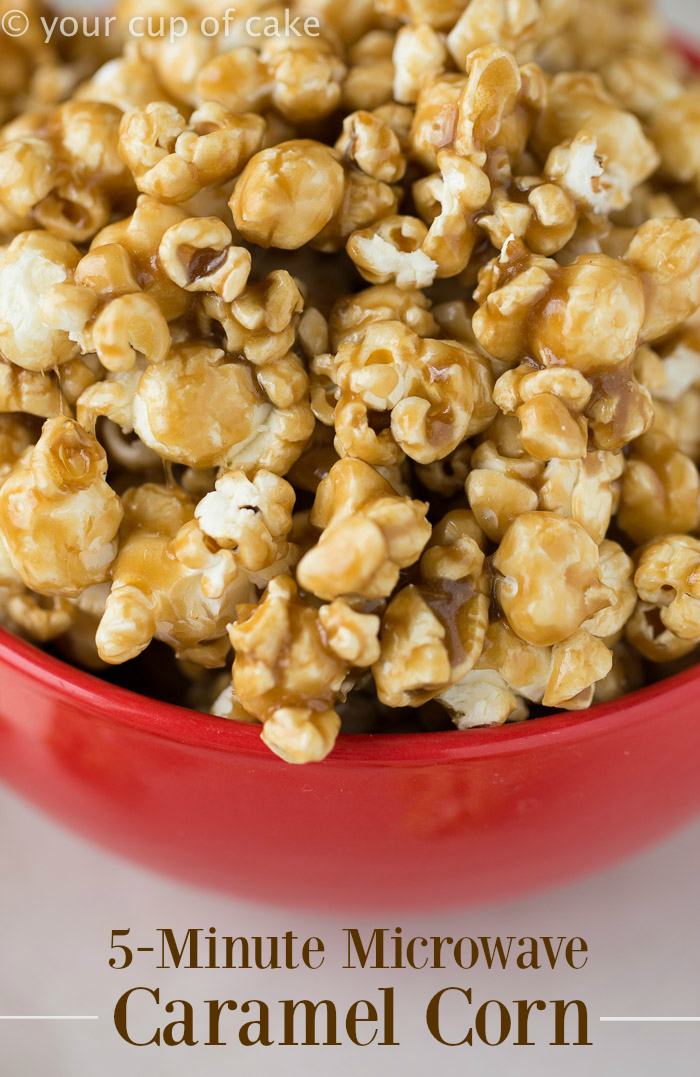 I use an air popper to pop my corn because I like starting with a blank slate and it's how my mother did it. But you can pop 2 bags of regular microwave popcorn instead if you want! Just omit the salt in the recipe! Fun tip! Did you know you can store your kernels in the fridge and they will stay fresh much longer? I married into an intense popcorn family so that's a fun trick I've learned.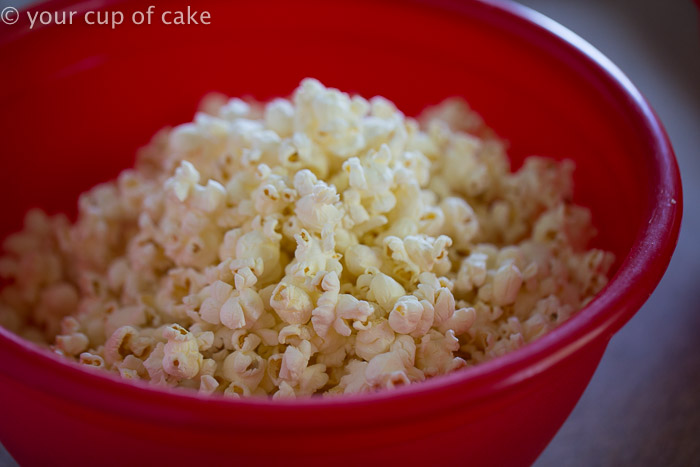 Put your ingredients in something that will be microwave proof. You don't want your bowl or whatever to get screeching hot when the caramel boils and bubbles. I love using Pyrex measuring cups or bowls because they're always safe to use with the heat. And remember, the caramel sauce will bubble up so don't use a bowl thats too small!
The first little zap in the microwave is just to melt everything together, so stir well! It's such a simple recipe but the flavor is SO good!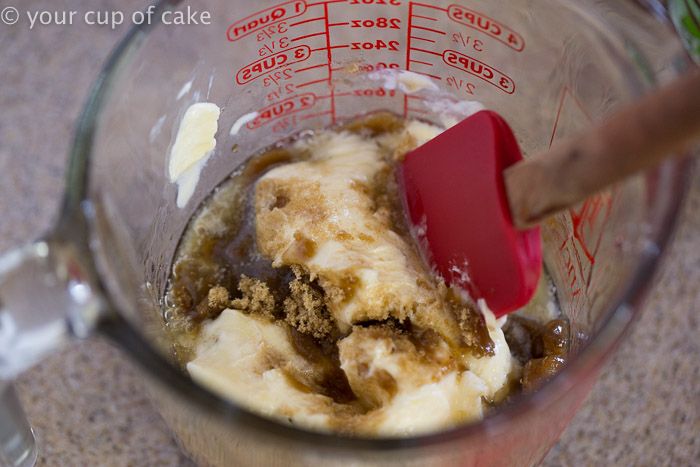 The bubbles… it's like a hot tub from candy heaven when it's boiling like this.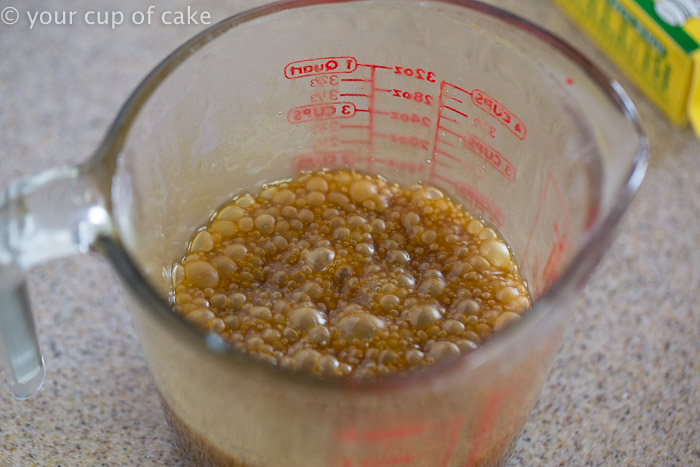 After you add the baking soda it will fizz up some more and then turn this golden color.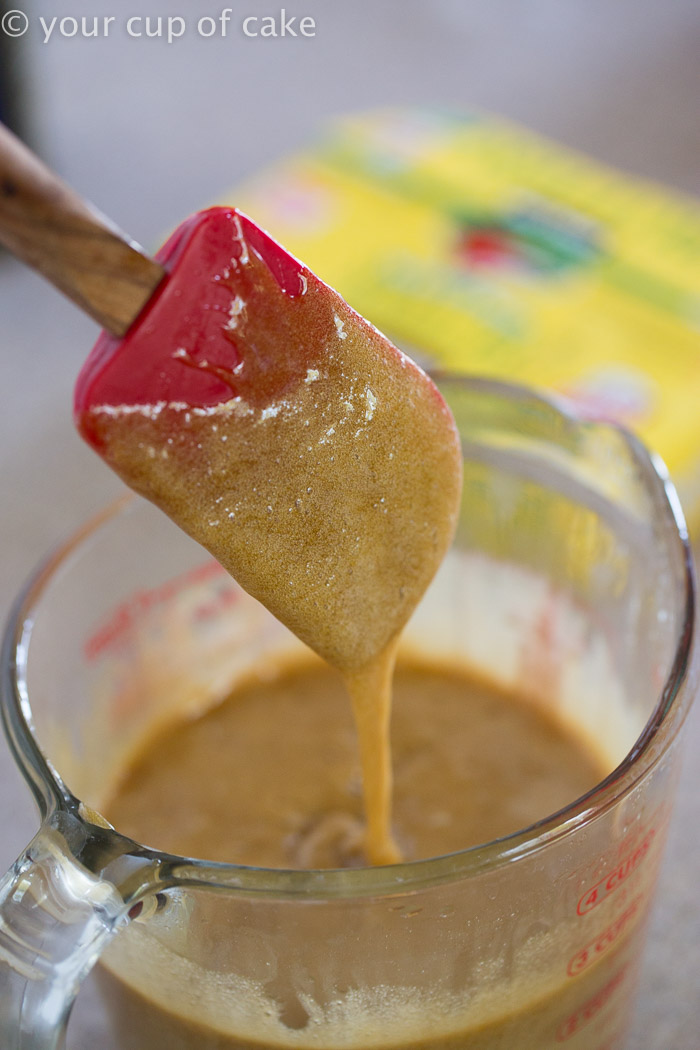 Pour and just keep stirring until it's all evenly coated! I love this recipe because it only gets two dishes dirty! No big pans to clean! If you want to pour your caramel sauce over the popcorn when it's on a cookie sheet you can even line the pan with foil to keep clean up minimal!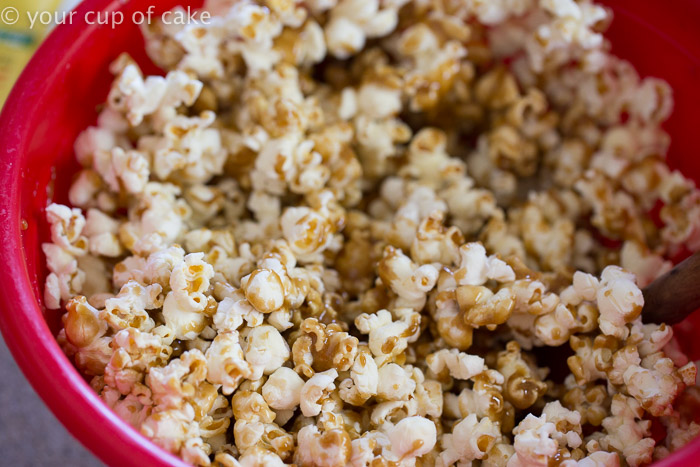 Yup, it's that easy! Enjoy my Easy Microwave Caramel Corn recipe this Christmas! Homemade caramel corn is a tasty family treat I grew up with and I can't wait to make this with my own kids someday! Merry Christmas everyone!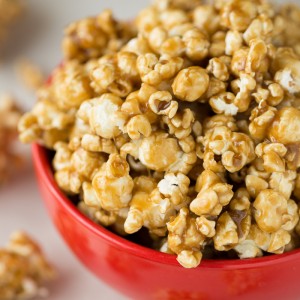 Easy Microwave Caramel Corn
Ingredients
12

cup

popped popcorn

1/2 C. unpopped kernels

1

cup

brown sugar

1/4

cup

white Karo syrup

1/2

cup

butter

1/2

teaspoon

salt

if you use microwave popcorn, then omit this salt

1 1/2

teaspoon

vanilla extract

1/2

teaspoon

baking soda
Instructions
1. Pop your popcorn kernels (or pop 2 microwave bags of popcorn) and place in a large bowl.

2. In a microwave proof bowl, I prefer Pyrex bowls, place your brown sugar, Karo syrup, butter and salt. Make sure your bowl have room for the mixture to triple in size because it will melt and then bubble up.

2. Microwave for 45 seconds, then remove and stir. This just gets the butter melted and everything combined.

3. Microwave for 1 minute and 30 seconds, remove and stir.

4. Microwave for an additional 1 minute and 30 seconds and stir again.

5. Add vanilla extract and baking soda and stir until it stops fizzing and bubbling.

6. Pour over popcorn and gently fold until well coated. Let cool in bowl or on parchments paper. Enjoy!

NOTE: Every microwave is a little different. After your popcorn cools, determine if you want the caramel a little softer (less microwave time) or a little harder (more microwave time). This way, the next time you make it, your can perfect this recipe for your specific microwave!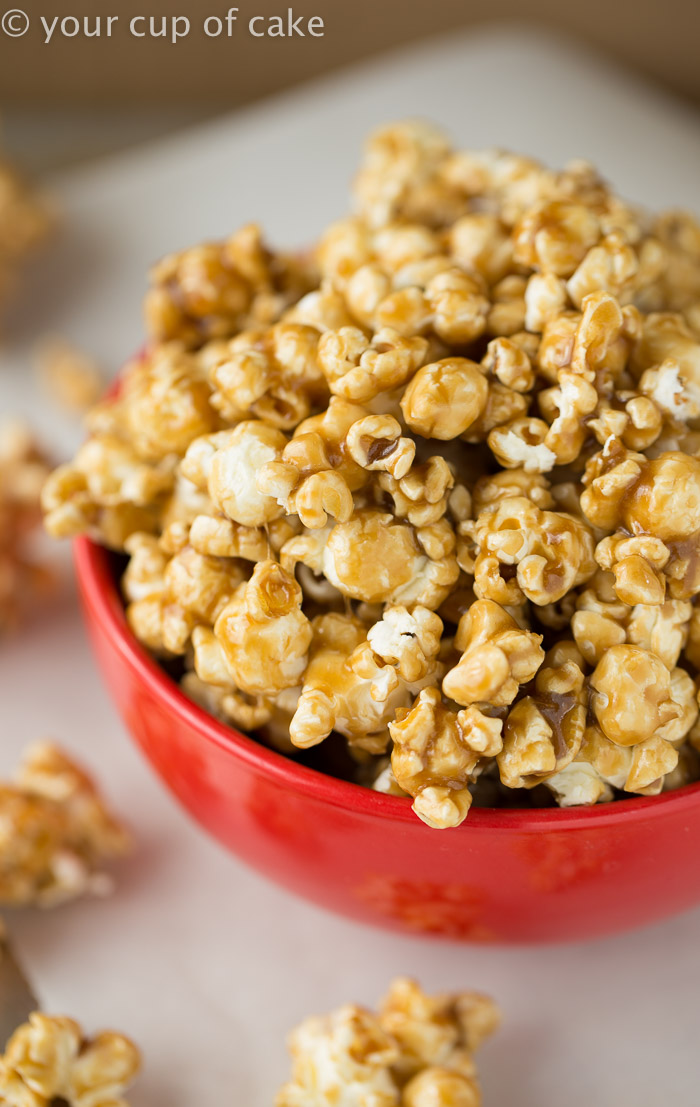 Adapted from Our Best Bites! When I cooked mine as long as their recipe said mine turned rock solid, I like a soft caramel corn.