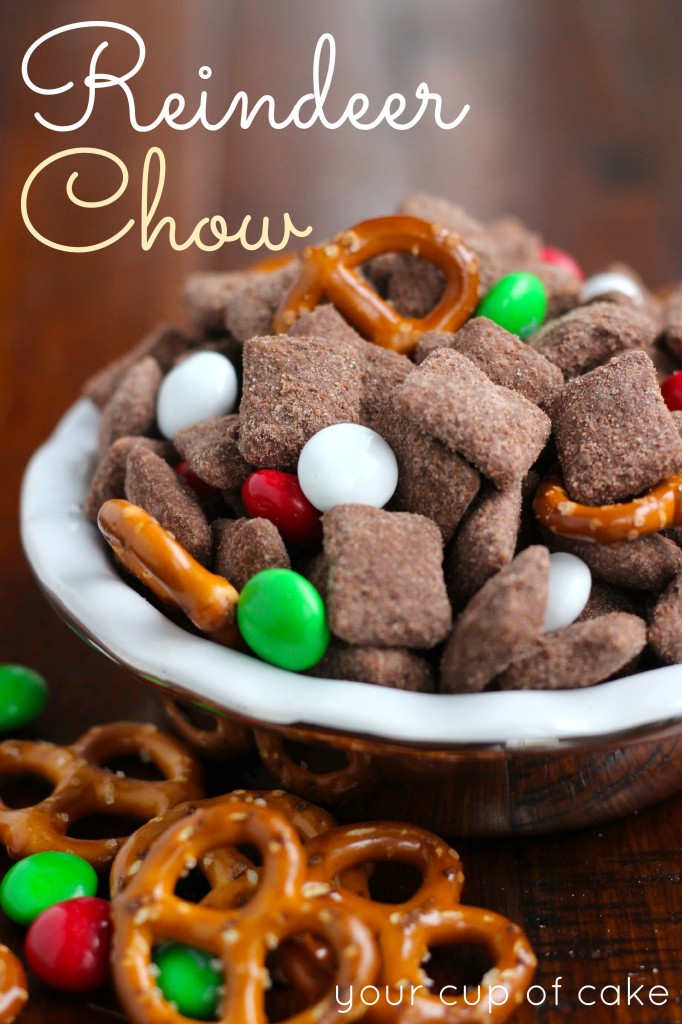 The Story:
Everyone has their own family Christmas traditions. Pajamas on Christmas eve, singing carols, acting out the nativity, white elephant gifts, special dinners… Well my family has a stocking tradition. I thought it was normal for the longest time, turns out it's quite strange. I always get concerned looks from people when I tell them what Santa leaves in my stocking. Our stockings are always stuffed with dental "treats" and oranges. No, no dentist in the family, we are just that weird. New toothbrushes, toothpaste, floss, mouth wash and a bunch of oranges stuffed into the toe of the stocking. But at the very bottom is something a little more Christmas-y. A bag of Chocolate Mint M&M's, which we each devour them while we open presents…so maybe the dental stuff is so our teeth don't rot from the minty goodness.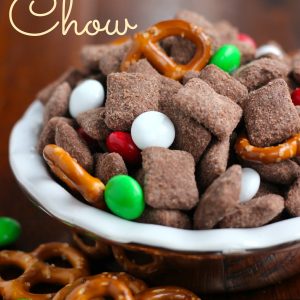 Reindeer Chow
Ingredients
6

C.

Rice Chex cereal

1

C.

chocolate chips

1/2

C.

peanut butter

creamy

1

C.

brownie mix

or 1 C. powdered sugar plus 2 Tbsp. cocoa powder

3

C.

pretezels

1

bag Mint M&M's
NOTE: for peanut allergies omit peanut butter and chocolate chips. Use 1 1/2 C. chocolate "melts" instead. "Melts" are little chocolate wafers that are meant for melting and candy decorating. Many companies make them but they all call them different things.
Instructions
1. Place cereal in a large bowl and set aside.

2. On the stovetop over medium-low heat, melt chocolate chips and peanut butter together. Stir until smooth.

4. Pour over cereal and gently fold until coated.

5. Dump into a large plastic bag (or tupperware with a lid) and add brownie mix. Shake, shake, shake until covered!

6. Pour onto a cookie sheet to let cool.

7. Mix in pretzels and M&M's and enjoy! Serve in bowls or give away in goody bags with bows!
We leave out cookies and milk for Santa, but what about those reindeer! They fly all around the world and take Santa and millions of presents with them! They must build up quite an appetite…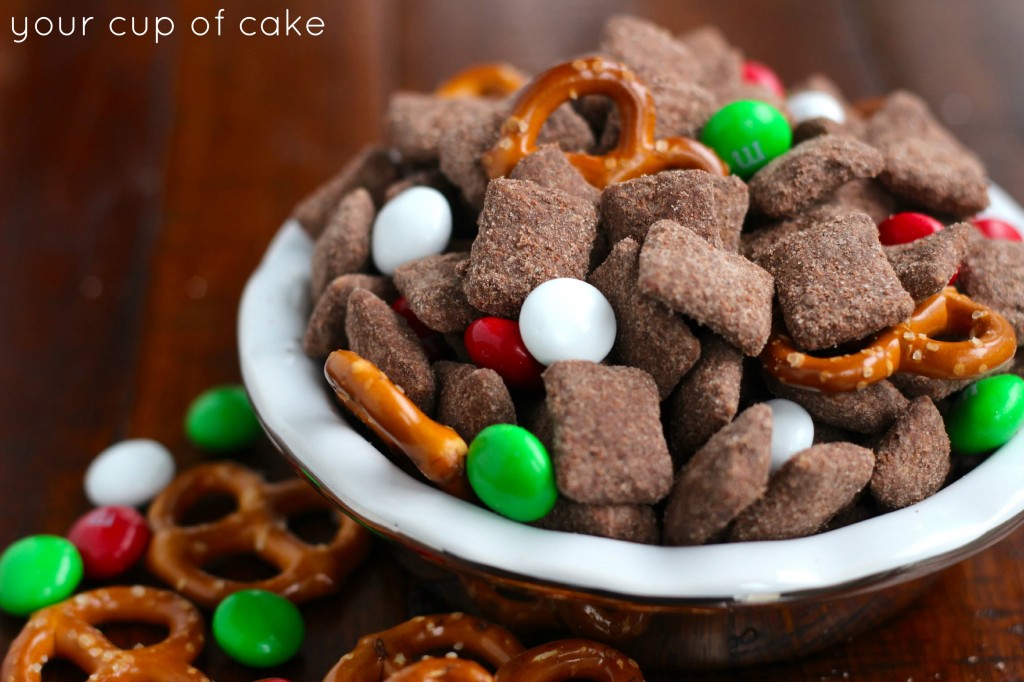 If you want to be really adorable you can make this chow and these Reindeer Cupcakes! Click the photo for the recipe!

And if you love Puppy Chow here are some more that are PERFECT for the holiday! Just put them in a goody bag, tie them off with a bow and they're a perfect gift! (Click photos for recipes)