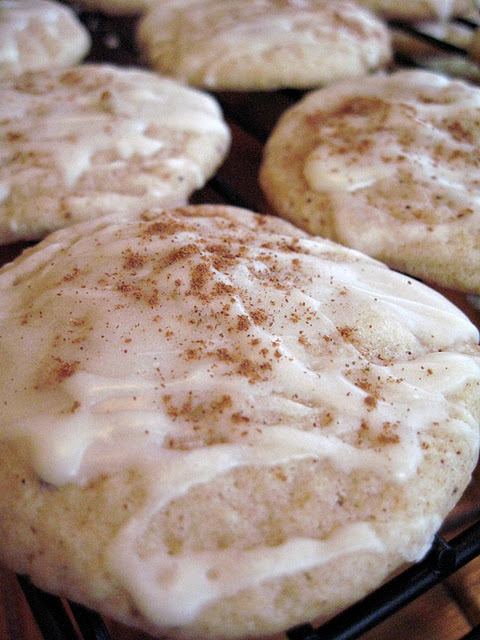 The Story:
Yesterday I had the chance to go to Your Homebased Mom's kitchen and she asked me to bring a few holiday recipes. I wanted to try something new and I wanted it to involve eggnog.
I found this recipe online and it got rave reviews, so I knew it couldn't go too wrong. I mean, how embarrassing would that be to go to YHM's kitchen and bring a disaster recipe?
Well, no fear of disaster with these cookies.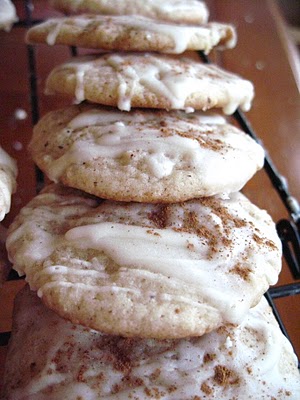 Cookies:
1 teaspoon vanilla extract
1. Preheat oven to 300°F (150°C)
2. Combine flour, baking powder, cinnamon and nutmeg.
3. Cream sugar and butter until light
4. Add eggnog, vanilla, and egg yolks; beat at medium speed with mixer until smooth.
5. Add flour mixture and beat at low speed until just combined.
7. Spoon onto un-greased cookie sheets or parchment paper and make the dough balls rather small, they will spread generously in the oven.
8. Sprinkle lightly with nutmeg.
9. Bake 15 to 18 minutes or until the edges barely start to brown.
10. While cookies are in the oven, make the eggnog glaze by whisking together the powdered sugar with 3 T eggnog.
11. Gaze your cookies warm or cooled and top with cinnamon.
For an extra twist… check out my
Eggnog Malt Cookies!