The trick to making the perfect Thanksgiving turkey, is brining! Learn How to Brine a Turkey for Thanksgiving that will have all your guests in love with how moist it is!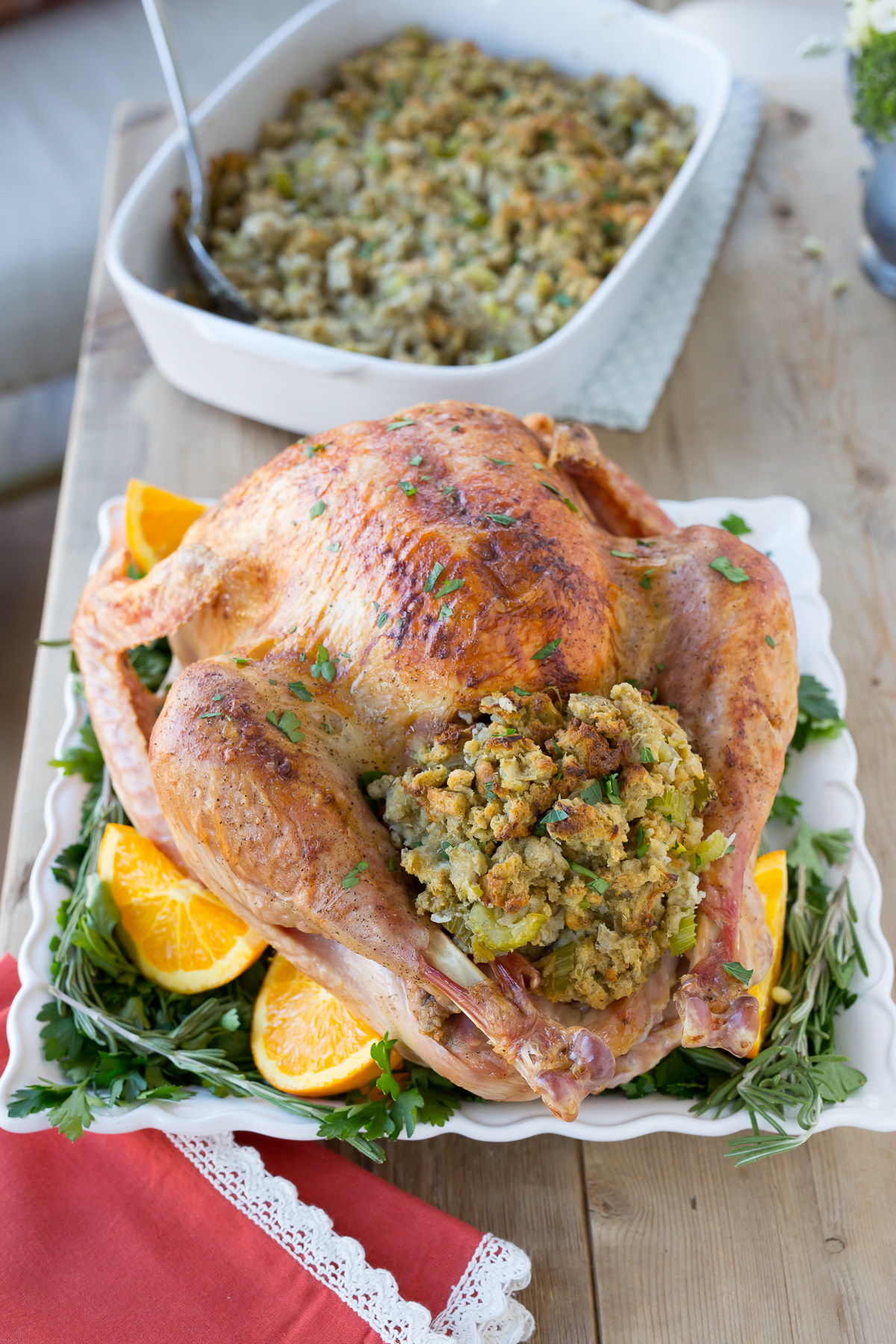 What does brining a turkey do?
I'll save you the google searches and give you the food science 101 on turkey brining. Essentially the salt from the brine loosens up the muscle fibers in the meat and allows them to absorb more moisture and release less during the cooking process. This makes turkey less dry after cooking and gives you more tender meat. My husband Parker can tell you more about the nerdy science behind it all but we're here for turkey right? So let's learn how to brine a turkey for Thanksgiving this year!
Can I stuff my Brined Turkey?
I always stuff my turkeys when they cook with onions, herbs and sometimes sliced oranges! But You actually don't want to put the stuffing you'll eat into them. But as you can see in my photos from a shoot a did with Home with Holly J I love the look of a turkey with stuffing coming out of it! So we put a huge scoop into the bird when we placed it on the table to still get that magazine look! Make sure you check out Holly's fun new blog, her tablescapes are beyond gorgeous!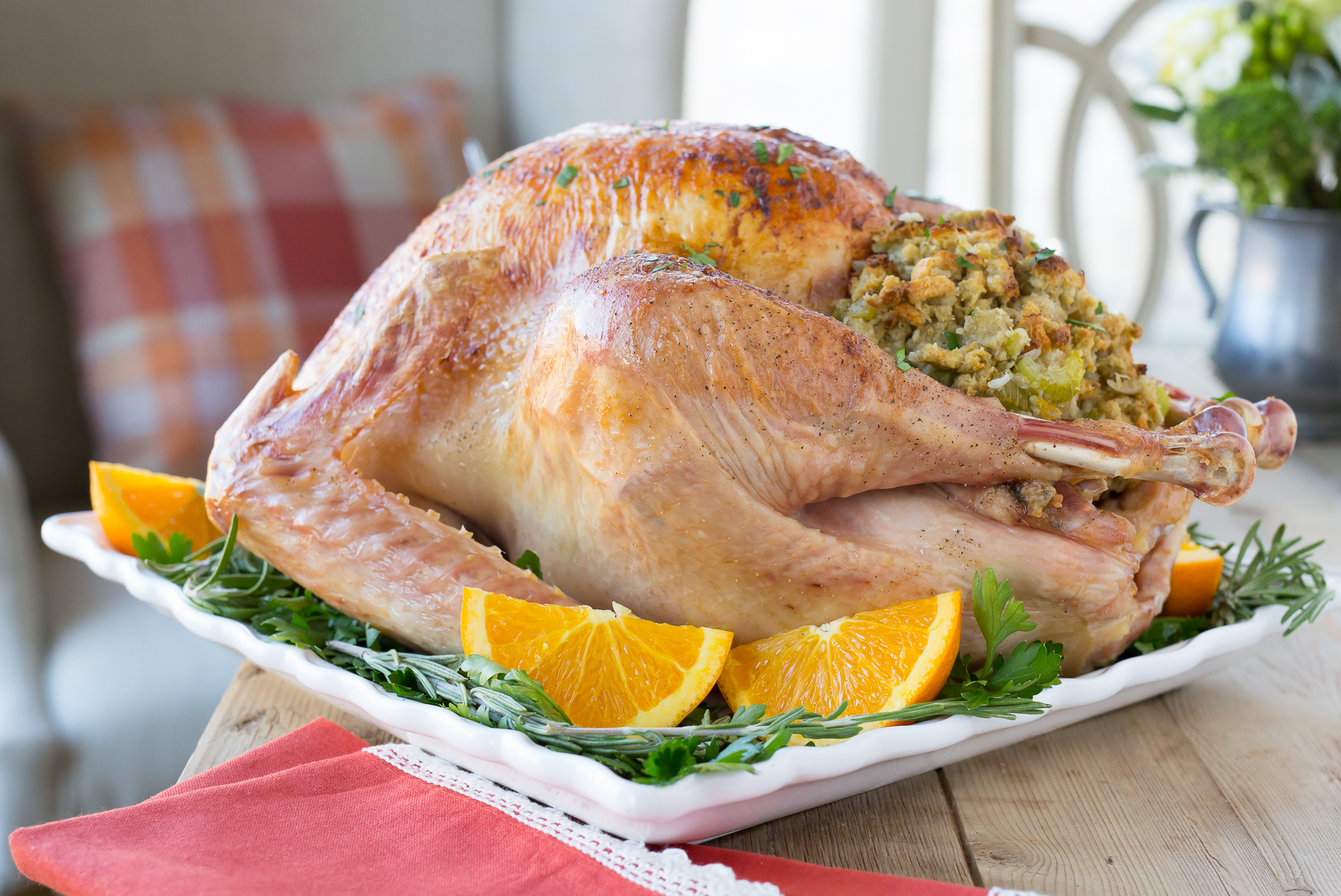 Here's a video of How to Brine a Turkey:
What's in a Turkey Brine?
A turkey brine is a mixture of salts and aromatic herbs and spices that give the turkey more flavor while locking in moisture. There are tons of turkey brining recipes out there with all sorts of variations and add-ins from soy sauce to star anise and everything in between. I decided to come up with a pretty simple brine recipe because Thanksgiving already is the most hectic cooking day of the year so why not make things easier! In all reality, the salt is the main player in the brine because it's doing most of the work, but don't get me wrong, those other flavors are just as essential. If you only brine with salt water, then you'll end up with a plump turkey full of water but devoid of flavor. So that extra liquid we're filling the bird with needs to be packed with flavor! I go with some extra herbs and seasonings that naturally go with poultry like oregano, thyme, and others and then some brown sugar to sweeten things up a little.
How long does a turkey need to brine?
First things first, a Thanksgiving turkey takes way more time than just the time it spends in the oven. Plan on picking up your turkey several days in advance because you'll need to take into account several days to thaw, a day to brine, and then the big day in the oven, smoker, fryer, or whatever you have planned. Plan for one hour of brine time for every pound of turkey. For example, a 20-pound bird should brine for 20 hours. Pretty straightforward. If you want to go above and beyond, brine your turkey a few days early and then give the bird a day to air dry in the fridge overnight. The less moisture on the skin means the crispier it will get.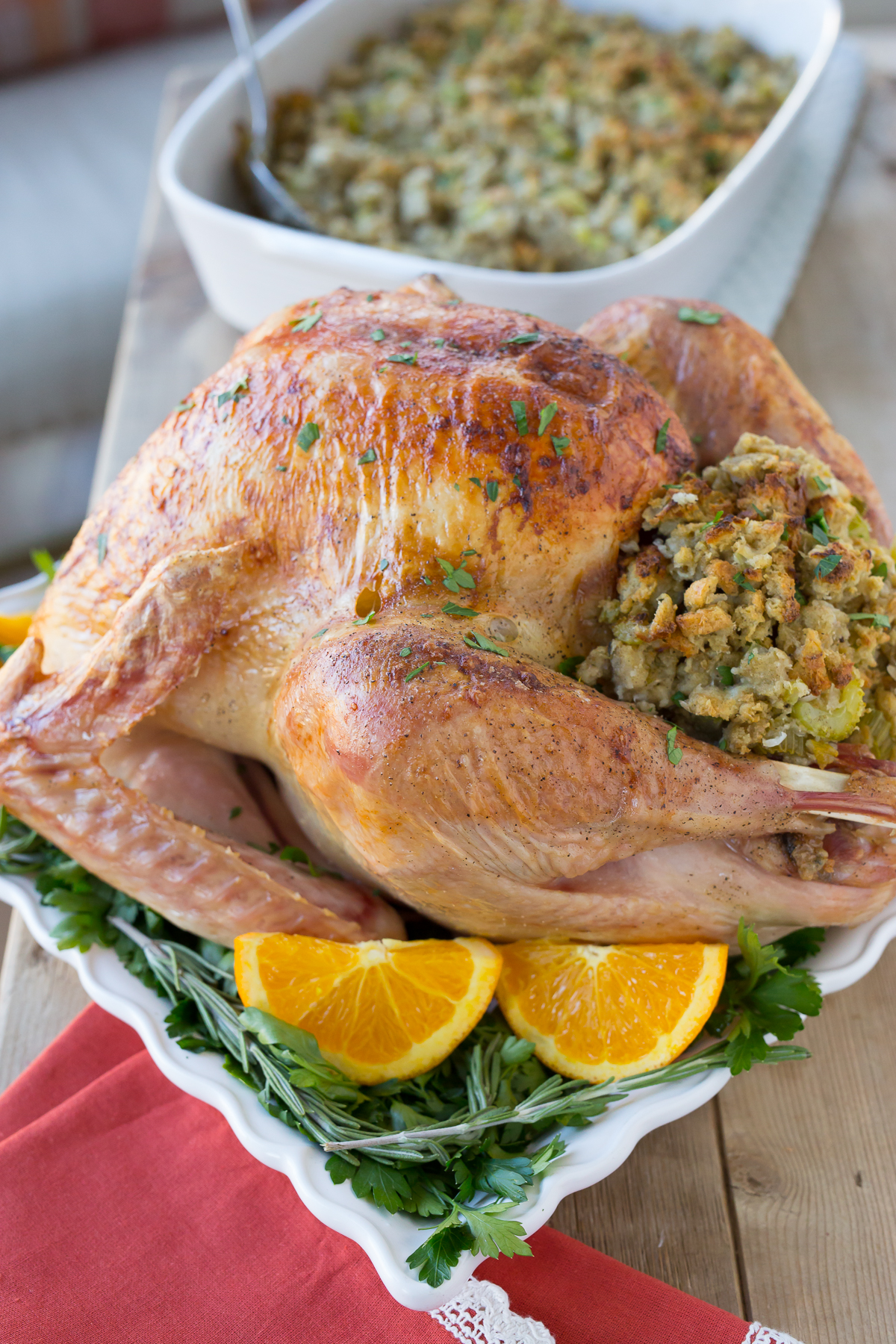 Can I use the turkey drippings for gravy?
Some people do use the drippings for gravy and some people don't. If you decide to use the drippings just be sure to taste as you go and make sure it's not salty. I like to add cream to my gravy because I like the balance of flavors. Pro tip: you can also add 1-2 raw, quartered potatoes to the drippings as you make the gravy. Potatoes naturally absorb salt and this should reduce the overall salt content of the gravy after 15-25 minutes.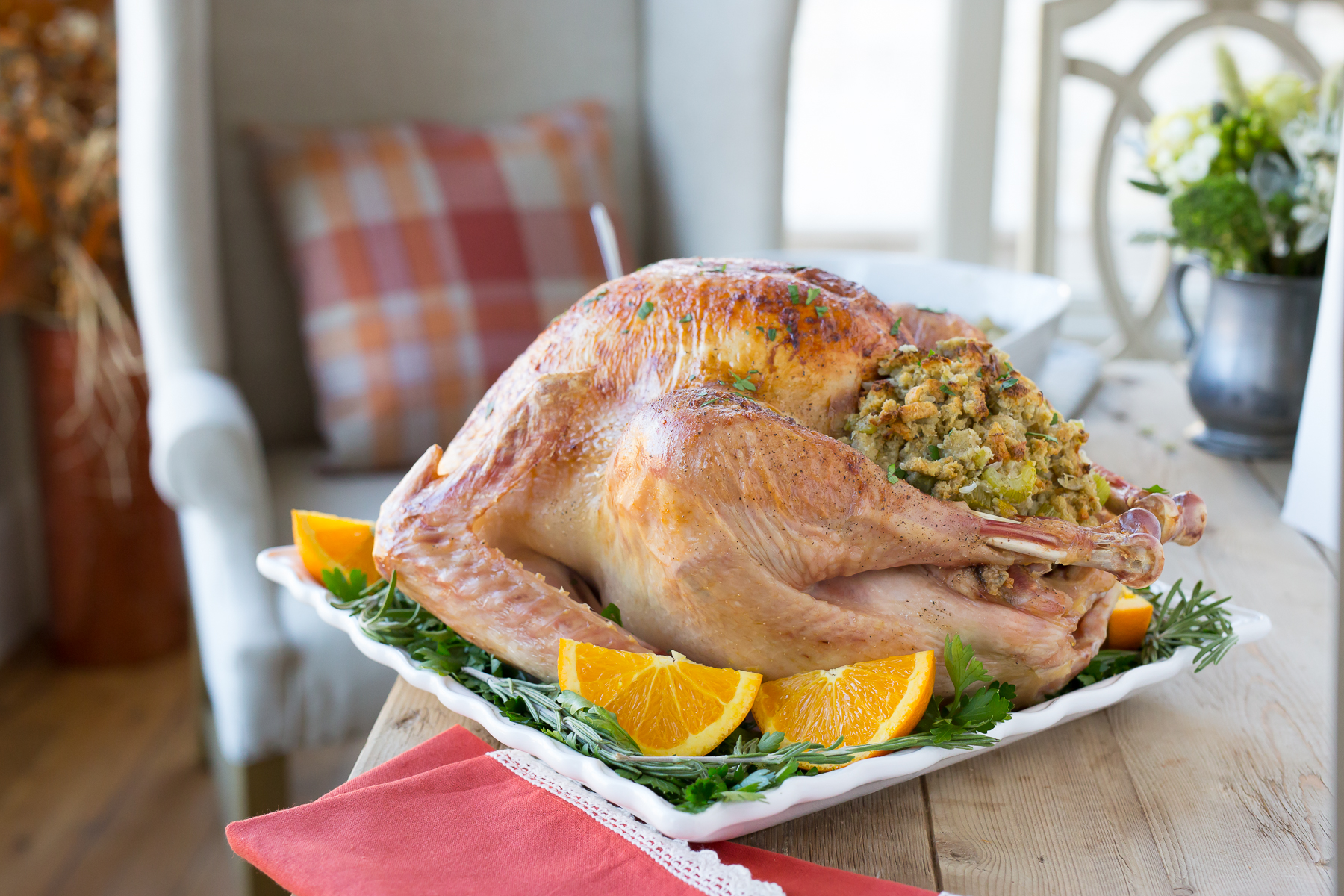 Well I hope you learned How to Brine a Turkey for Thanksgiving that will wow all your guests this year!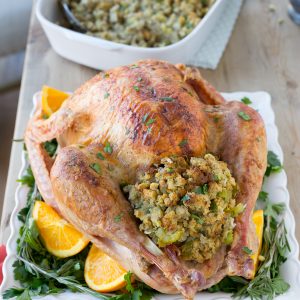 How to Brine a Turkey for Thanksgiving
Ingredients
1

turkey

thawed

2

gallons

water

divided

1 1/2

cup

salt

1

cup

brown sugar

2

tbsp

peppercorns

1

tbsp

oregano

dried

1

tbsp

thyme

dried or fresh

1

tbsp

sage

dried

1

tbsp

rosmary

dried or fresh
Instructions
Pour one gallon (16 cups) of water into a large pot. Stir in the remaining ingredients and bring to a boil.

Once the water is boiling, remove from heat and let cool for 15-20 minutes.

Place a brining bag in a 5-gallon bucket or cooler. Pour one gallon of ice water into the bucket, then the brining solution, then place your turkey in the bag. Zip closed.

Place the turkey in the fridge for 24 hours or one hour per pound of turkey.

After 24 hours, remove the turkey from the brining solution, place on a rimmed baking sheet and pat the skin dry with paper towel. Be sure to get the skin as dry as possible.

Prepare and cook the turkey as desired.