Some times I just don't want to study. I know finals are next week, but I would just rather be trapped in my kitchen held hostage by my big red Kitchen Aid.
I found a lemon raspberry cake on Food Buzz last week while I was in the Library "studying." I changed the raspberry to strawberries, because I had some already, and decided to make little dainty cakes. If I was in a book club, I would being serving these.
1 cup buttermilk or plain yogurt
1 cup frozen or fresh strawberries
1/3 cup sugar (for heating sauce)
1.
Preheat oven to 350 degrees and line 24 muffins tins
2.
Sift flour, baking soda and salt together and set aside.
3.
Combine buttermilk/yogurt, sugar, eggs, lemon zest and vanilla.
4.
Add dry ingredients and mix only until combined. Stir in oil.
5.
Fill cupcake liners and let sit while you make the strawberry sauce.
6.
Defrost strawberries in the microwave and place in the blender along with lemon juice, water and 2 tablespoons sugar.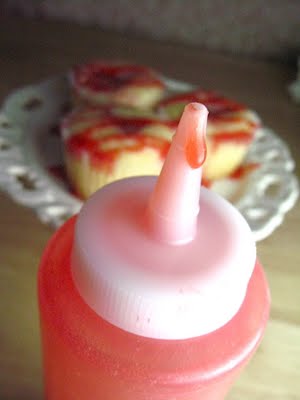 7.
Drizzle a small amount onto each cupcake and swirl in with a toothpick.
8.
Bake cupcakes for 12-16 minutes or until a knife comes out clean. Let cool on a wire rack for 5 minutes and then place in airtight containers to maintain moisture.
9.
Add 1/3 of a cup of sugar to the rest of the sauce and heat on the stove until the sugar dissolves. Let cool and drizzle over cakes just before serving.