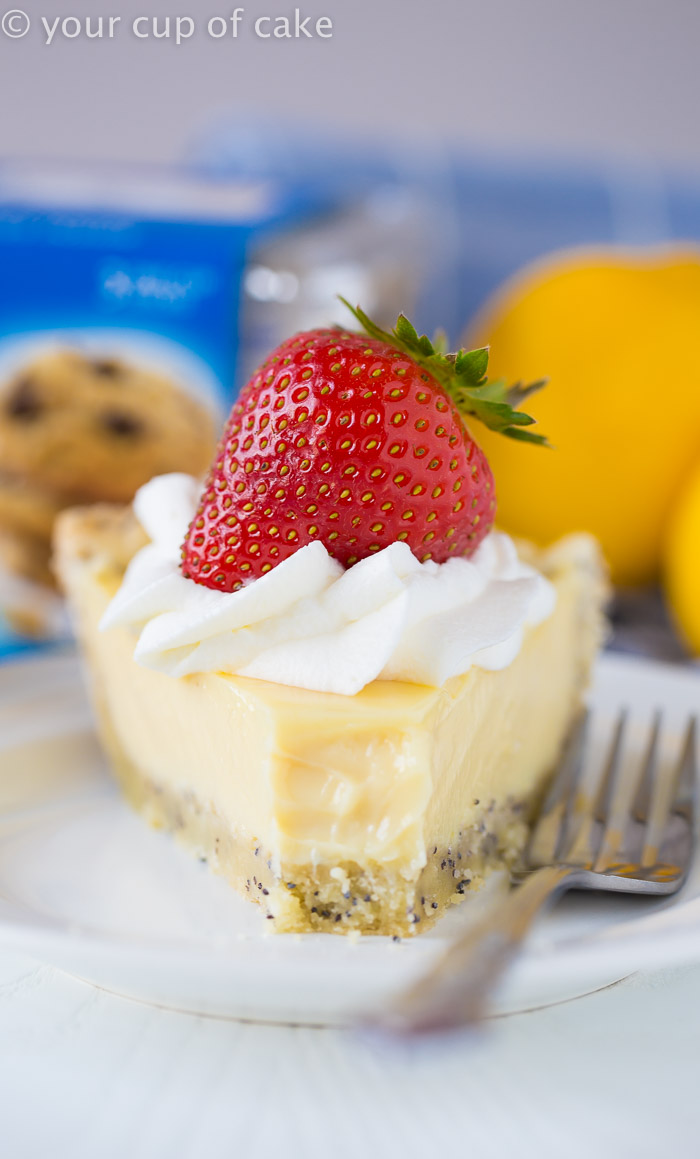 I'm teaming up with Crisco®, as a Crisco Creator, to help inspire home cooks with new recipe ideas and cooking and baking tips using Crisco® products.
This Lemon Cream Pie is so easy, silky and tangy you'll want to eat it with every meal. Plus, this poppy seed, sugar cookie crust will be the star at your next party! It's an easy addition to really pop some pizzaz into your pie crust and add that favorite combo of lemon poppy seed to your pie! My new favorite summer dessert…. Lemon Cream Pie with a Poppy Seed Crust!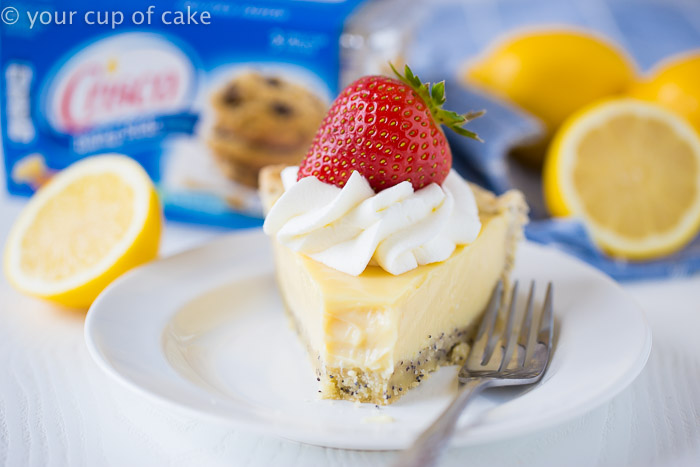 Today I am partnering with Crisco® to bring you this recipe and even a video to show you step-by-step how to make it! I don't know about you, but sometimes I just feel a little more confident if I can watch a quick video before I dive into the baking. Plus, this recipe really is quite simple. My favorite part is that the crust doesn't need to be rolled out! Just dump it into the pan and press flat! No worrying about rolling it into a perfect circle, getting holes in your crust, having it stick to the countertop… ugh. Plus, this pie cuts perfectly! I took a few of these pies to friends and family and they all came back saying how much they loved that it cut so well. Each pie slice was picture perfect and instagram ready 🙂
Let's talk about the secret to this crust. It's Crisco® All-Vegetable Shortening! Have you seen those poofy and delicious sugar cookies at the store and wonder why they're so good! It's because they use shortening! This sugar cookie crust is the same. Crisco® All-Vegetable Shortening keeps baked goods moist, tender and gives it a light texture! Just what a pie crust (or cookie) needs to be! You don't want to fight through your pie crust with your fork to eat it! You want it to crumble… mmmm. And the Crisco® All-Vegetable Shortening Sticks come individually in measurable packaging so if you don't use the whole stick, like this recipe, you can just put it back in its little plastic container and pop it in the fridge! No mess! Crisco® All- Vegetable Shortening also has 50% less saturated fat than butter and zero grams trans-fat per serving… so it's a great alternative¹!
I love lemon recipes because you can make them all through the year. Sometimes we like to think of them as summer or spring recipes but you can get great lemons all year long without paying an arm and a leg! So make this pie this summer and then make it in the fall when you want to remember all the zing that summer had!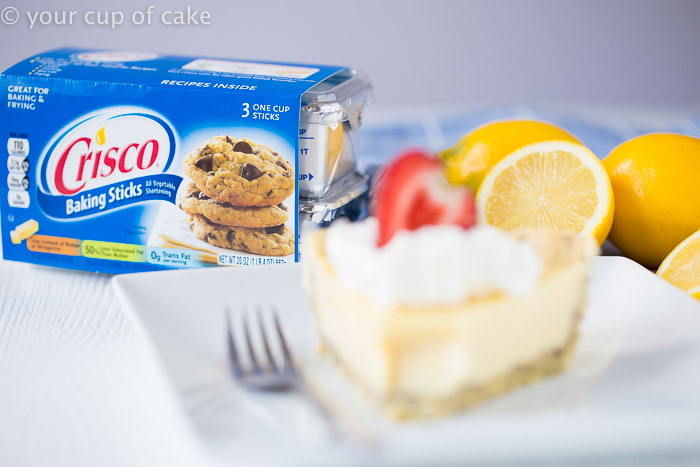 Go to Crisco.com to find cooking and baking ideas for you next culinary adventure! Or search #CriscoCreators on social media to see what my fellow Crisco Creators have been whipping up this summer.
Recipe Tips:
-The video does a great job of showing just how easy this pie is to make, but one thing you'll notice is that I used a measuring cup to press the pie crust at one point. That's because I wanted to get out all the bumps my fingers left, the measuring cup has a flat bottom to smooth out the crust, you can also use a glass!
-Because this pie crust is a sugar cookie crust, it will rise like a sugar cookie! So when you pull it out of the oven you'll need to use a spoon to sort of flatten out the crust before you pour in the filling.
-If you want more than a hint of almond in the crust, use a full teaspoon! Or you can leave it out all together if you don't have any on hand!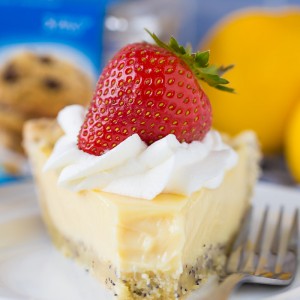 Lemon Cream Pie with a Poppy Seed Crust
Ingredients
POPPY SEED SUGAR COOKIE CRUST:

1/2

C.

Crisco® All-Vegetable Shortening Sticks

room temperature

1/2

C.

butter

room temperature

1/2

C.

sugar

2

C.

Pillsbury BEST™ All -Purpose Flour

1/2

tsp.

almond extract

optional

1

pinch

salt

2 1/2

Tbsp.

poppy seeds

LEMON CREAM FILLING:

2

cans sweetened condensed milk

3

large egg yolks

3/4

C.

plus 2 Tbsp. fresh lemon juice
Instructions
CRUST:

Preheat oven to 350 degrees F.

Beat Crisco® shortening, butter and sugar together until smooth. Add flour and almond extract and beat just until incorporated. Add salt and poppy seeds and stir again. Dump crust until pie pan and use your hands to press flat and up the sides of the pan. You can use a measuring cup or glass with a flat bottom to smooth out the crust! Chill for 20 minutes and then bake for 15 minutes. The crust will rise like a cookie because this is a sugar cookie crust! Just use a spoon to flatten the crust back down after baking!

LEMON CREAM FILLING:

Heat oven to 375 degrees F.

Whisk together sweetened condensed milk and egg yolks. Add lemon juice and whisk again. Pour over your crust and bake for about 15 minutes or until the filling is set. I just touch it gently with my finger to make sure it's set and not still liquid!

Let cool and then refrigerate for at least 2 hours! Leave it in the fridge until ready to serve and then top with whipped cream and fruit!

It's the perfect dessert to make the day before a party because it keeps so well in the fridge!
¹12g fat per serving, see Nutrition Information for fat and saturated fat content.
For all you pie lovers, here's my how-to lattice photos from last year! Apple pie season is almost in full swing! (Caramel Apple Pie Recipe) (How to lattice a pie post)


As a participant of a Crisco® Ambassador program, I've received compensation for my time and product samples for review purposes. But all recipe ideas and opinions are my own. And I only work with companies that I love and I know you'll love!