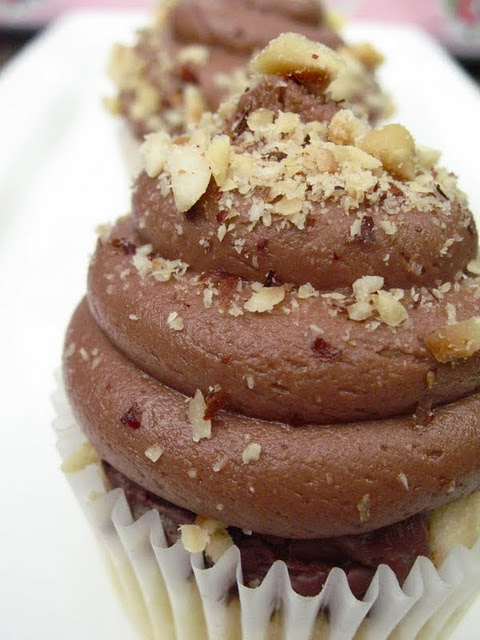 The Story:
When I first made my
Nutella Cupcakes
a few months ago, they were such a huge hit. I decided I would make them again using a vanilla based cake. A lot of people don't even put buttercream on these babies because the Nutella baked into the batter is pretty great by itself, but once you try Nutella Buttercream, you will never say no to it.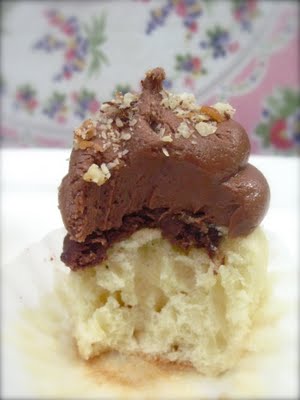 2 teaspoons baking powder
3 tablespoons whipping cream
1.
Preheat oven to 325 degrees and line muffin tins with cupcake liner (about 24).
2.
Beat butter and sugar until light and fluffy
3.
On slow, add eggs one at a time. Waiting until each one is fully incorporated before adding the next.
5.
In a separate bowl, sift together flour and baking powder.
6.
Add ½ of the flour mixture, then add sour cream, then the rest of the flour. Again, waiting for the flour or sour cream to fully mix in before adding the next.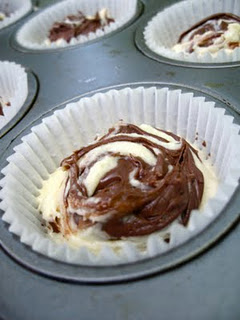 7.
Fill cupcake liners ¾ full and add a teaspoon (or a heaping teaspoon for you Nutella lovers) on top of the batter and swirl into batter using a toothpick. (24 teaspoons equals ½ cup Nutella)
8.
Bake for 22-25 minutes, or until an inserted knife comes out clean (minus the warm nutella on the knife).
9.
Nutella Buttercream: Beat Nutella and butter. Add powdered sugar, vanilla and whipping cream. Adjust as needed using more powdered to thicken, or more whipping cream to loosen. (Also, if the batter is too light in color, you can always add some unsweetened cocoa.)
10.
Pipe onto cooled cupcakes and use chopped hazelnuts roasted in the oven to top!