Reese's Peanut Butter Cup Cookies packed with chocolate chips and mini pb cups! This easy cookie recipe is for all the peanut butter lovers out there!

Out of this World Reese's Peanut Butter Cup Cookies
I was really craving peanut butter chocolate chip cookies a few weeks ago but of course I had to kick it up a few notches. I used my all time favorite milk chocolate chips that are extra big and over the top and added some mini Reese's Cups! These are super decadent and perfect for all those peanut butter lovers out there. Plus, this cookie recipe is easy and the dough freezes too! Mmm… Peanut Butter Cup Cookies is just what you need this week!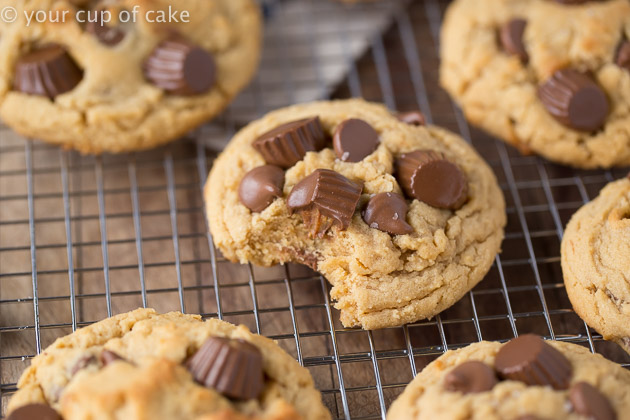 Cookies for Peanut Butter Lovers
My brother is allergic to peanuts, so we didn't have too much peanut butter in the house growing up. But as soon as he graduated from high school and moved way from college it was like a peanut party started! I wish I had this recipe back then because these really are the perfect cookies for people who love peanut butter and chocolate! The dough is packed with peanut butter and the big milk chocolate chips and mini Reese's Cups just make them look so cute!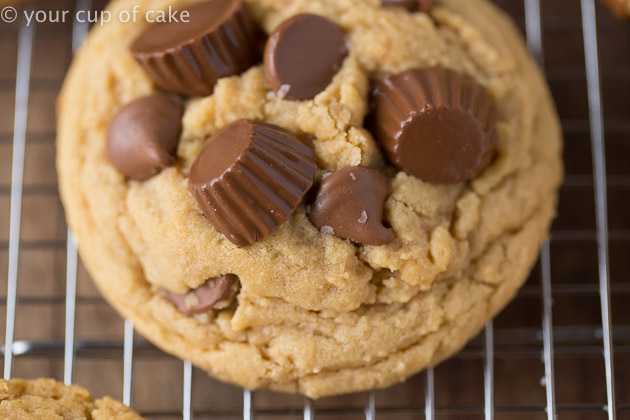 How to Make your Chocolate Chip Cookies Look Perfect
Okay, here's a big secret that the bakeries use. Don't you know how picture perfect cookies always have chocolate chips on on the top that aren't totally submerged in dough? Well bakeries add those chocolate chips in right after baking!! You can also push them into the outside of your dough balls right before they go in the oven. I always add in a little less chocolate chips to the dough and save those to add in at the end to make them picture perfect! My second favorite tip is adding a sprinkle of coarse salt to the dough balls before they bake. Trust me, it makes a huge difference. These Peanut Butter Cup Cookies look like they came straight from the bakery with those mini peanut butter cups on top!
Cookie scoops! You guys, I'm obsessed with them and they make baking so much easier because all my cookies turn out the same size and they're make into perfectly rough balls… love it! Make sure you get the restaurant ones because they won't break with thick dough! I've have mine for 6 years and they have never broken!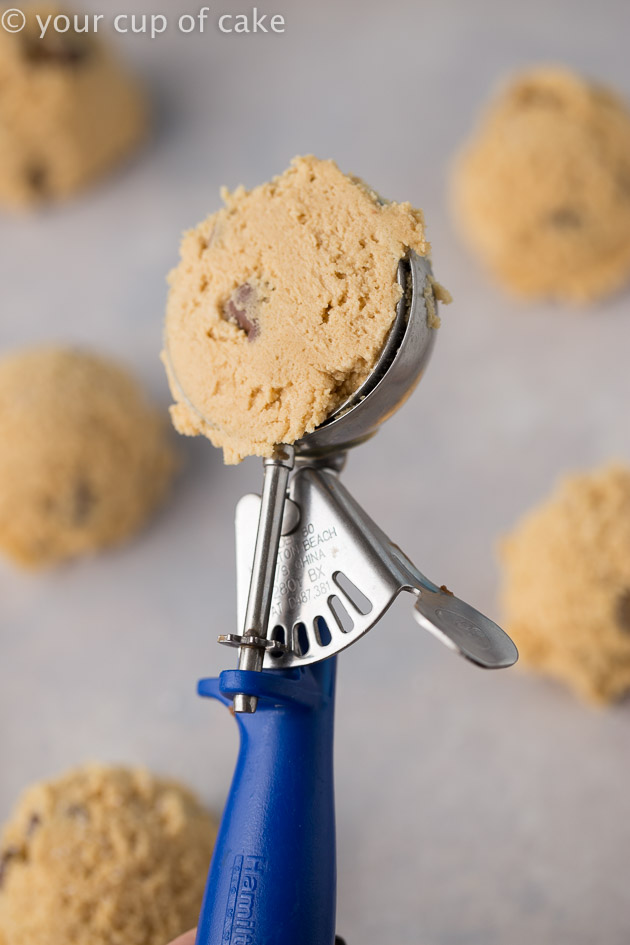 Serve these with a tall glass of milk for some peanut butter chocolate heaven…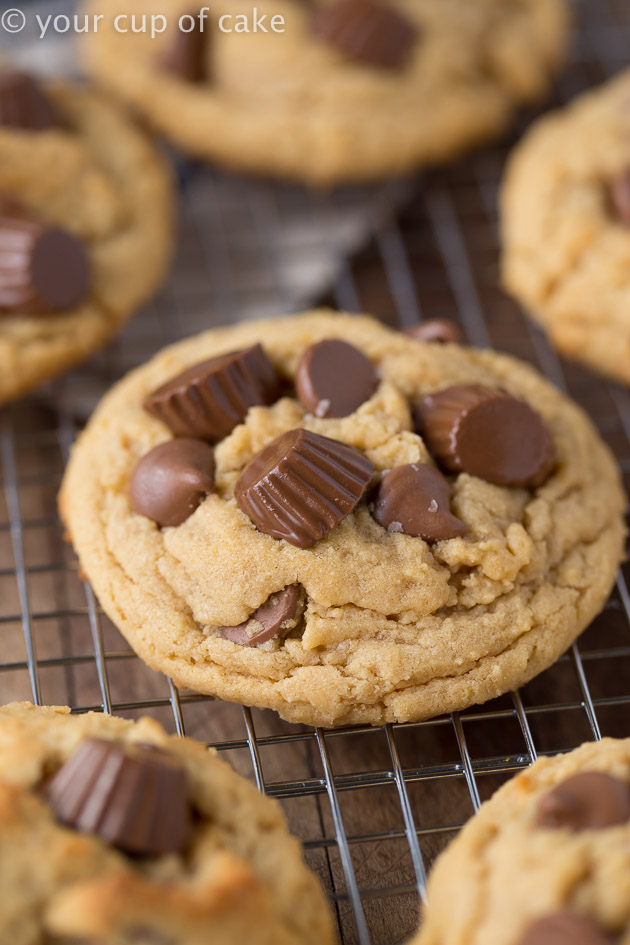 I made mine fairly big, but you can make them smaller. Next time I'll be making mine about half the size because they are pretty rich. If you make them smaller, just decrease baking time!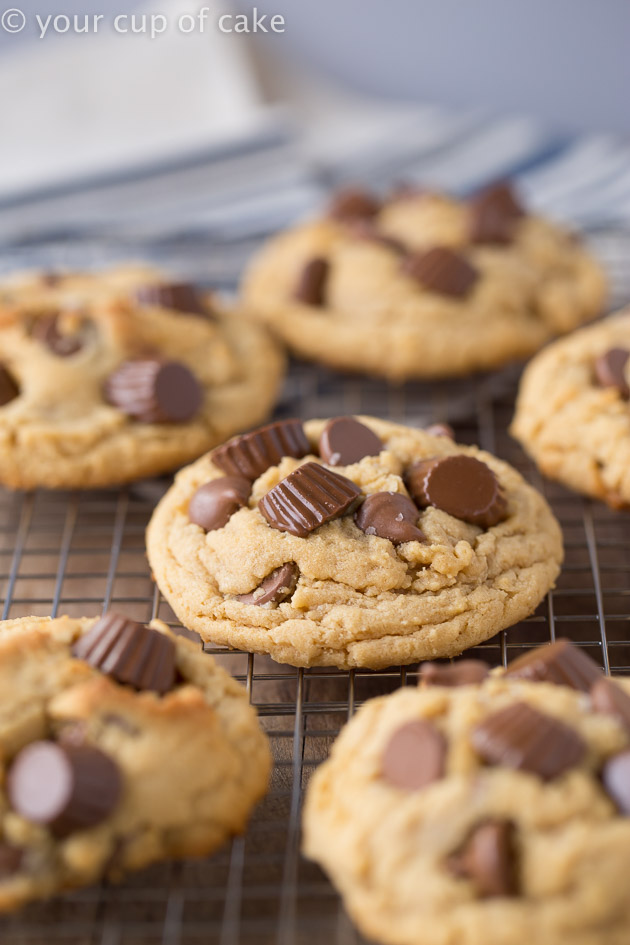 If you're looking for a twist on a classic, this is the cookie recipe for you! They're still easy to make but they look bakery perfect and will steal the shop at any party!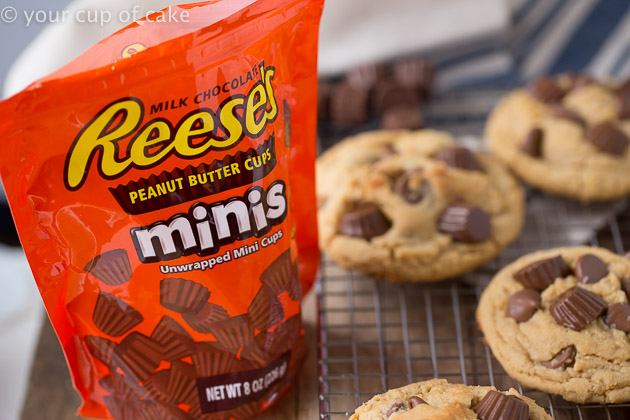 Are you a chocolate peanut butter lover?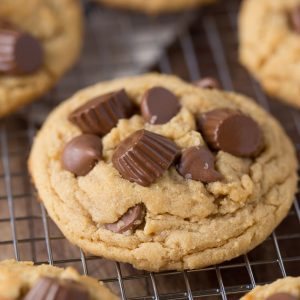 Reese's Peanut Butter Cup Cookies
Ingredients
1

C.

butter

room temperature

1

C.

brown sugar

1

C.

granulated sugar

3/4

C.

peanut butter

2

eggs

3

tsp.

vanilla

2 3/4

C.

flour

1

tsp.

baking powder

1

tsp.

baking soda

1/2

tsp

salt

1 1/2

C.

milk chocolate chips

1

C.

mini peanut butter cups
Instructions
1. Preheat oven to 375 degrees and line cook sheets with parchment paper.

2. In a stand mixer combine butter, sugar and brown sugar. Beat for 2 minutes. Scrape down the sides of the bowl as needed. Add in peanut butter and beat for 1 more minute. Add eggs and vanilla and gently combine.

3. In a separate bowl add flour, baking powder, baking soda and salt. Whisk together.

4. Slowly add dry ingredients to the wet ingredients. Just before it's totally combined, add in 1 1/4 cup of milk chocolate chips. Stir until just barely combined.

5. Make dough balls (mine were large, about 1/4 cup) and place them on cookies sheets. Bake for 9-11 minutes (less time for smaller cookies). Be careful not to over bake because pb cookies can turn out dry if you do!

6. When you pull them out of the oven, give them 1 or 2 minutes to cool and then press in the extra milk chocolate chips and the peanut butter cups. Just push them into the cookies to make them look picture perfect! They'll melt a bit once added!

NOTE: Next time I make these I'll be making them smaller because the mega cookies were a tad too rich for me, but we ate them with ice cream and it was incredible!