Peppermint Bark Puppy Chow (Muddy Buddies) is the perfect treat for Christmas! White chocolate covered Chex cereal coated with crushed candy canes, could anything be more perfect?
And if you're looking for a chocolate peanut butter muddy buddy recipe, my Peanut Butter Brownie Puppy Chow will change your life!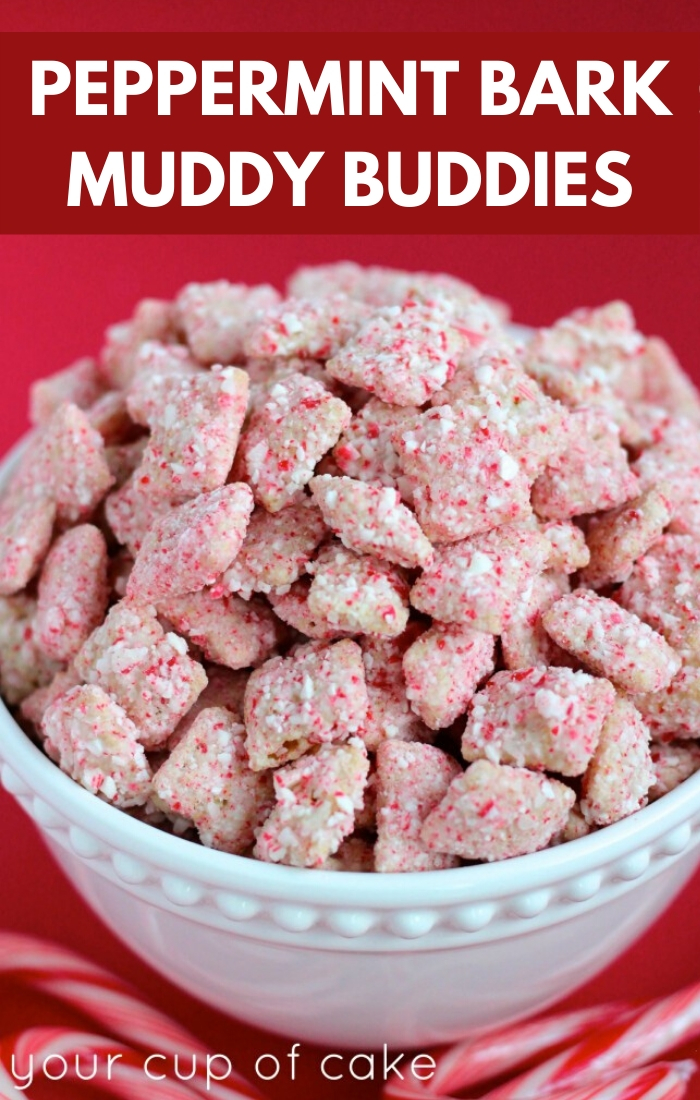 The Story:
What would December be without a White Elephant gift party? There's always the good gift everyone fights over and then there's the uhh… not-so-good gift. I remember people giving away ONE glove, a broken remote control, a traffic cone, even a jar of their own toe nails! Gross! But when I was 12 I went to my first White Elephant party and someone gave a box of peppermint bark–That was the gift everyone wanted.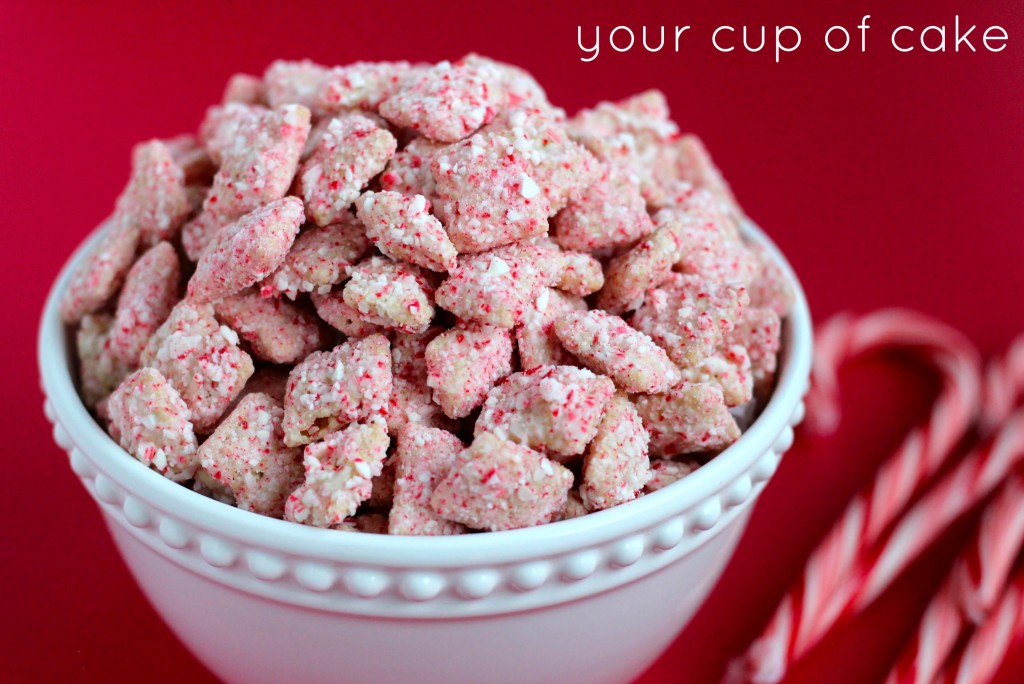 Confession: I tried to make this last year and totally failed. I tried to stir the candy canes into the chocolate before coating the cereal and then tossed it in powdered sugar. It didn't work and didn't look half as pretty as this batch. PLUS its not crazy sweet because you don't need any powdered sugar!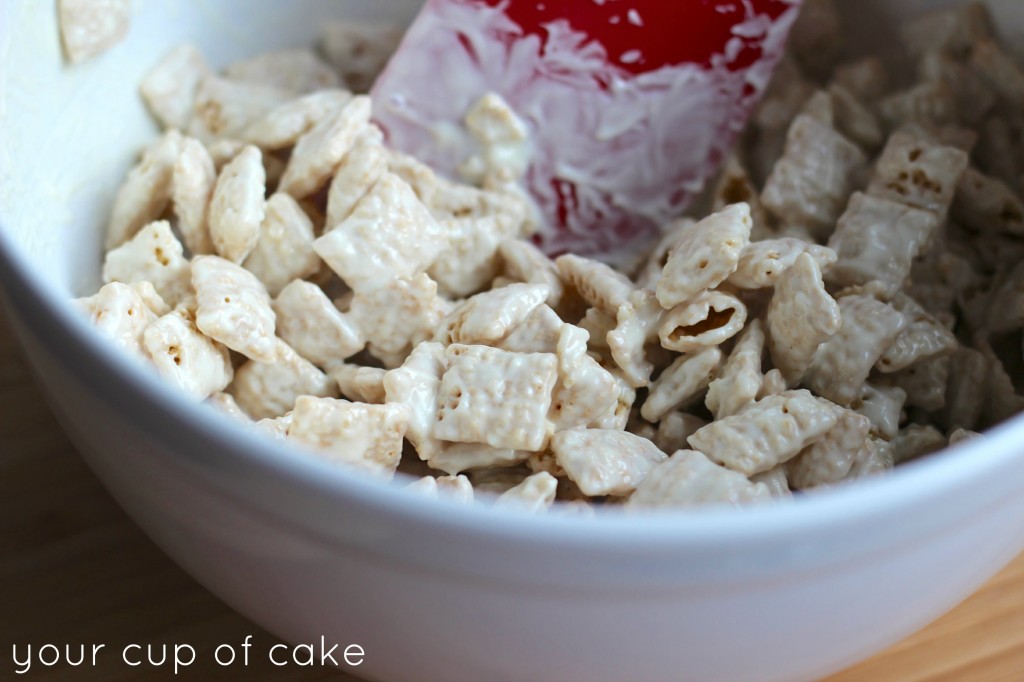 Crush you candy canes in a blender! This will the best Christmas baking trick you learn! It's super fast, no mess and they all get crushed perfectly!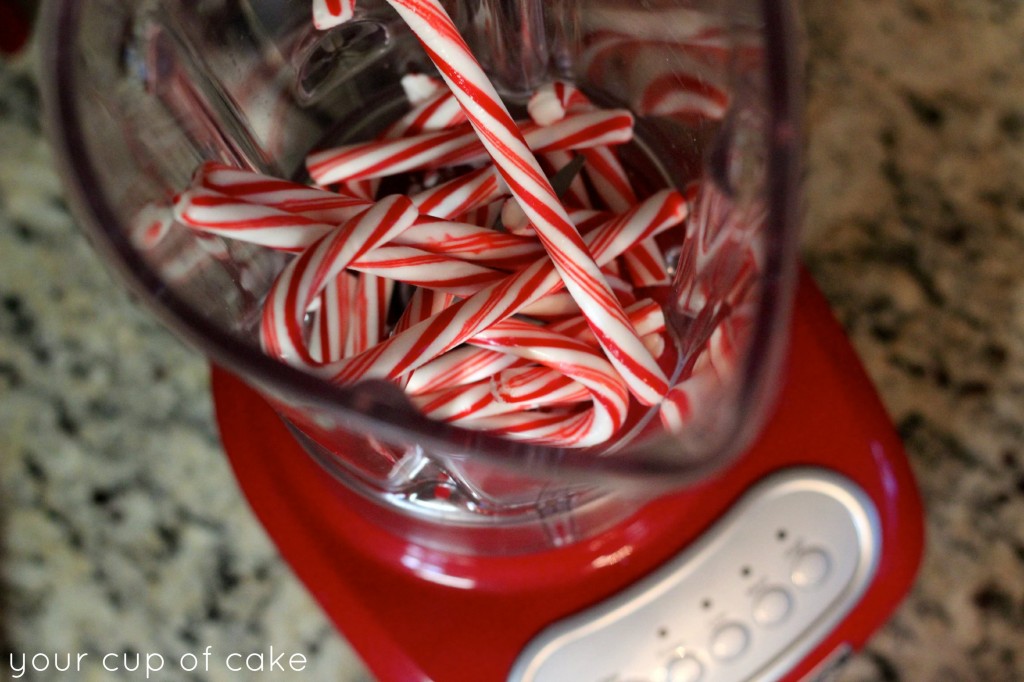 10 seconds later…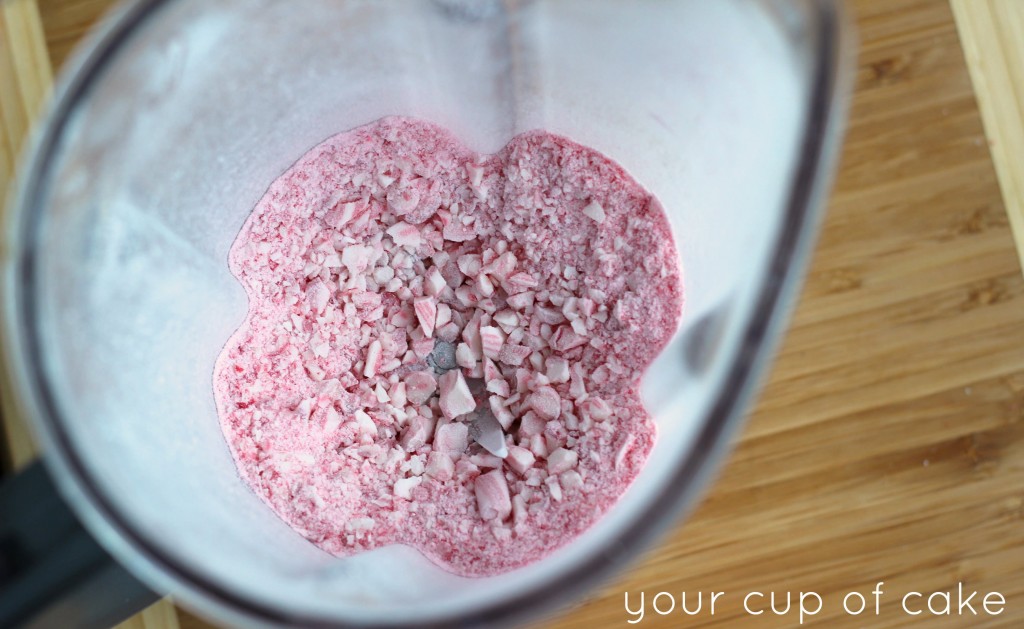 Love Puppy Chow? I have a million recipes! Okay, not a million but a bunch! Enjoy my Peppermint Bark Puppy Chow!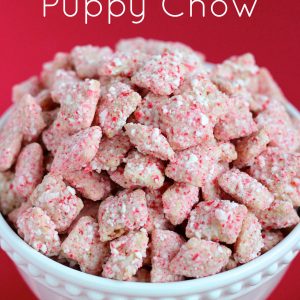 Peppermint Bark Puppy Chow
Ingredients
6-7

C.

Rice Chex cereal

2

C.

White Melts

Or Almond Bark*

1 3/4

C.

crushed candy canes

about 15 or so

*Use something that is meant to be melted and used for candy

most white chocolate chips don't melt down thin enough.
Instructions
1. Place cereal in a large bowl.

2. Melt your white melts or almond bark on the stove top over medium-low heat and stir until smooth.

3. Pour melted goodness over cereal and gently fold until covered.

4. Dump into a large plastic bag (or large tupperware with a top) and add crushed candy canes. Shake until covered.

5. Dump onto a cookie sheet to cool and enjoy!

NOTE: Puppy chow/muddy buddies aren't an exact science, you can always add more chocolate or less cereal depending on your taste!

IDEA:Serve in cute christmas goody bags to give to neighbors, friends and family!
Remember, make sure to use something that's meant to be melted! Chocolate chips don't melt down smooth enough unless you add a tough of oil. In regular puppy chow (muddy buddies) you mix peanut butter with the chocolate chips, and the peanut butter is what helps to thin it out. Peanut butter candy cane just didn't sound appealing to me…