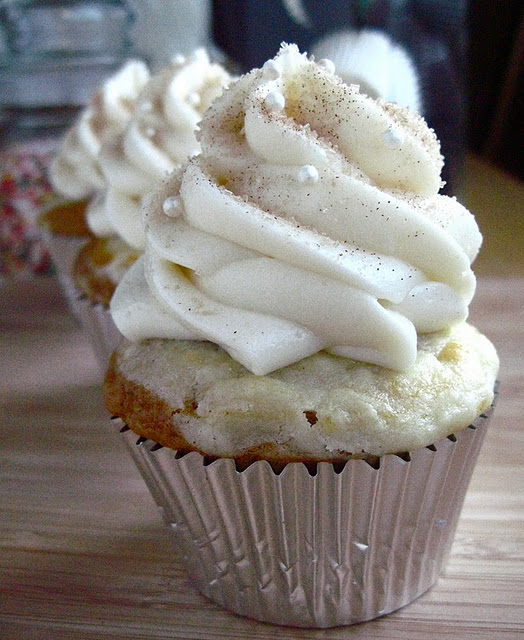 The Story:
Within two weeks, I feel like everything has turned to pumpkin. I drive down the street and I see every restaurant announcing pumpkin shakes, pumpkin steamers and pumpkin pie. Even the grocery stores have the big crates out in front, piled high with bright orange pumpkins.
8 oz cream cheese, softened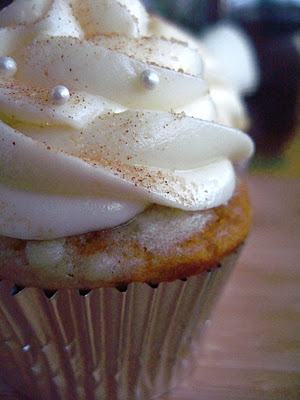 ½ cup sugar
1 tablespoon pumpkin pie spice
Cream Cheese Buttercream:
8 oz cream cheese, softened
½ teaspoon cinnamon (optional)
1.
Filling: Beat cream cheese and sugar until evenly combined. Add egg and vanilla and mix until smooth. Place in a small Tupperware and put in freezer while you make the cake batter. (If you do this part overnight, put it in the refrigerator.)
2.
Preheat oven to 350 degrees and line pans with 20-24 cupcake liners.
3.
Mix oil, applesauce, sugar and brown sugar together until smooth.
4.
Add eggs one at a time and mix well (do not over beat and do not beat on high.)
5.
In a separate bowl, combine flour, pumpkin pie spice, salt, baking soda and baking powder.
6.
Add half of the dry ingredients to the oil mixture and mix.
8.
Add the remaining half of the dry ingredients.
10.
Fill cupcake liners ¾ full.
11.
Take the filling out of the freezer and place small spoonfuls (between 1 ½ -2 teaspoons) on the top of each unbaked cupcake. Slightly swirl into the batter.
12.
Bake for 15-20 minutes, or until and inserted knife comes out with no orange batter on it. The cream cheese will leave a little white on the knife, but that is normal.
13.
Buttercream: Beat cream cheese and butter for 3-4 minutes. Scrape the bowl as necessary. Slowly add powdered sugar until combined. Add vanilla extract and cinnamon. Use milk to thin out the buttercream if needed.
14.
Pipe onto cooled cupcakes. Top with cinnamon sugar or whatever you have on hand.