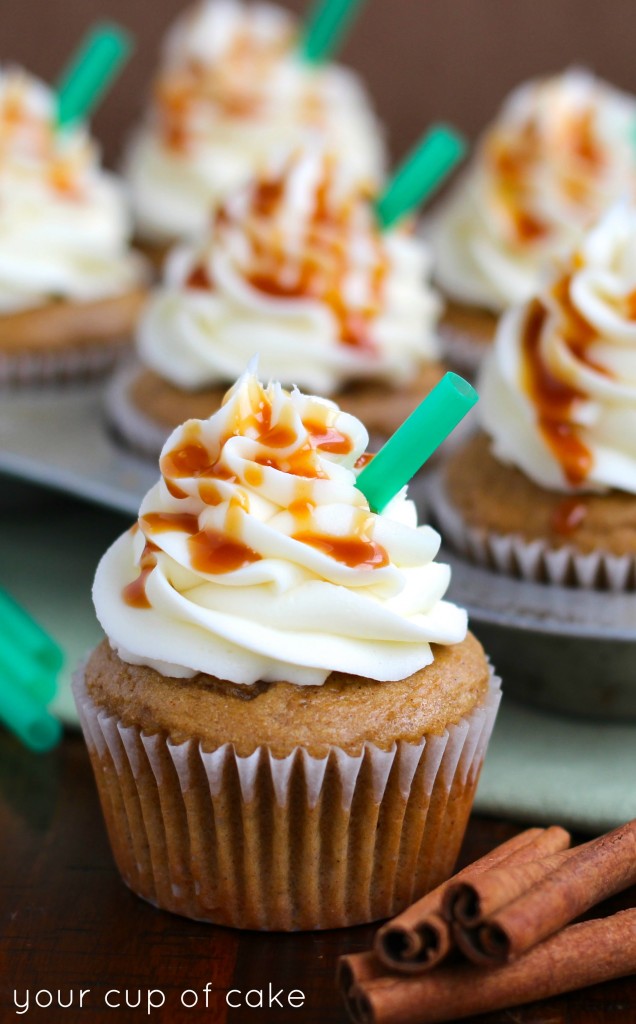 The Story:
Okay, we've all done it.
We've Googled something because we felt left out or perhaps we just felt really stupid.
Maybe it was the capital of a state (maybe even our own state). The definition of a word that our professor keeps saying and we're too embarrassed to ask the guy sitting next to us. Maybe it was something political because the closest thing we get to news is our facebook newsfeed. Those commercials can get us too, the Geico one talking about how the ancient pyramids were a mistake…yeah, nice try. Or maybe it's a hashtag we keep seeing, like #PSL that was EVERYWHERE one day and felt so left out! Pumpkin Spice Latte. Thank you Starbucks, now I'm the cool one with the PSL Cupcake!
Oh Google, what would I do without you and your wisdom?
Ask a lot of really stupid questions out loud.
Yeah, I think I'll keep the Google.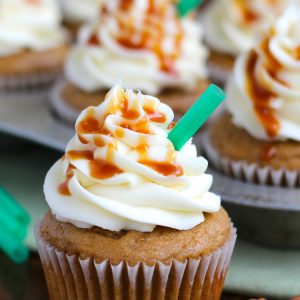 Pumpkin Spice Latte Cupcakes
Ingredients
Pumpkin Latte Cupcakes:
1

box Pillsbury® Perfectly Pumpkin Cake Mix

2

tsp.

cinnamon

1/2

C.

melted butter

cooled

3

eggs

1/2

C.

milk

1/2

C.

sour cream

2

tsp.

vanilla extract

1/4

C.

strong coffee*
Cream Cheese Frosting:
8

oz.

cream cheese

1/2

C.

butter

room temperature

2

tsp.

vanilla extract

4-5

C.

powdered sugar
Caramel and straws for decoration
*note: 1/4 C. hot water and 5 tsp. instant coffee granules
Instructions
1. Preheat oven to 350 degrees and line pans with cupcake liners.

2. Sift cake mix into a small bowl with cinnamon and set aside.

3. In a large bowl, whisk butter, eggs, milk, sour cream and vanilla extract together until smooth.

4. Add cake mix/cinnamon and stir until smooth.

5. Stir in coffee (make it as strong as you want your "latte" cupcakes to be).

6. Fill cupcake liners 3/4 full and bake for 16-20 minutes or until an inserted knife comes out clean.

7. Let cool.

8. Frosting: Beat cream cheese and butter for 2 minutes. Add vanilla extract and slowly add in powdered sugar until thickened.

9. Pipe frosting onto cupcakes and drizzle with caramel and top with a straw.

For another CAKE recipe, see the link below!
I got a bunch of emails from people using the new Pillsbury seasonal cake mixes like this Perfectly Pumpkin and the Caramel Apple cake mix. I decided I just had to jump on board! But if you can't find the mix but still want to try out this recipe, use my Pumpkin Snickerdoodle Cake Mix recipe (I do love Pillsbury mixes the best so use a Pillsbury White Cake Mix).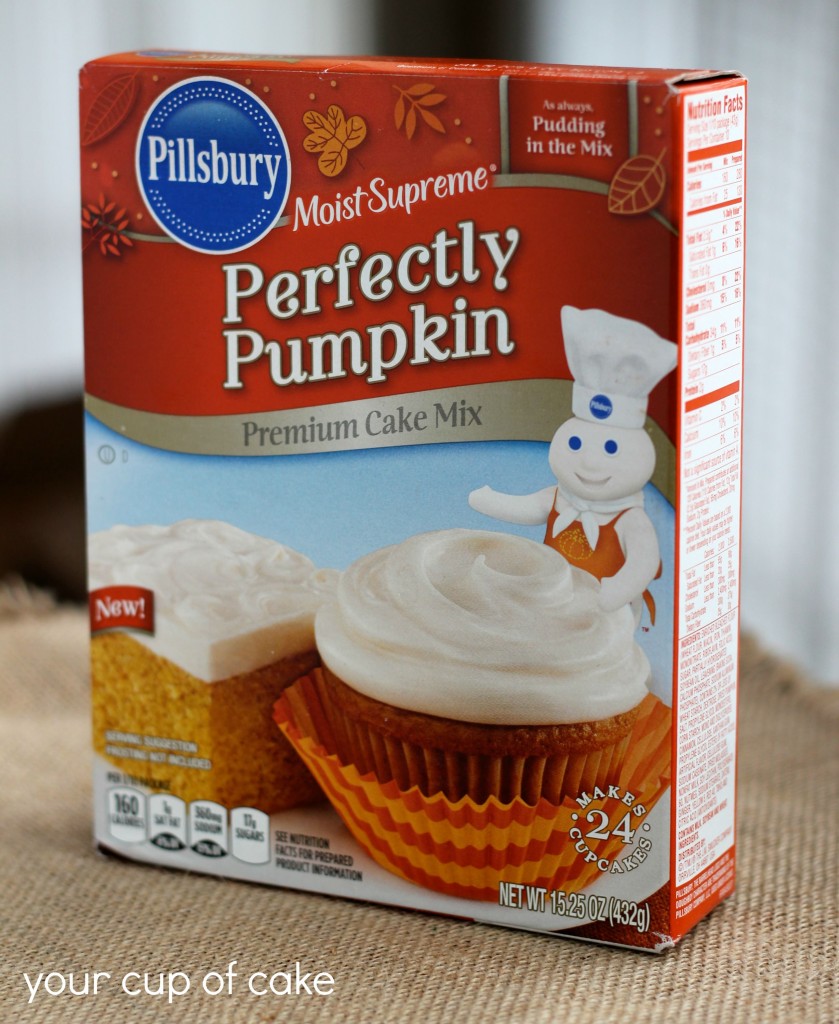 Some of My Favorite Things:
Cupcake Pan: It has 24 wells and is a shorter pan so no more dark "rings" around your vanilla cupcakes!
Cupcake Scoop: I use either the Yellow or the Blue one! They work GREAT for cookies too!
Wilton 2D Piping Tip: Here's a major trick with this tip, use a knife to spread the spokes apart just a little bit more so that you don't get any clogs when piping!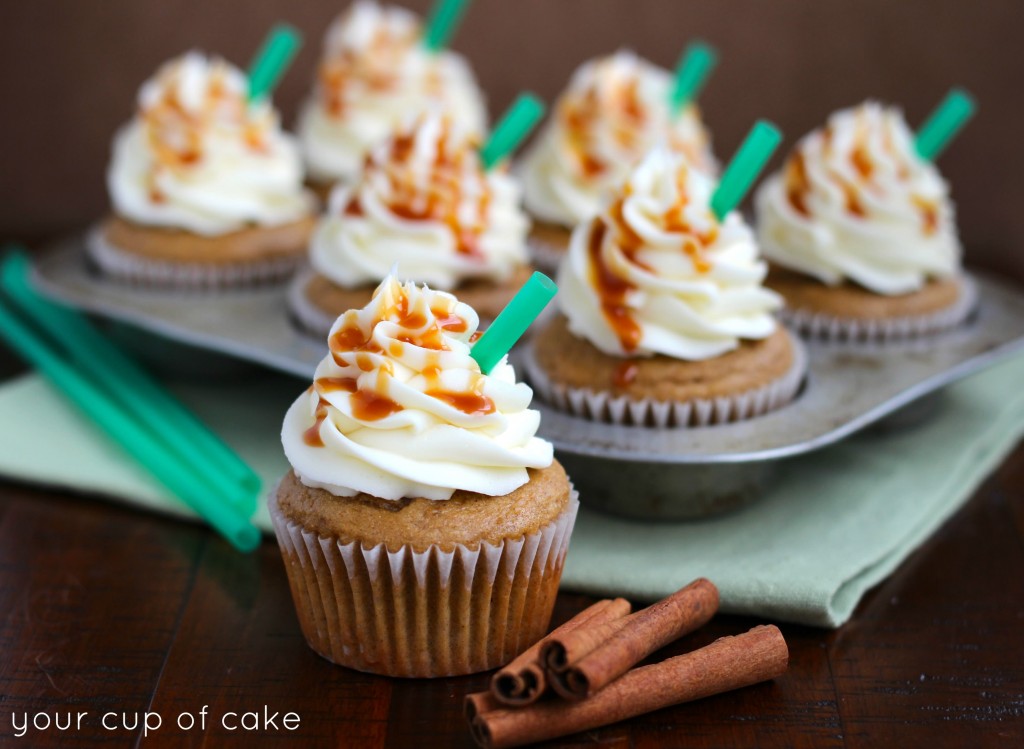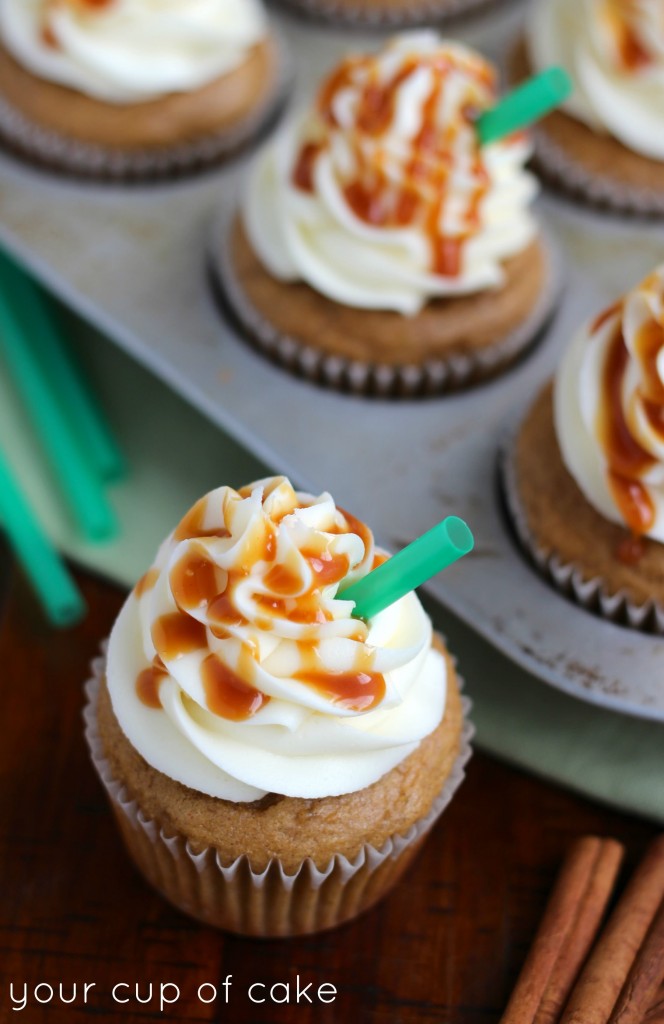 Your Cup of Cake was compensated for this post ©/® The J.M. Smucker Company. Pillsbury is a trademark of The Pillsbury Company, LLC, used under license.
Just a reminder… the Kindle version of my cookbook is just $1.99 on Amazon this week! All cake mix recipes PERFECT for the gluten free baker, just use a gluten free cake mix!