A healthy smoothie that's packed with protein! This Skinny Strawberry Cheesecake Smoothie is perfect for kids and you!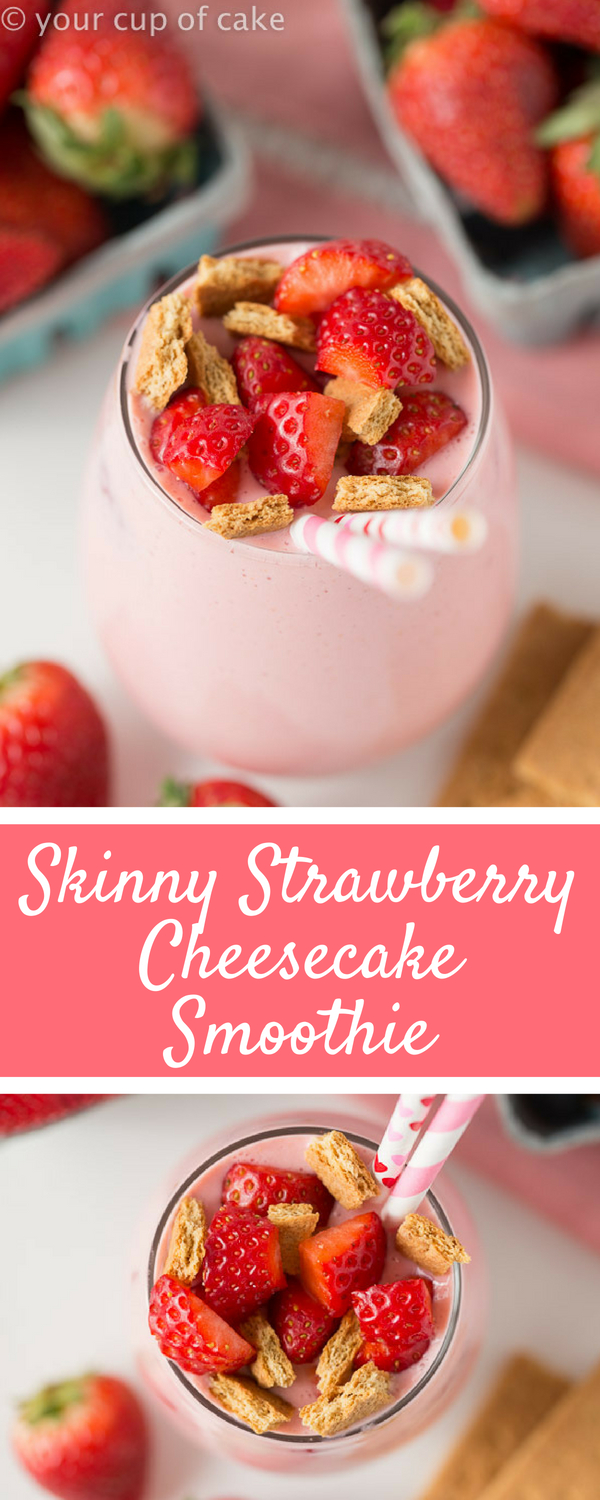 Skinny Strawberry Cheesecake Smoothie Recipe
I crave two things all year long…. chocolate doughnuts and smoothies. One is better for me than the other but I also tend to eat more of the chocolate covered one, whoops! But watch out, because when you buy smoothies they're usually packed with sugar! They sneak them in using sherbet or smoothie packets, the smoothies taste great but end up being more of a dessert than a meal or snack. So unless you go to some fancy healthy cafe where you pay $8 for a small smoothie you'll probably want to try making smoothies at home. And who can afford buying those smoothies every day anyway, not me! This Skinny Strawberry Cheesecake Smoothie will be a new staple in your smoothie recipe book.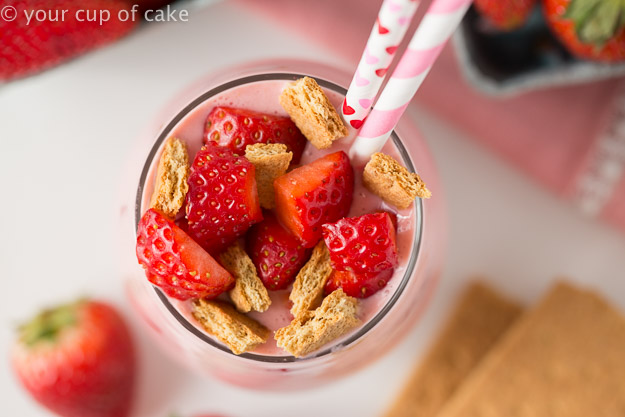 How to make a Protein Smoothie without using Protein Powder
This Skinny Strawberry Smoothie is a fun twist on a classic dessert! To keep it skinny and healthy I didn't add any extra sugar. To keep it protein packed I opted to use greek yogurt (I've also made this using cottage cheese). Greek yogurt is jam packed with protein and also keeps smoothies thick! It's the perfect ingredient for this summer snack! I always make my smoothies with at least a little protein so that I stay fuller longer. Sometimes I'll throw in protein powder or peanut butter depending on the flavor!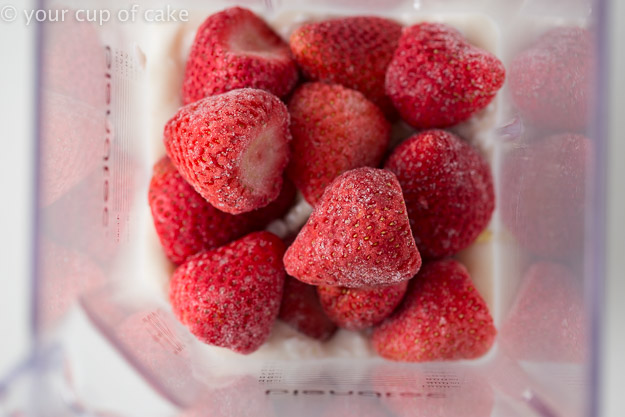 How to Make the Perfect Smoothie
I make smoothies and acai bowls all the time! People always ask me how to make it perfect and it comes down to practice. I always error on the side of making my smoothie too thick because I can always stream in a little more milk if I need to thin it out. But my blendtec deserves all the credit! This thing perfectly blends seeds and ice into anything I throw in it! If you're serious about green smoothies, I highly suggest getting a good blender because you won't last more than a day if you're drinking green drinks with chunks of kale in it. Get a good blender and you'll understand why people are loving green smoothies all summer long.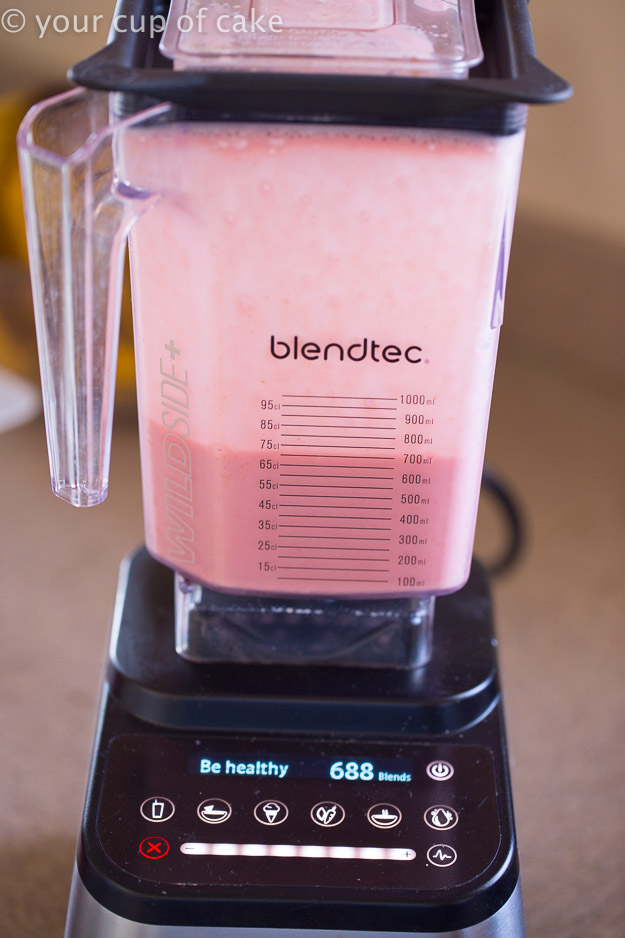 I love photographing smoothies because I get to dress them up with cute straws and then I get to drink them! It's a win-win situation! This smoothie would be perfect all summer long or even for Valentine's day! Pink drinks never go out of style 🙂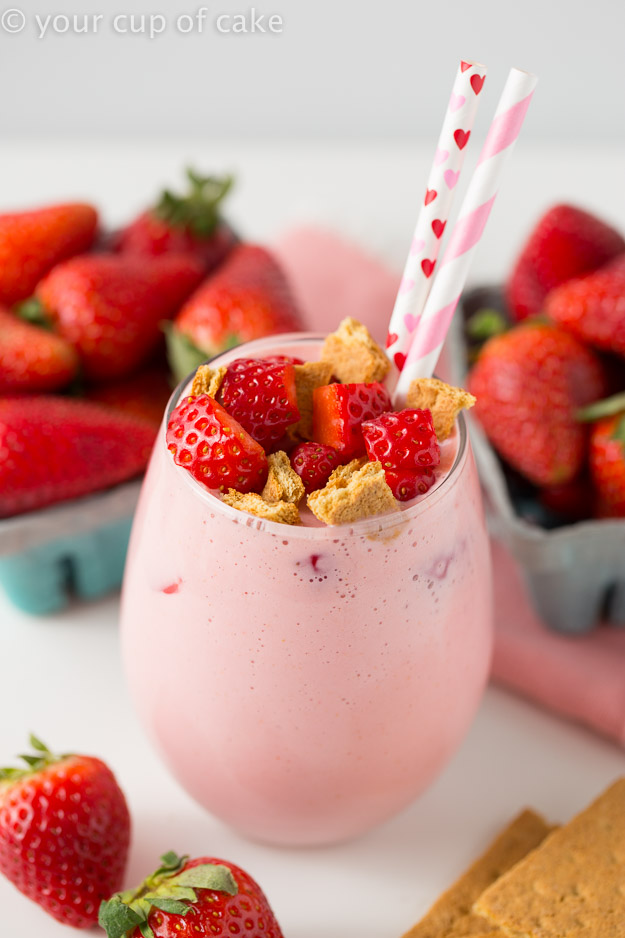 I hope you're enjoying this hot weather! I seem to be missing it all winter long and then when it's here in full swing I start dreaming of fall… I guess I'll just have to cool down with another Skinny Strawberry Cheesecake Smoothie!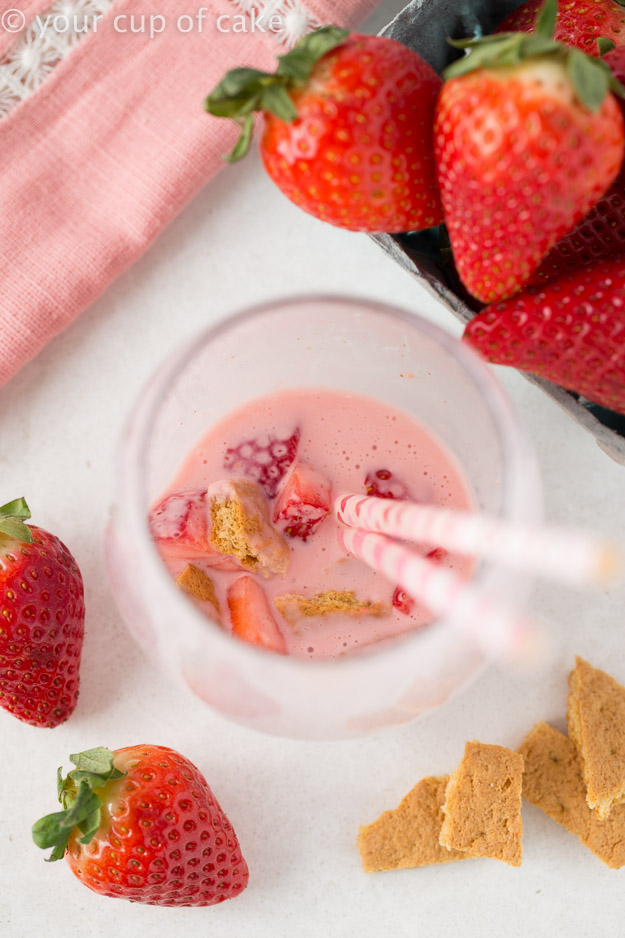 The Best Skinny Strawberry Cheesecake Smoothie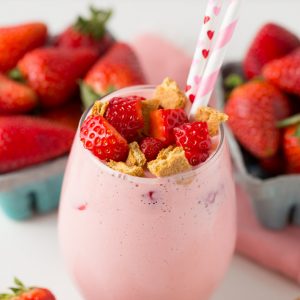 Skinny Strawberry Cheesecake Smoothie
Ingredients
1

C.

strawberries

frozen or fresh

1/2

C.

greek yogurt or cottage cheese

1/3

C.

milk or almond milk

1/2

tsp.

vanilla

optional

1/2

medium banana

sliced and frozen (optional)
Instructions
1. Place all ingredients in a blender (I love my blendtec) and blend until smooth.

2. Top with graham cracker pieces and fresh berries!

NOTES: I used frozen berries and frozen banana pieces to make sure my smoothie was thicker, feel free to add ice to thicken as well!