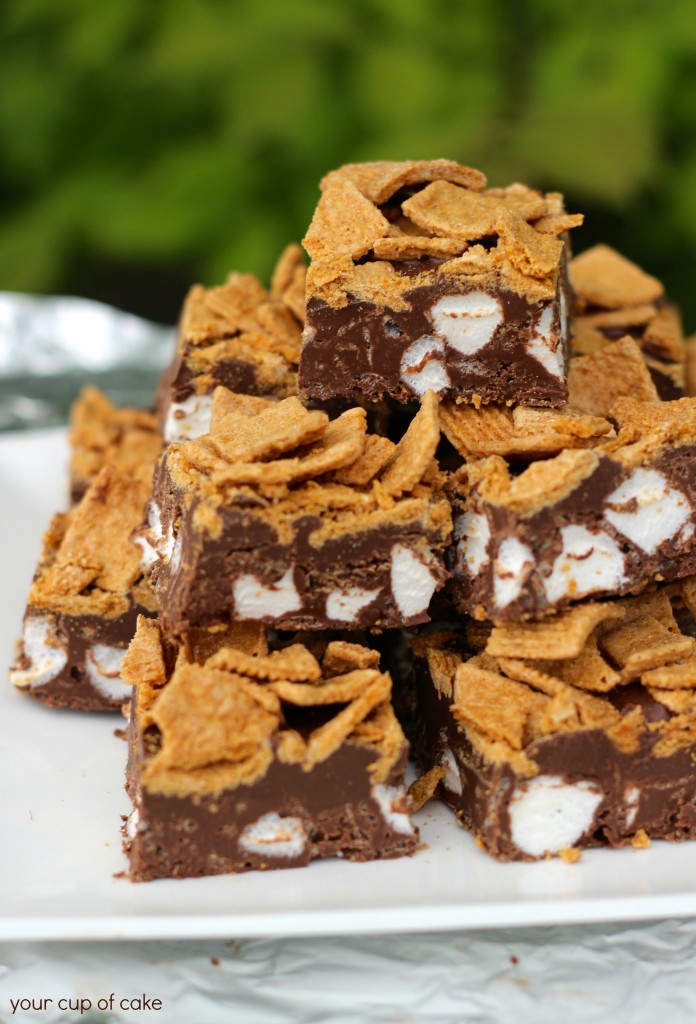 The Story:
Last week I made S'mores Puppy Chow, but on the same day I made that I wanted really badly to make those S'mores treats with the melted marshmallow (like rice crispy treats without rice crisps…). But I couldn't bring myself to make a treat that everyone has done before. I needed a different take on it, or else why would any of you come to my little 'ole blog, right? So I started googling and then I just totally went to town. Or I guess I went to the kitchen…
I'm calling this "fudge" though I'm sure there's some definition for fudge that I didn't quite fulfill but it's great because my problem with s'mores is that there is too much marshmallow and not enough chocolate. This combo is perfect. The chocolate is soft, the marshmallows aren't sticking all over your face and the golden grahams are way better than graham crackers. You can even cut this up in smaller pieces and serve them in mini cupcake liners!
S'mores Fudge
Ingredients
1 1/4

C.

chocolate chips or melts

3/4

C.

peanut butter

creamy

1

Tbsp.

butter

1 1/3

C.

cocoa rice krispies

1 1/3

C.

marshmallows

1 1/2-2

C.

Golden Grahams
Instructions
1. Line a 9X9 or an 8X8 inch pan with foil (let it hang over the sides so you can easily pull up on the flaps to bring out your finished treats) and butter the foil.

2. In a large bowl, melt chocolate, peanut butter and butter together in the microwave. Microwave for 45 seconds, then remove and stir. Continue to microwave in 10 second increments until smooth.

3. Take a 1/4 C. measuring cup and use it to remove that much meted chocolate. Set aside.

4. Add in cocoa rice krispies and marshmallows to your large bowl of melted chocolate and stir until combined.

5. Dump into prepared pan and spread out evenly.

6. The fudge will look lumpy, so help "smooth" it out and give it an even top, pour your extra 1/4 cup of melted chocolate over the layer. This will help to fill in around the marshmallows sticking up.

7. Sprinkle over enough Golden Grahams to cover the top and gently press them down so they get stuck in the chocolate.

8. Place in freezer for 1 few minutes to set. Cut with a warm knife and serve!