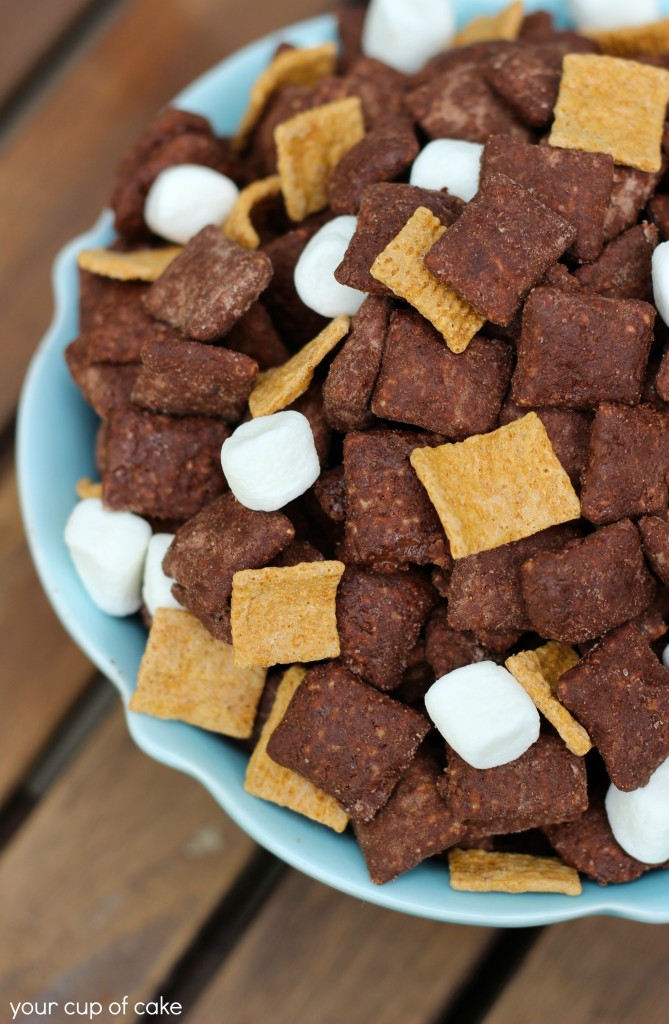 The Story:
I'm sort of an odd ball. Last summer when I was insanely busy writing my first book, (I may or may not have put it off for a little while so I only had 2 1/2 months to write, bake and photograph 80 recipes), I was so tired at the end of my days I didn't want to drive the 25 minutes to see people I knew. But I still wanted to do the fun summer outdoor things. So what did I do? I built a fire in our backyard.
By myself.
Who does that?
I do I guess and it was wonderful! I would like to say I used my Girl Scout skills to start the fire, but I didn't. I don' think being a GS taught me much other than the names of all the cookies. But don't you worry, Grandpa Hansen taught me well. Three matches and the kindling you can find is all you get with him, and I have always stuck to that rule. If you can't start a fire with that, you have no business starting one at all.
S'mores Puppy Chow
Ingredients
6

C.

rice Chex cereal

1

C.

milk chocolate melts or chips

1/2

C.

peanut butter

creamy

1

tsp.

vanilla extract

1

C.

brownie mix

from the box (or you can use a combination of powdered sugar and cocoa powder)

3

C.

Golden Grahams

3

C.

marshmallows
Instructions
1. Place cereal in a large bowl and set aside.

2. In a microwave proof bowl, melt chocolate, peanut butter and vanilla extract and stir until smooth.

3. Pour over cereal and fold until covered.

4. Dump into a large plastic bag and add brownie mix, seal and shake until coated. (If you don't have a large plastic bag, pour brownie mix over cereal and stir well. Or you can use a pot with a lid to shake it in.)

5. Dump onto a cookie sheet and let cool.

6. Pour into a large bowl and mix with Golden Grahams and marshmallows.

Other Variations:

-You can omit the brownie mix and crush up graham crackers or golden grahams and use 1 C. of the crumbs to cover the melted chocolate.

-You can coat the marshmallows with melted chocolate as well!
Check out all my other 12 Puppy Chow recipes!