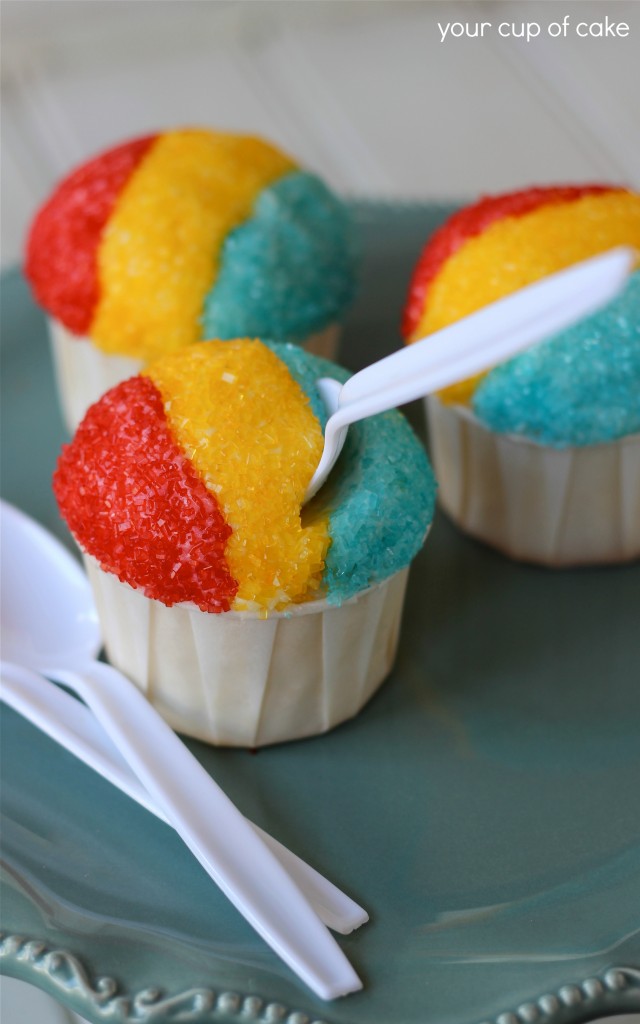 The Story:
For some reason at every fundraiser fair, I got put at the snow cone stand. It would have been the best job around if it weren't for all those bees! Every pump of fruity syrup was buzzing with terror. I just moved slowly and hoped for the best.
This recipe comes from my cookbook Your Cup of Cake found on Amazon and book stores across the country.

Snow Cone Cupcakes
Ingredients
Vanilla Cake:
1

box White Cake mix

4

egg whites

1/3

C.

oil

¾

C.

milk

¾

C.

sour cream

2

tsp.

vanilla extract
Frosting:
1 ½

C.

butter

softened

5-7

C.

powdered sugar

2-3

Tbsp

milk

1-2

Tbsp.

lemon flavored gelatin

1-2

Tbsp.

cherry flavored gelatin

1-2

Tbsp.

blue berry flavored gelatin
Coarse sugar sprinkles in yellow, red and blue
Instructions
1. Preheat your oven to 350 degrees and line pans with cupcake liners or use soufflé cups like I did.

2. Sift cake mix into a small bowl and set aside.

3. In a large bowl, use a whisk to gently combine eggs, oil, milk, sour cream and vanilla extract.

4. Add cake mix and stir until smooth.

5. Fill cupcake liners ¾ full and bake for 15-20 minutes or until an inserted knife comes out clean.

6. Frostings: Beat butter for 2 minutes and scrape down the sides of your bowl. Slowly add powdered until you reach your desired consistency. Add a little milk if it become too thick.

7. Use three small bowl and divide up your frosting evenly into each one. Add a different gelatin flavor to each bowl and mix it in. Taste and add more gelatin it needed.

8. To assemble, pipe a strip of yellow frosting across a cupcake. Use a knife to smooth it out into a sort of Mohawk on the cupcake. Roll the top of yellow Mohawk into your yellow sprinkles.

9. Next, pipe red frosting on either side of the yellow strip. Use your knife to smooth out the frosting and fill in the needed area. Roll the red frosting into a small bowl of your red sprinkles. (The red sprinkles will not stick to the yellow area if your yellow area is fully covered in yellow sprinkles.)

10. Repeat step 9 using the blue frosting and blue sprinkles.

11. Once the cupcake is completely covered in sprinkles, use your clean hand to round out the top of the cupcake and to smooth the edges between each flavor Mohawk.