Stupid Good Chili. It's so good it's…well, stupid. Your new easy go-to chili recipe just arrived!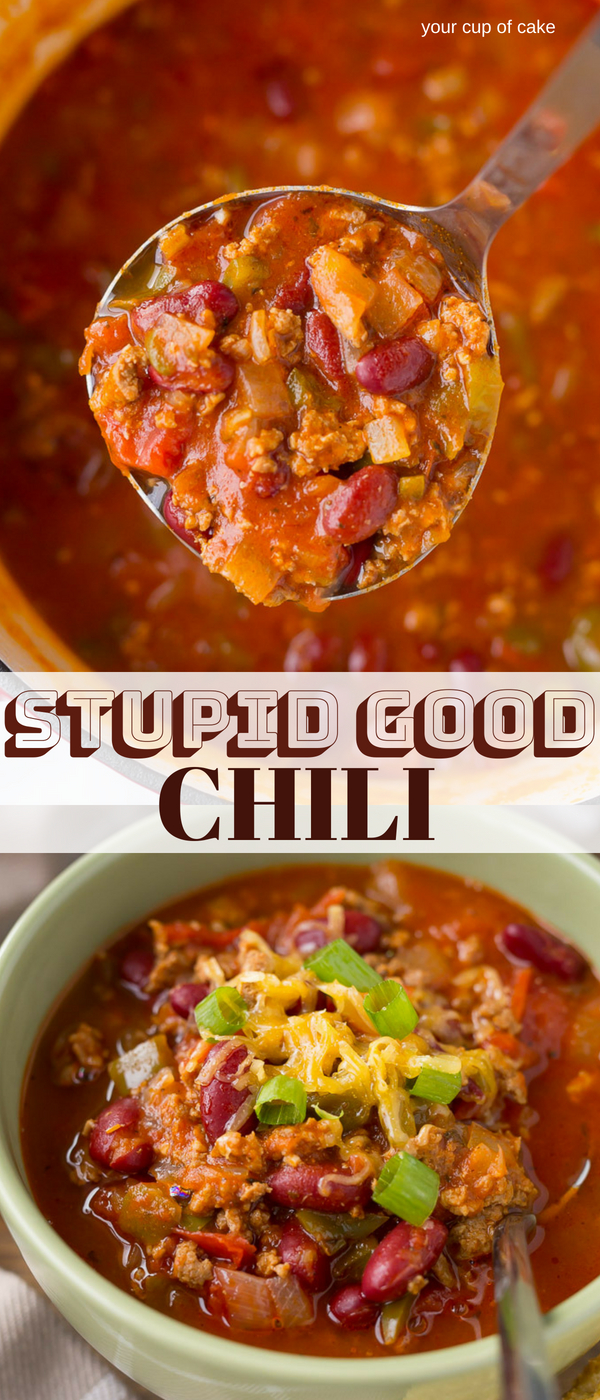 Bring on all the Fall Chili Recipes!
Fall is my favorite time of the year and I cannot wait because it's just around the corner. The colors, the cool and crisp air, and especially cozying up with a bowl of this Stupid Good chili. Parker and I already have plans to drive up the canyon near our house and see all of the trees changing colors. It is seriously one of the most magical places on earth! Definitely check my Instagram stories over the next week so you can see what I am talking about. And if you're wondering about the silly name of this chili…I'll explain.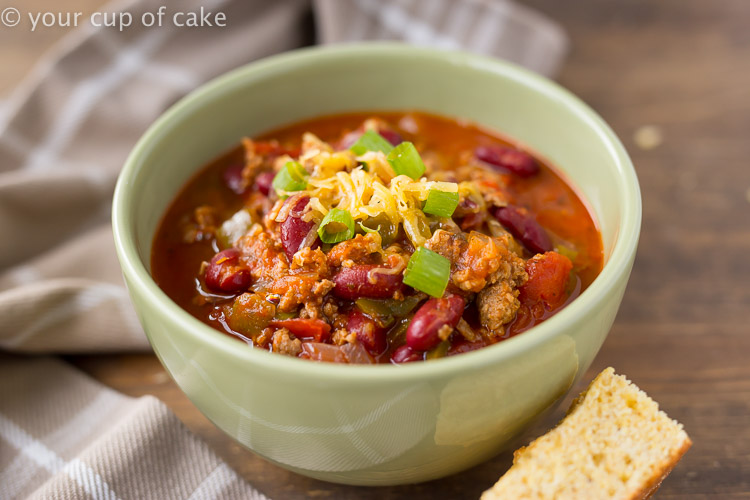 STUPID Good Chili.
This may be the last time I let my husband name a recipe. I asked Parker what we should name this chili and he told me to go with Stupid Good Chili. I'm still not sure if he was joking or not, but either way here we are and trust me it will all make sense once you try it! Have you ever eaten something so ridiculously good it defied your expectations? Something that just blew you away because it was a game changer? That was my experience with this Stupid Good Chili and I think you'll agree too. This chili gets its name because it is way too delicious for how easy it was to make. It was too good. As Parker would say, "It's stupid good. " Whatever you want to call it, it will be your new favorite easy dinner recipe!
9 ingredient chili, it's almost too good to be true.
This chili is simple enough for a weeknight dinner or any meal for that matter. Since the ingredient list is only 9 items long and one of those is water you can be in and out of the grocery store in no time! One of the steps is crushing the tomatoes by hand so if you have kids who like to be in the kitchen then this is a fun part they can help out with. I also love this recipe because you can control how sweet or spicy you want it to be! Parker likes his chili sweeter than mine so we could easily adjust the recipe to make each of us happy!
I LOVE using a cast iron enamel pot for recipes like these! You won't understand until you cook with one, but trust me… it's incredible! I feel like Rachel Ray and start narrating out my cooking ha!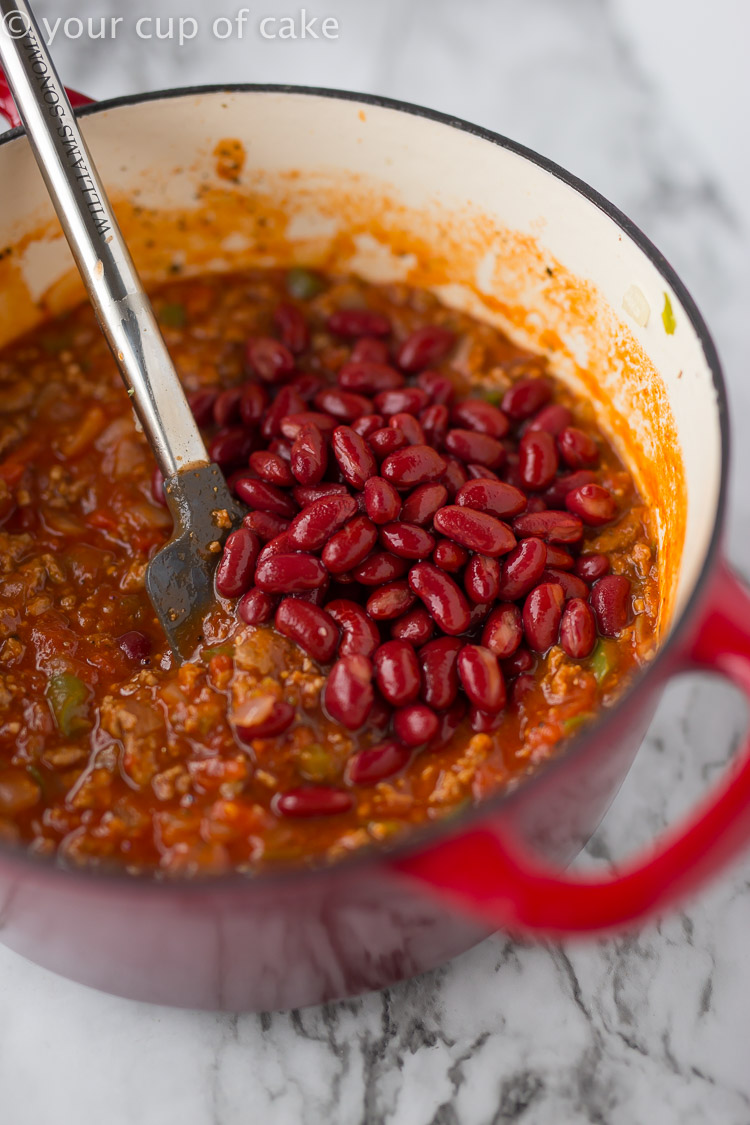 The ULTIMATE Chili Recipe
Bust out your favorite toppings and load it up! Chili is good with almost any topping. From cornbread to sour cream and cheese, they're all delicious and go well with this Stupid Good Chili. Tell me what your favorite chili toppings are in the comments. Me? I like it simple with a little bit of cheese and green onions. Meanwhile, Parker makes his with bacon, sour cream, cheese, Tabasco, and crushed up tortilla chips. Whatever your style is, you'll love this Stupid Good Chili!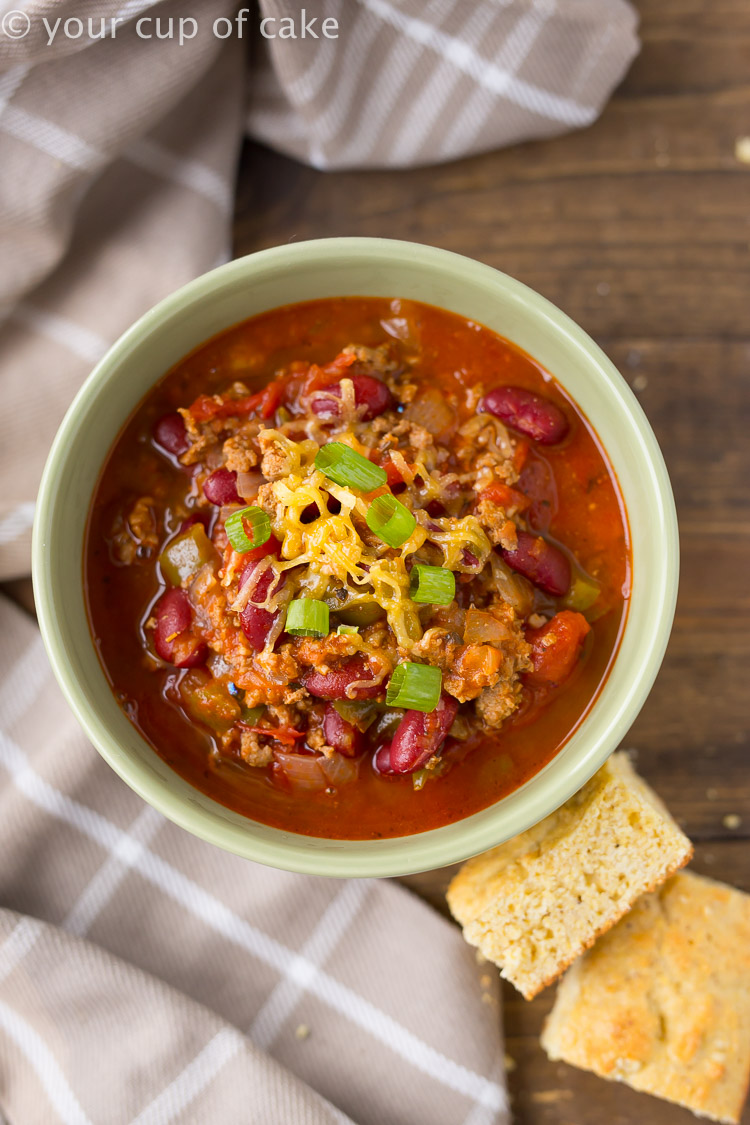 Talk about a spoon full of goodness!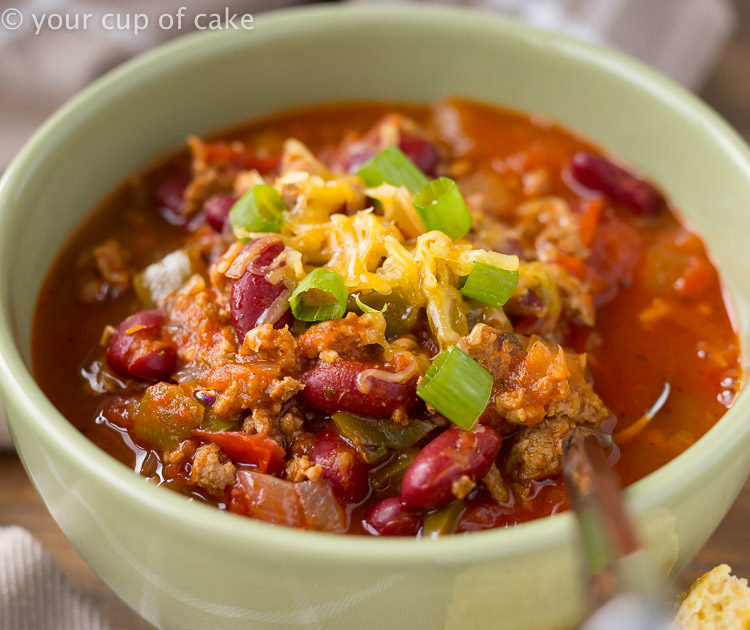 Enjoy this Stupid Good Chili Recipe!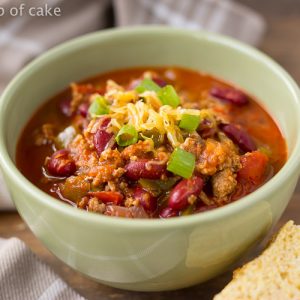 Ingredients
1 1/2

lbs

ground beef

1

medium

onion

finely chopped

1/2

green pepper

finely chopped

2

15 oz cans

stewed tomatoes

1

14 oz bottle

ketchup

1

15 oz can

kidney beans

drained and rinsed

2

cloves

garlic

minced

1

tbsp

chili powder

2 1/2

cups

water
Instructions
Brown the beef in a large pot until cooked.

Add the bell pepper and onion and saute until the onions are translucent. Drain any extra grease.

Pour the tomatoes into a large bowl and squeeze by hand so the chunks are reduced in size.

Add the remaining ingredients (tomatoes, ketchup, kidney beans, garlic, chili powder, and water) to the pot and stir. If you like your chili sweet then use the entire bottle of ketchup, if you prefer it less sweet then use 3/4 of the bottle.

Cook over low with the pot covered for 1 1/2 to 2 hours, stirring occasionally.