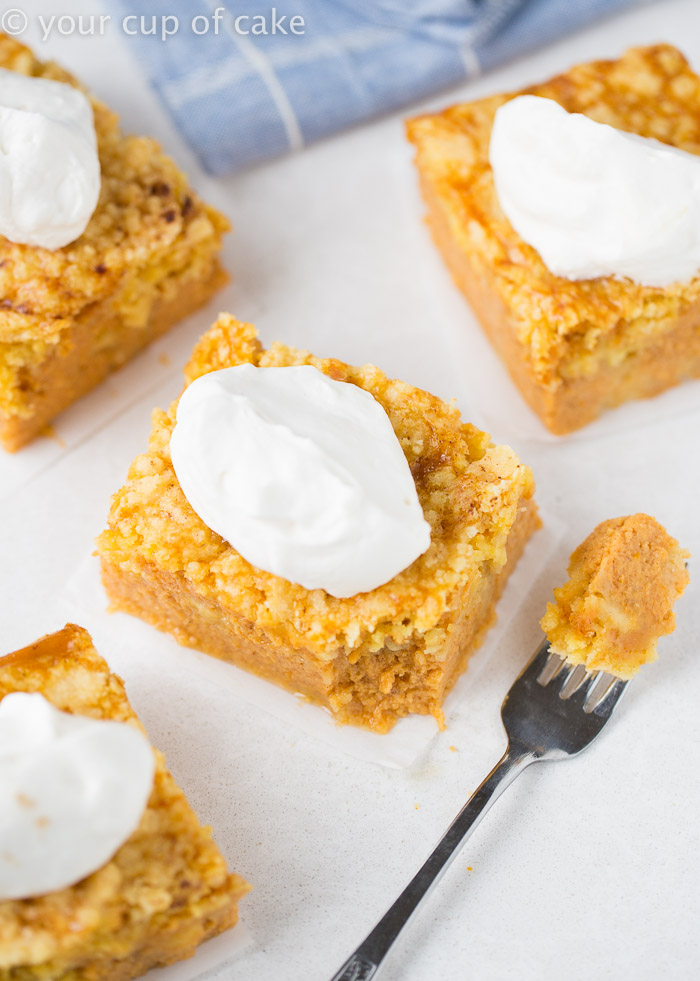 Pumpkin pie is good, but this Magic Pumpkin Pie Cake takes it to a whole new level! Perfect pumpkin pie topped with crunchy, cakey goodness. It's almost like a pumpkin cobbler! No need to mess with rolling out any dough or measuring out the topping ingredients. Just one box of Pillsbury Cake mix and a stick of melted butter!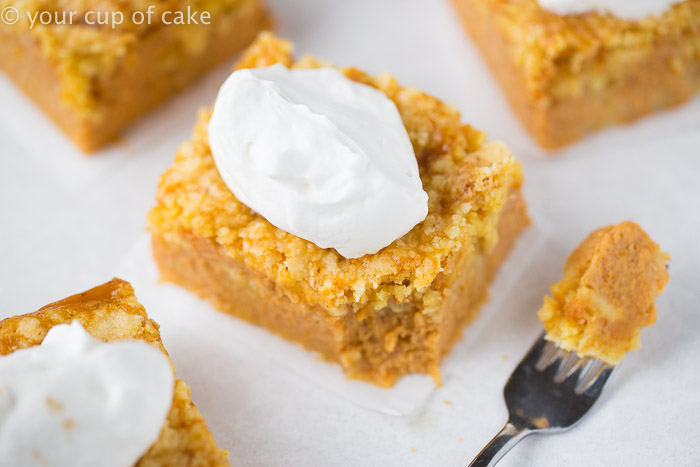 I'm partnering with Pillsbury to bring you this delicious new recipe! I actually took one of my most popular recipes and made it even better by tweaking a few things. My Pumpkin Dump Cake Recipe has a layer of cream cheese and you pour the melted butter over the cake. But you have to be pretty careful pouring the butter or else you get some dry spots after baking. So, I just mixed the mix butter in with the cake mix and then crumbled it over the top! Viola! Problem solved!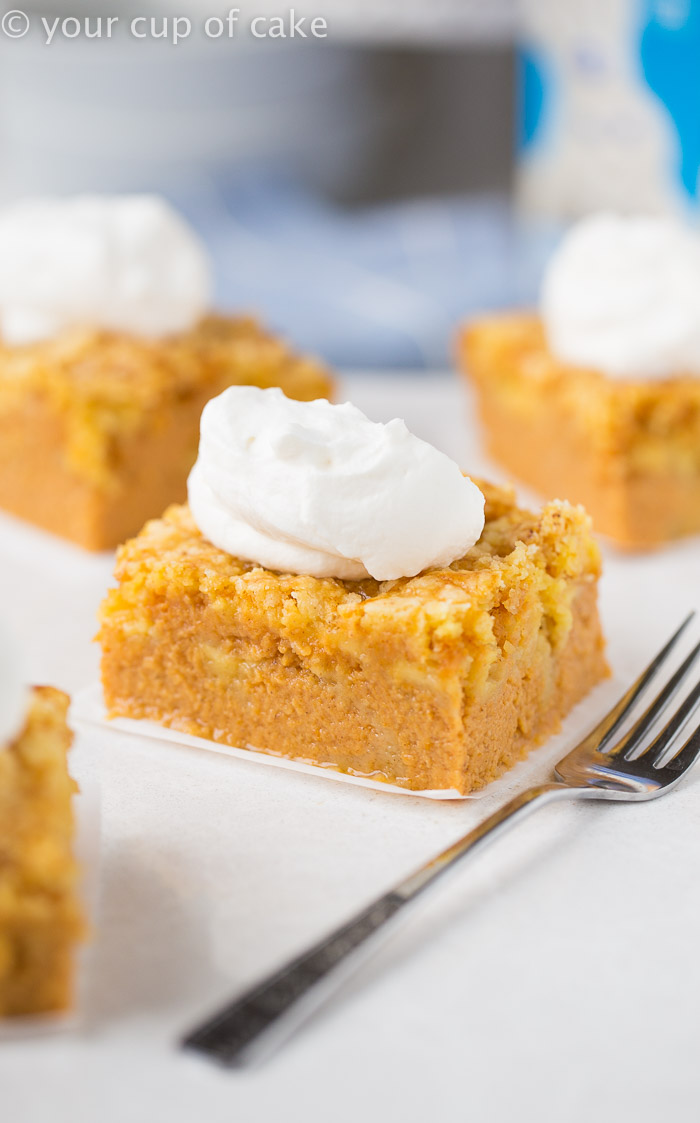 The grocery store by my house is already covered in Christmas candy! But don't worry, I'm not forgetting about Thanksgiving. It's one of my favorite holidays and it's the last big hurrah for pumpkin!
Want to know a trick to keep your whipped cream from getting "runny?" Add 1 tsp of instant pudding mix to the cream before you whip it! I like to use a white chocolate or a cheese flavor because they stay white.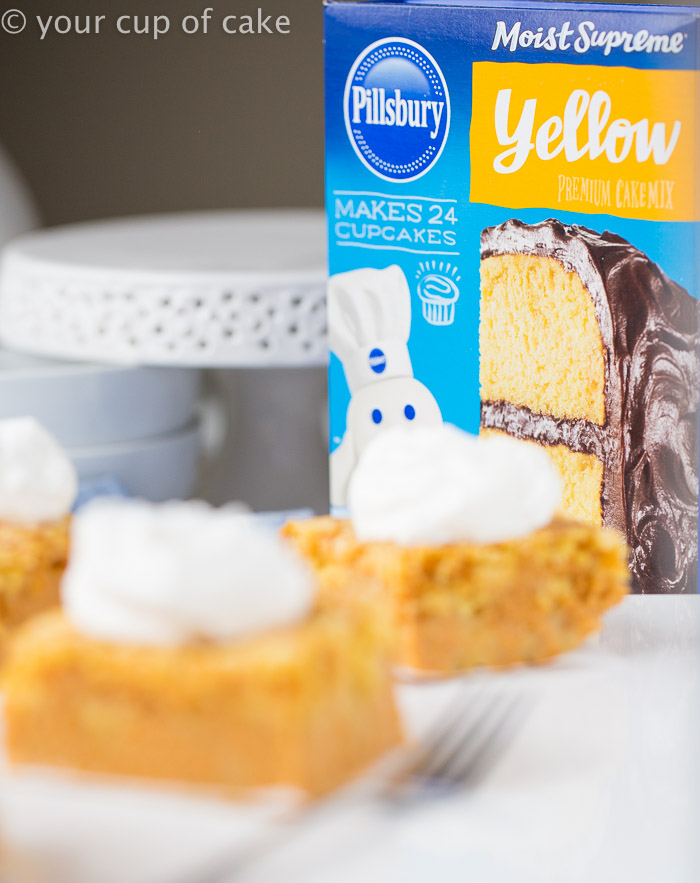 If you like pumpkin pie, you'll love this! It's pumpkin pie on the bottom and then this sweet fluffy, crunchy goodness on top where the cake mix and the pie filling meet. I love pumpkin pie but sometimes I want more texture to it! And this is perfect!
Remember, pumpkin desserts (like banana ones) are always better the next day. So this is a great dessert to make the night before a party and then don't stress about it the day of. Also, make sure you always let pumpkin pies cool 100% before you refrigerate them! If you pop them in the fridge when they're still warm they can curdle a little and start to release moisture. Most people don't know that, so there's your tip of the day!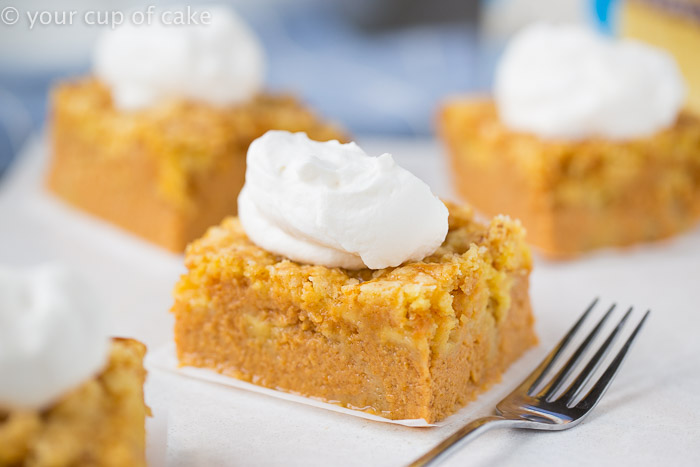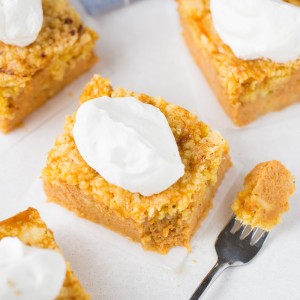 Magic Pumpkin Pie Cake
Ingredients
1

can

29 oz. pumpkin puree

2

cans

12 oz. each evaporated milk

4

eggs

1 1/4

C.

sugar

1

tsp.

salt

1

Tbsp.

pumpkin pie spice

1

Pillsbury Yellow Cake Mix

dry

1/2

C.

butter

melted
Instructions
1. Preheat oven to 350 degrees and grease a 9 X 14 pan..

2. In a large bowl, combine pumpkin puree, evaporated milk, eggs, sugar, salt, and pumpkin pie spice, I like to use a whisk. Pour into prepared pan.

3. In a separate bowl combine dry cake mix and melted butter. Crumble over your pie filling. (You can sprinkle cinnamon sugar over the top if you want!)

4. Bake for 40-50 minutes or until the center is set. It cake still jiggle, but just can't be liquid.

5. Let cool completely before refrigerating.
This post was sponsored by Pillsbury® and I have been compensated for my time. All opinions and recipe ideas are my own. I only work with brands that I love!