Christmas shopping is the best! I love spending money on the people I love and taking time to think about what they would want. But the best part is watching them unwrap it and seeing the look on their face when they realize what it is. I don't care how much the gift cost, because that look is always worth more.
So you have a baker in your life? A daughter? A niece? A sister? A mom? A boyfriend? Or looking for a present for yourself? Well I have all your gift ideas right here! And not just big expensive gifts but lots of stocking stuffers that won't break the bank.
To help you out I've broken down the lists into types of baking (cupcake, pie, cake and more), but some of the gifts overlap.
All the gifts are linked to Amazon if you want to get them or see more about them (just click where I explain what they are) and there's still enough time to get them in time for Christmas!
Happy shopping and Merry Christmas!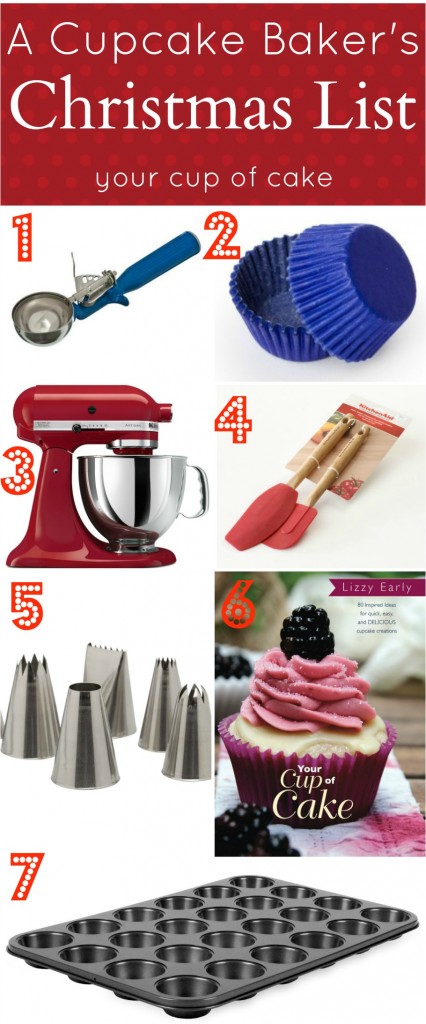 (All items are linked in their name below, click the name to find the product on Amazon!)
1: A Food Scoop! This is MUST because it saves so much time and all your cupcakes will be the same size! I like the blue or yellow colored scoops for cupcakes!
2: Grease Proof Cupcake liners! Grease proof liners keep their color when they bake, but they can be a tad expensive so I always buy basic colors in bulk. I get a stack of 500 for about $20, that may sound crazy but they look beautiful and I'm always grateful I have them on hand 🙂
3: The KitchenAid Stand Mixer! You don't HAVE to have one to make cupcake batter but you do need one to make great buttercream. It's a necessity and totally worth the splurge!
4: Spatulas! Never underestimate the power of a good spatula, the one on the right is my FAVORITE spatula every because the "head" is attached to the handle (some come off) and there are no ridge on the spatula.
5: Piping Tips! Want to make your cupcake looks professional, piping tips are the way to get that bakery look.
6: Your Cup of Cake Cookbook! Alright, shameless plug… But it's great and perfect for anyone who loves cake mix recipes OR is gluten free! Just use a gluten free cake mix in all of the recipes!
7: Large Cupcake Pan: Okay this is one of my favorite things. 24 cupcake "wells" in one pan! Plus, the best thing about THIS particular pan is that it's not quite as tall as normal pans, so you won't get a dark rim around your vanilla cupcakes.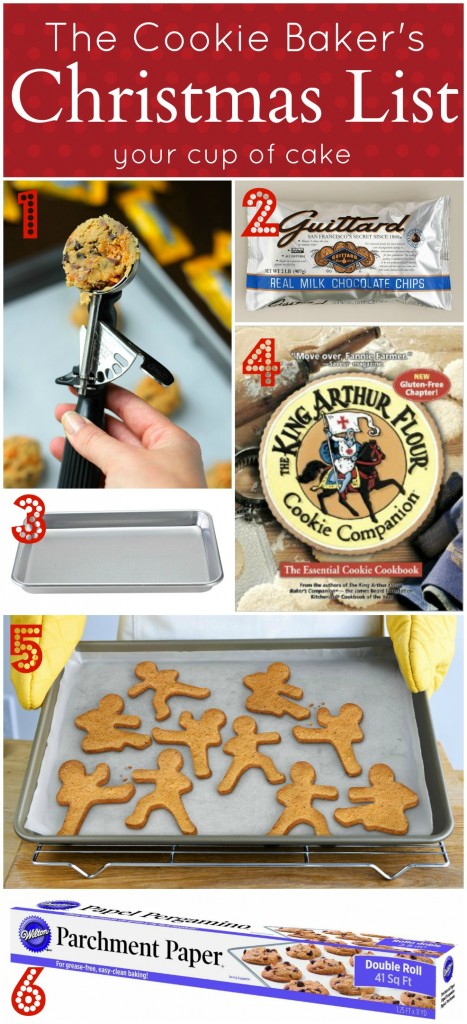 (All items are linked in their name below, click the name to find the product on Amazon!)
1: Cookie Scoop! Everyone needs a cookie scoop, you'll same a tom of time, your cookies will be perfectly round and all the same size! I like the black and purple scoops for small cookies and the blue if you like big ones!
2: Guittard Milk Chocolate Chips! You can find these at a lot of grocery stores and they are amazing. It' a great stocking stuffer and every cookie baker should be using these 🙂
3: Cookie Sheets! A good quality cookie sheet can make a difference on how your cookies bake. I like this one because it has tall edges on the pan so you can bake more than just cookies on it!
4: Cookie Cookbook! Bakers don't read novels… we read cookbooks 🙂
5: Ninja Cook Cutters! So this "Ninjabread Men" thing has really gone viral this year, but these cookie cutters are great all year long! Baking up some of these for any boy would put a huge smile on his face.
6: Parchment Paper! This is a MUST. No more cleaning your cookie sheets or having cookies stick! Plus, I always use the same sheets a bunch of times before I throw them away, so you can really stretch and get your money's worth. You can find it at grocery stores!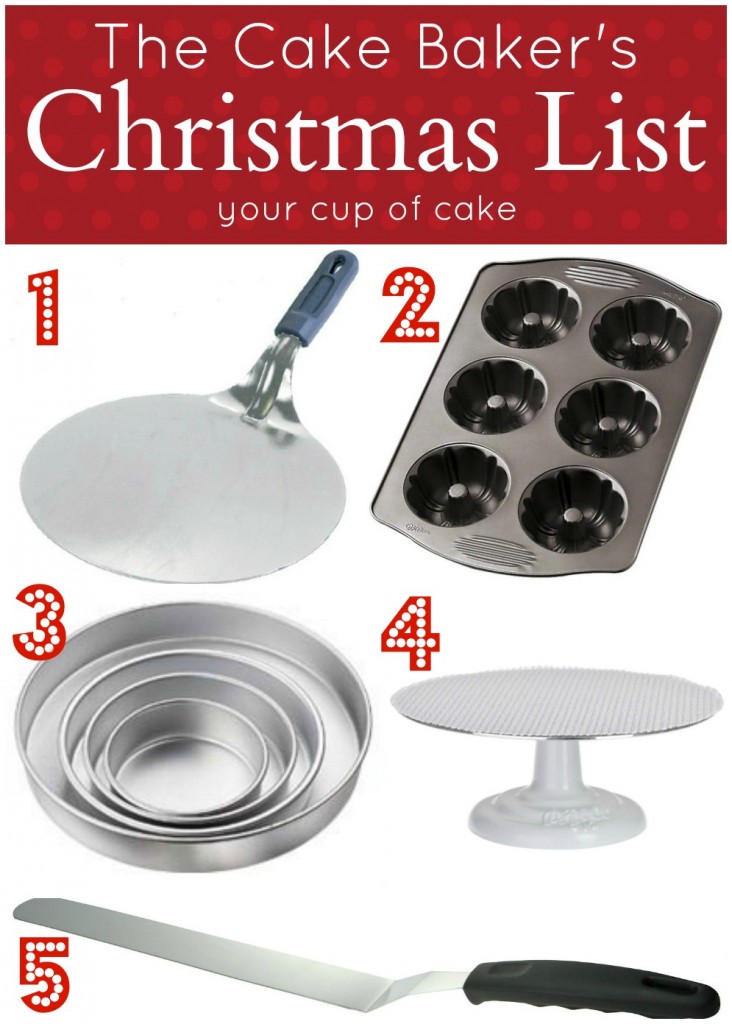 (All items are linked in their name below, click the name to find the product on Amazon!)
1: Cake Lifter! This looks crazy right? It lifts a cake after you've decorate it! It's awesome, whenever people see me use it they ask where I got it because it's really cool and comes in handy!
2: Mini Bundt Pan! Okay, I'm calling this "mini" but it's mid-sized and I'm obsessed with it. These Bundt cakes make perfect gifts and you just fill the middle with a little fruit and everything you make will look delicious!
3: Cake Pans! I worked on cakes all summer for my next cookbook, and let me tell you… 3 8-inch rounds are the way to go! You can still use 1 cake mix and get 3 layers and it looks beautiful and tall!
4: Rotating Cake Stand! This is fun if you really want to perfect your skills, but if you don't plan on getting really into cakes, don't worry about getting one, get the mini Bundt pan instead!
4: Large Offset Spatula! For cake decorating, you need one of these bad boys to cover your cake.
(All items are linked in their name below, click the name to find the product on Amazon!)
1: Pie Weights! When you have to bake a crust before you fill it… like for a pudding pie. Put these weights at the bottom to keep the crust from rising and losing its shape!
2: Apple Corer, Peeler, Slicer! This is a magical tool. In less than 30 seconds this gadget cores, peels and slices an apple so it's ready for an apple pie!
3: Ravioli Wheel! Get a cute zig-zag look on your lattice crust with this little tool to impress everyone at the next party! (Mine just arrived in the mail last week and I'm so excited to use it!)
4: Pie Crust Shield! Does the rim of you pie crust get burned? Protect it with this little tool so your pie stays beautiful 🙂
5: Pie Cookbook! This cookbook looks divine…
6: Rolling Pin! A perfect stocking stuffer that's inexpensive and needed in every kitchen.
7: Pie Dish! This pan is great because it has a little lip all around it so it's easy to left out of the oven, plus it's not expensive and still PYREX!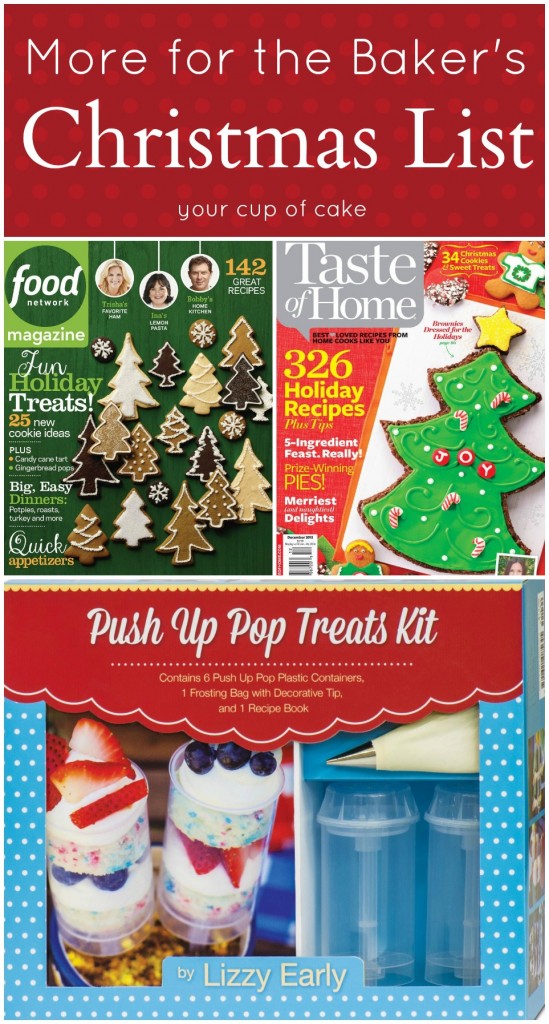 (All items are linked in their name below, click the name to find the product on Amazon!)
Food Network Magazine: Every foodie wants this magazine because even if you don't make anything from it, it's GORGEOUS and you can still learn a ton!
Taste of Home Magazine: This is always my magazine of choice on an airplane 🙂 It's beautiful and helps to inspire new recipes.
Push Up Pop Treats Kit: Alrighty, you caught me! This is my new product coming out this month! It comes with 6 push pop containers (dishwasher safe), a piping bag and tip and a booklet of about 15 cake mix recipes. You'll hear more about this product in a few days 🙂