This super simple cake mix recipe is so good it will SHOCK you! Easy Cherry Dump Cake is a summer favorite and only needs 4 ingredients!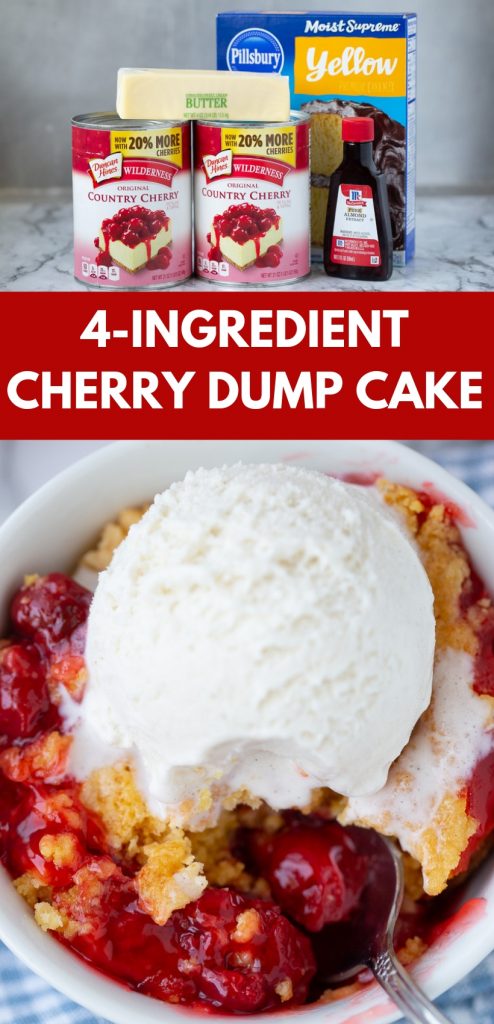 4 Ingredient Easy Cherry Dump Cake
Summer should be all about family, fun and enjoying the gorgeous weather (unless you live in Arizona and are trying not to fry in the crazy heat). So skip all the desserts with the long ingredient lists and the even longer directions. This 4 ingredient cake mix recipe will be your new favorite go-to dessert! It's Easy Cherry Dump Cake that tastes like a sweet cobbler from heaven!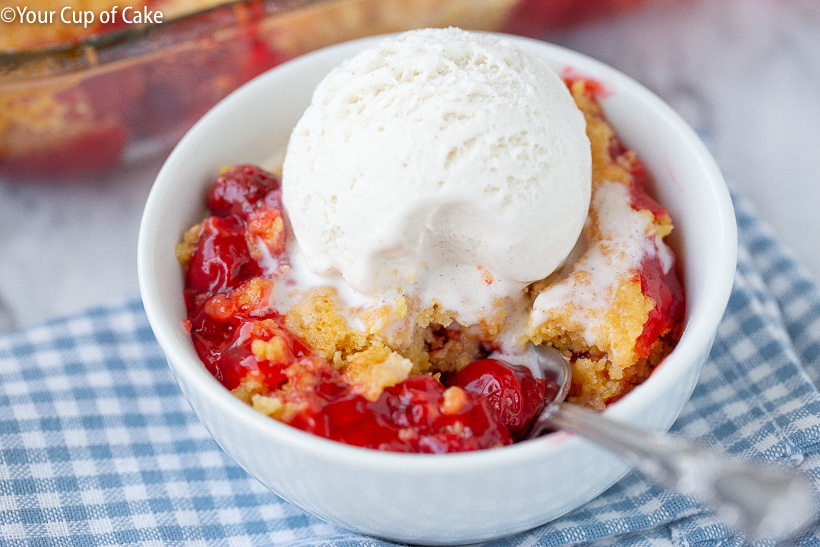 What is a Dump Cake?
If you're wondering "What on earth is dump cake?" you are not alone! My husband hates that it's called that and I had to explain it to him. All a "dump cake" is, is a cake where you "dump" the ingredients into a pan and bake it! No mixing bowls required! So if you can get over the strange name, then you'll love this cake. My husband was shocked by how much he loved this cake/cobbler and has been craving it ever since. Luckily I took the rest of this pan to a party or else we would have eaten it all! If you don't want to call it a dump cake, don't! Call it Easy Cherry Cobbler!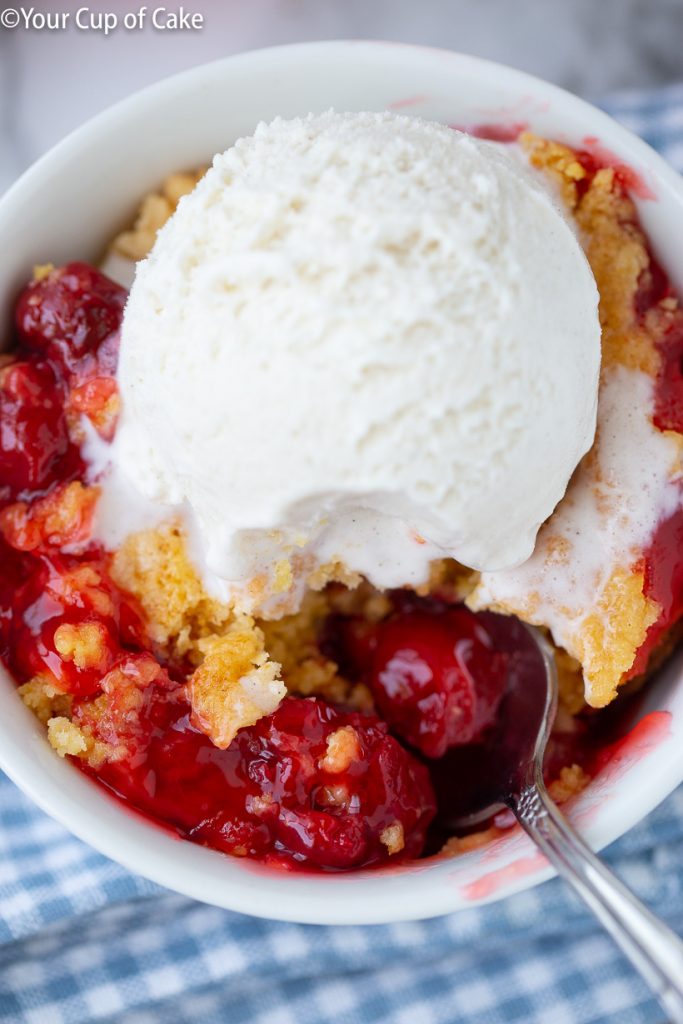 How to Make a Dump Cake
Grease your casserole dish! You can use any pan that is approximately 9X13 inches but if you have a slightly bigger or smaller one or 3 loaf pans or whatever, you can make this recipe work for you! Pop open your cherry pie filling cans and mix in the almond extract right into the cans. Then dump the filling into your dish and spread it out. Next, you'll want to sprinkle over your cake mix and then pour over the melted butter. You want to pour the melted butter as evenly as possible so that when the cake bakes all the cake mix has a chance to absorb some of the butter. Want to cheat the "dump" part of the recipe? You can always combine the cake mix and melted butter in a small bowl and then sprinkle it over the filling! This is usually what I'll do because I don't mind having one dirty dish and then I know the butter is evenly spread.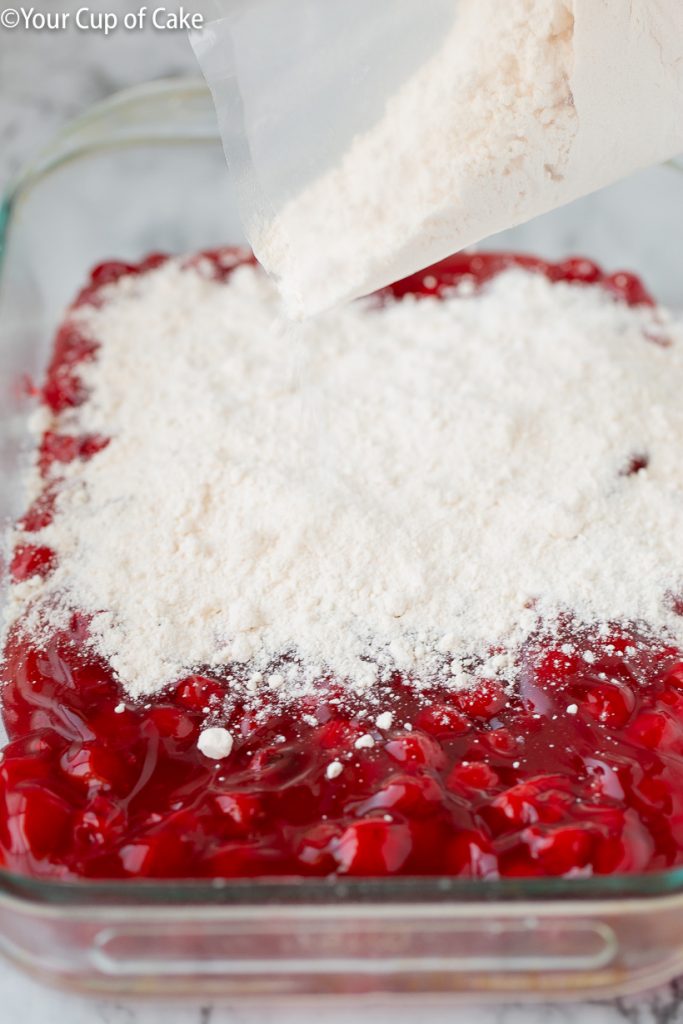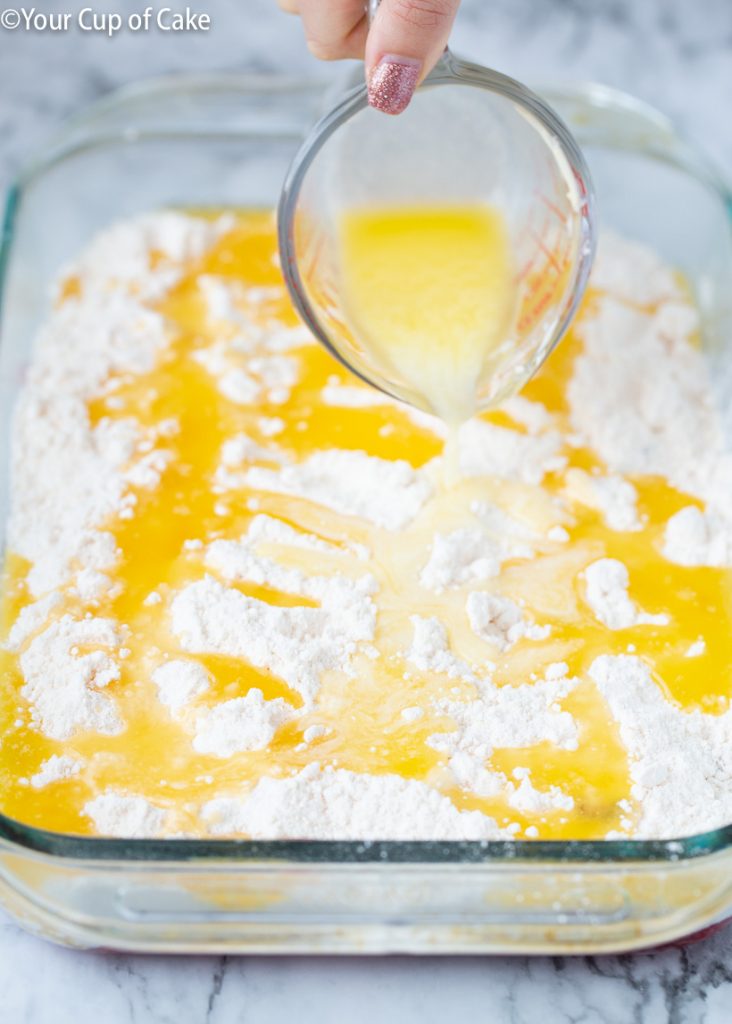 Okay, okay it's not the most glamorous dessert! But once it has a scoop of ice cream on top and you taste it you will be in love!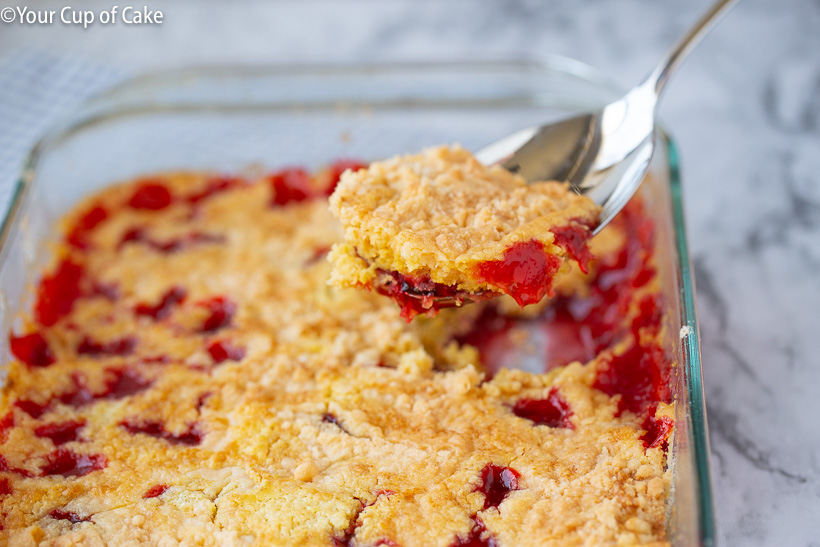 The Easiest Summer Dessert
Yummmm. Look at that tasty treat! This cherry cake is basically a cobbler with a sweet topping. It's just so easy to make and perfect for summer days and nights. The best part is you can use any pie filling you want! You could even bake the pan with half cherry pie filling and half canned peaches on the other side. Everyone in the family will be obsessed with this summer cake!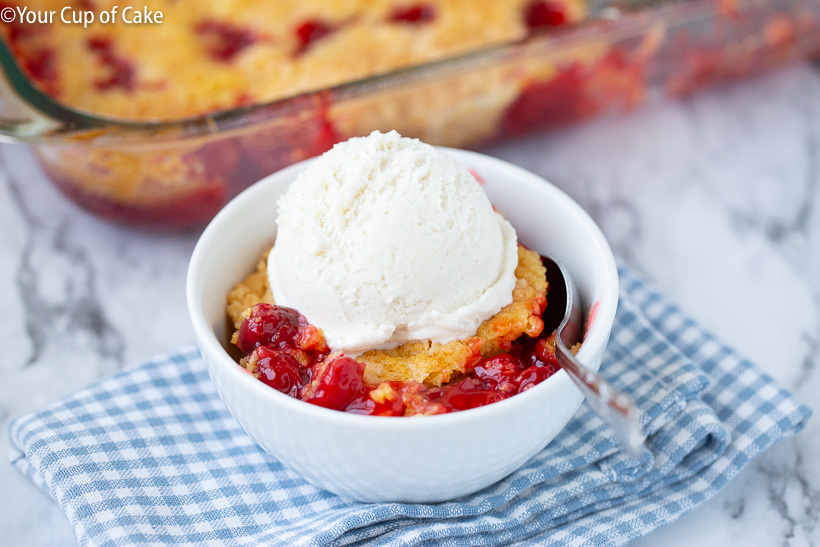 Grab a spoon! You're going to be making this all summer long!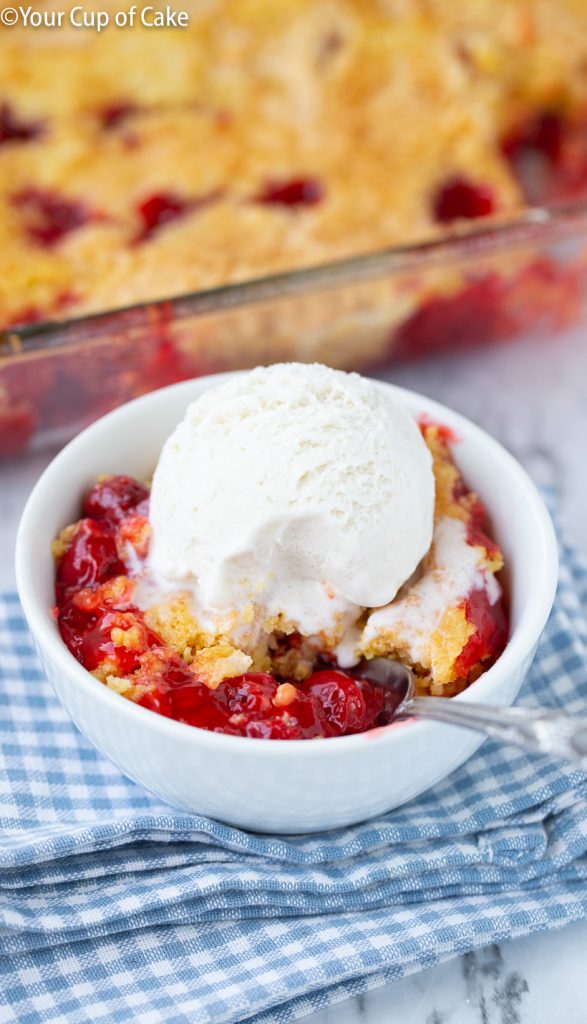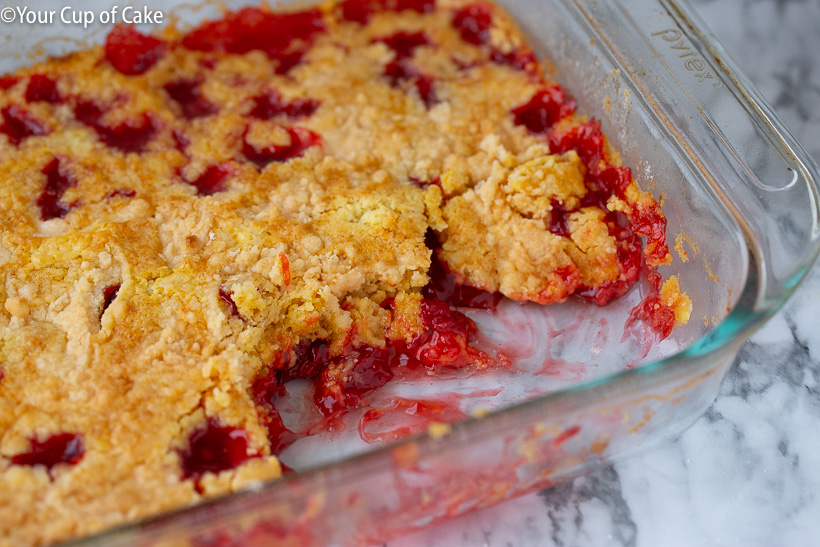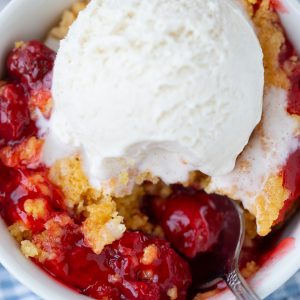 Easy Cherry Dump Cake
This super simple cake mix recipe is so good it will SHOCK you! Easy Cherry Dump Cake is a summer favorite and only needs 4 ingredients!
Ingredients
2

21 oz cans

Cherry Pie Filling

1 1/2

tsp.

Almond Extract

1

box

Yellow Cake Mix

3/4

cup

melted butter
Instructions
Preheat oven to 350 degrees and grease a casserole dish (approximately 9 X 13).

Open cherry pie filling cans and divide the almond extract between the two cans and then give the filling a little stir to incorporate the extract. Dump into prepared pan and spread evenly.

Sprinkle cake mix over pie filling.

Pour melted butter over the top as evenly as you can.

Bake for 50-65 minutes or until bubbly and golden brown! Serve warm with ice cream!
Recipe Notes
If you want to cheat the "dump" part of the recipe, you can use a small bowl to combine your cake mix and melted butter. Then sprinkle that over your filling. You'll have one dirty bowl but then you don't have to worry about any dry cake mix spots.