I needed to make a thank you treat this morning. When I asked the friend what kind of baked goods she liked, she said snickerdoodles, oatmeal raisin cookies, Funfetti cake, and chocolate cake. I didn't have any raisins on hand and I knew that her mother makes fabulous snickerdoodle cookies, so there would be no point in trying to compare to those.
So instead of failing in comparison, I just tried to take a different approach.
Recipe from Michelle at GroupRecipe
s.com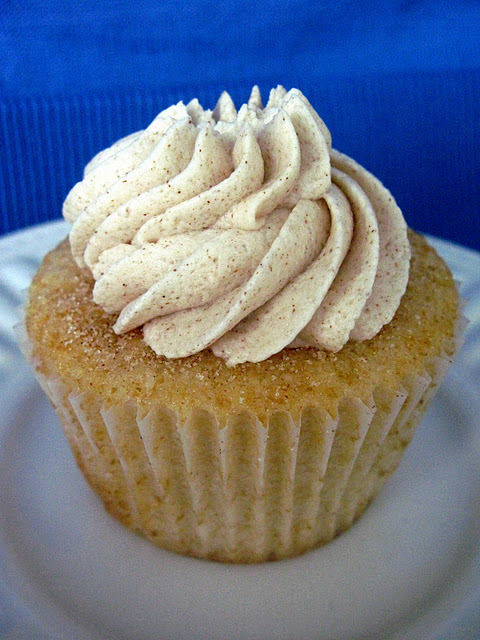 Cakes:
1 ½ cup all purpose flour
½ cup melted butter, cooled
¼ teaspoon almond extract
Cinnamon Vanilla Buttercream: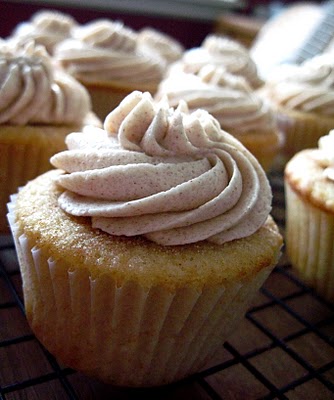 Directions:
1.
Preheat oven to 350 degrees.
2.
Sift together flour, baking powder, salt and cinnamon.
3.
In a separate bowl, beat sugar and cooled butter until light and fluffy. Then add eggs, vanilla, almond extract and milk. Mix until well blended.
4.
Combine dry and wet ingredients and mix until smooth.
5.
Spoon into cupcake liners and bake for 18-25 minutes, or until a toothpick comes out clean.
6.
When the cupcakes come out of the oven, brush the tops with butter and then roll them in cinnamon sugar.
7.
Buttercream: Beat butter until light and fluffy. Add 2-3 cups powdered sugar (taste along the way) and beat for 4-5 minutes. Add vanilla and cinnamon. Add milk to loosen.
8.
Top cupcakes with buttercream when cooled.
*I didn't have whole milk, so I just used ¾ cup 1% and melted a little extra butter.