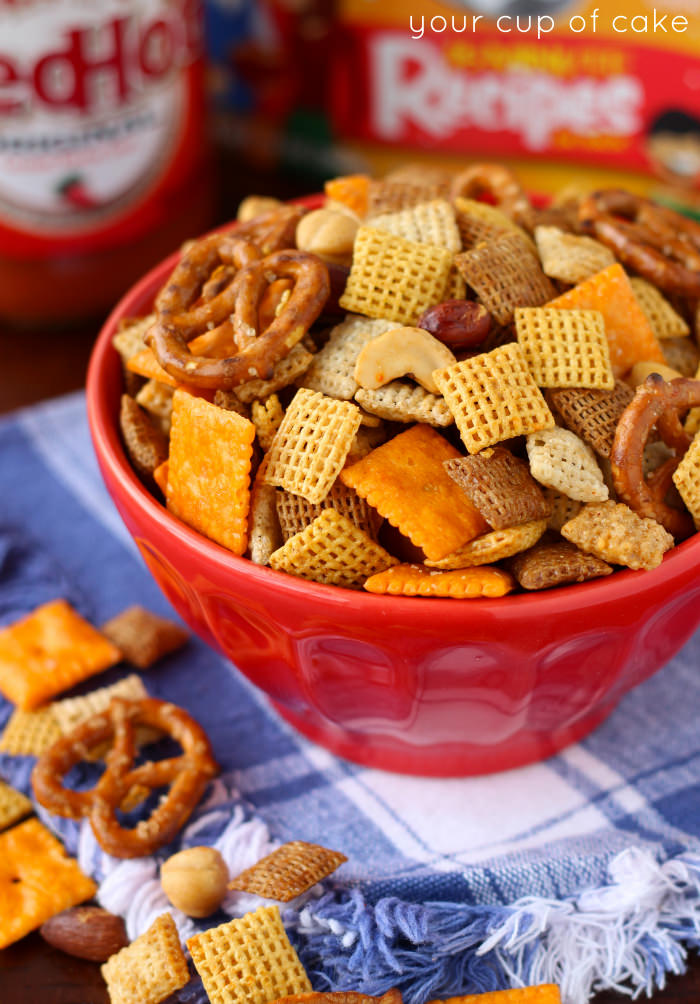 Let me just confess that I ate about 4 cups of this stuff all by myself! Whoops… But it's just so good! A little spicy, a little sweet… it's perfect 🙂 This is my first Chex Mix to not be sweet like all my 20+ recipes of Puppy Chow and it's won't be my last! It's a perfect snack to make for all the big basketball games coming up!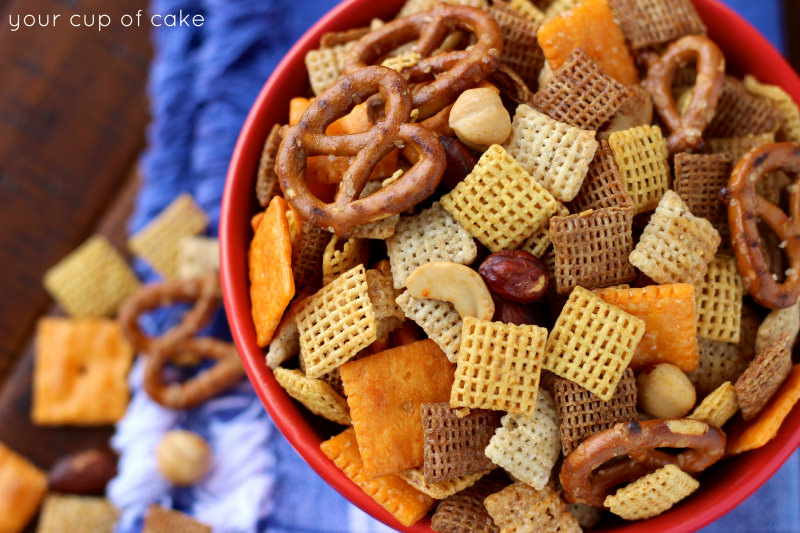 The Story:
Some girls hate a day of watching sports, but I actually love it. Great couch, great company, great game, maybe yelling at the screen a bit, jumping up when we score.. it's all perfect. The only downside is my curly head of hair. "Why?" you ask, because every piece of popcorn, chip and Chex Mix somehow ends up in it. I look like a total slob.
Curly hair problems.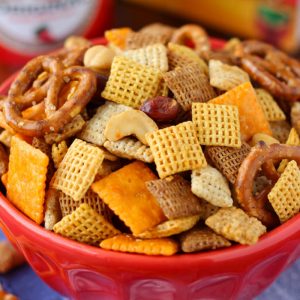 Sweet and Spicy Chex Mix
Ingredients
3

C.

Rice Chex Cereal

3

C.

Corn Chex Cereal

3

C.

Wheat Chex Cereal

1

C.

mixed nuts

1

C.

pretzels

1

C.

cheese crackers

¼

c

butter

¾

tsp.

salt

2

Tbsp

brown sugar

2

tsp.

sugar

3

tsp.

Frank's RedHot sauce or Frank's Wings Buffalo Sauce

1

Tbsp.

Worcestershire sauce

½

tsp.

paprika

¼

tsp.

garlic salt

NOTE: If you want a little more "kick" then go ahead and add more hot sauce and spices!
Instructions
1. Preheat oven to 250 degrees.

2. In a large roasting pan, combine all Chex cereals, mixed nuts, pretzels and cheese crackers. Set aside.

3. In a small saucepan, heat butter, salt, brown sugar, sugar, Frank's RedHot sauce, Worcestershire sauce, paprika and garlic salt until melted. Pour into roasting pan over cereal, nuts, pretzels and crackers. Stir until coated.

4. Bake in the over for 1 hour, stirring every 15 minutes to make sure it doesn't burn.

5. Let cool, then transfer to a bowl to serve.
You can use the RedHot or the Buffalo flavor!
Let me just tell you to NOT leave out the Wheat Chex because they are amazing in this stuff.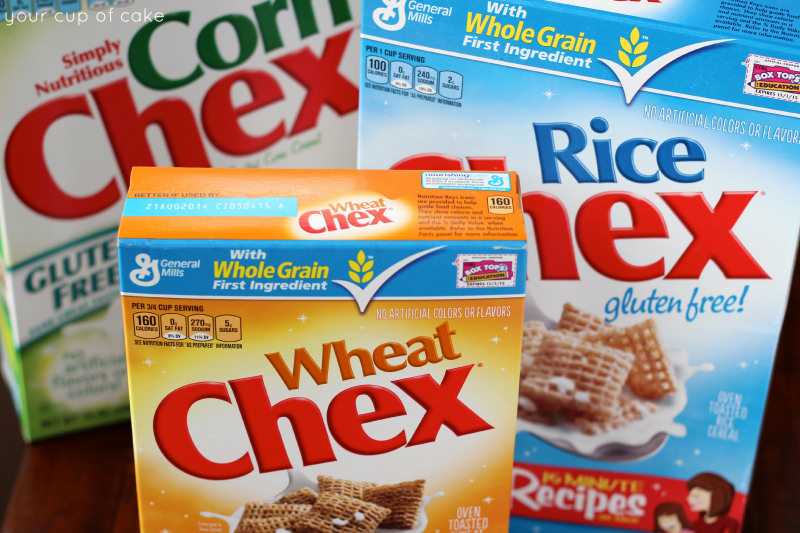 Mmm….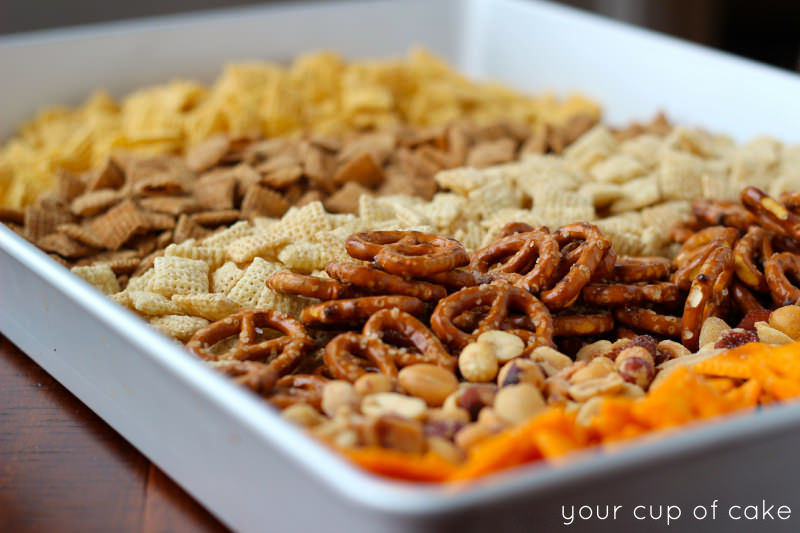 PS: your house is going to smell amazing when you make this, so prepare yourself.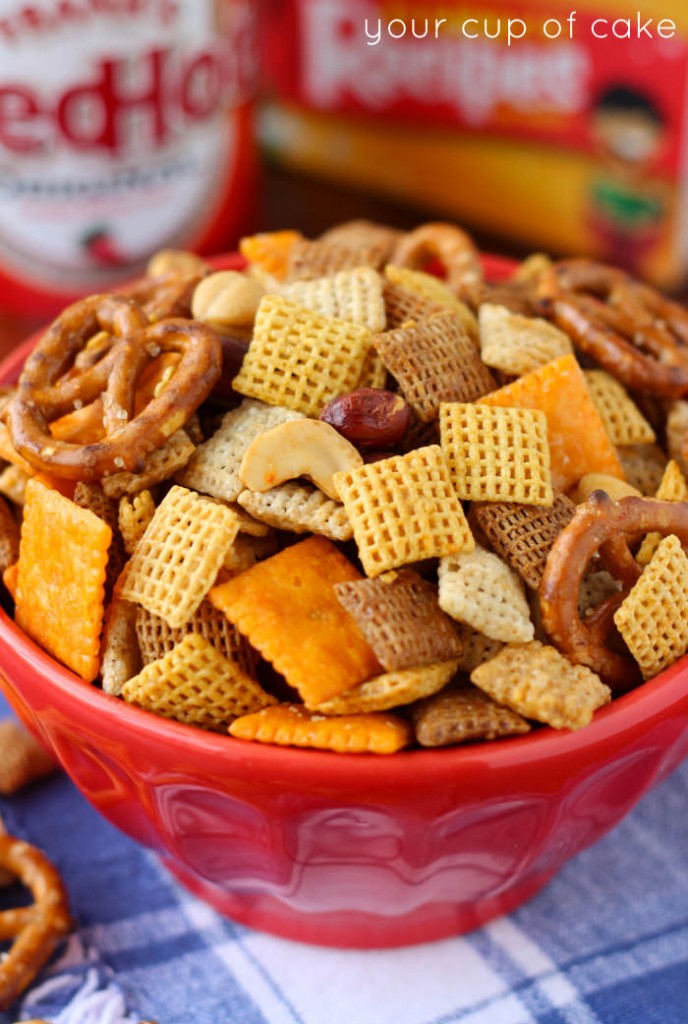 I have been compensated for this post, but all opinions are my own.